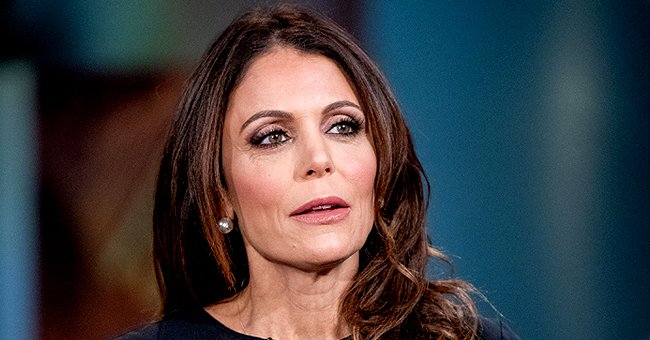 GettyImages
Bethenny Frankel Says She Will Adopt 9-Year-Old Foster Child Who Pleaded to Have a Family

Bethenny Frankel has made the wishes of a nine-year-old foster child come true as she choose to adopt the boy whose only plea is to have a family.
Reality TV icon, Bethenny Frankel has decided to show her love for kids with lifelong dreams. She made this clear yesterday when she decided to adopt an Oklahoma boy named Jordan.
It happened that Frankel made a comment on a post made on PEOPLE's Instagram page about her intention to "adopt him" when her 10-year-old daughter, Bryn Hoppy, advised her after they had both watched his interview with a local news station.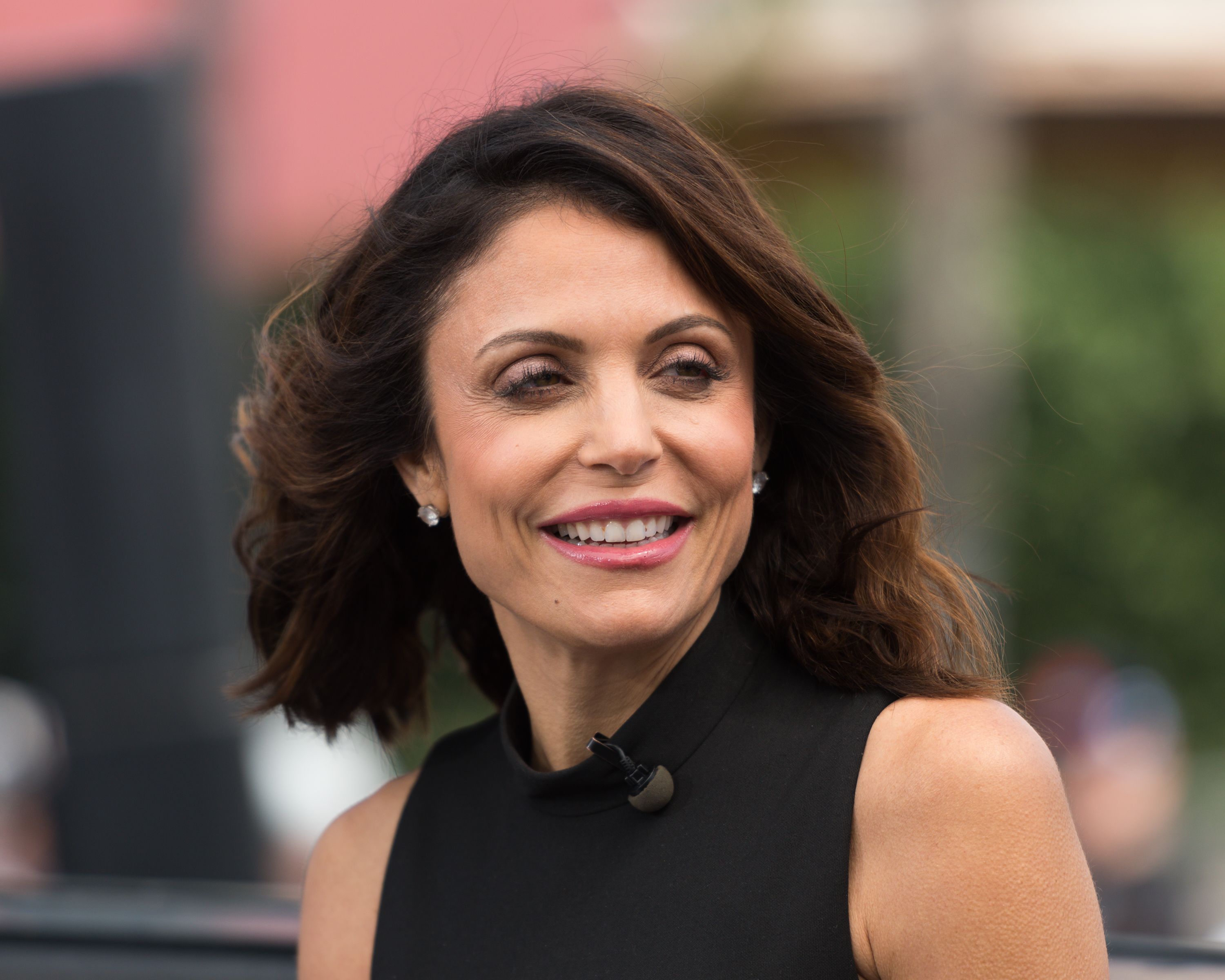 Bethenny Frankel visits "Extra" at Universal Studios Hollywood on May 24, 2017 | Photo: Getty Images
Jordan, who had been in foster care for the past six years, was asked what he'd wish for if he had any three wishes. "To have a family, a family, family," he said. He revealed to the news outlet that his younger brother, Braison, had been adopted last year and that he hoped for the same.
Earlier this year, [Frankel] embarked on creating Coronairus kits and fundraising for kids who could no longer partake in free school meal programs as a result of schools on lockdown.
He melted hearts, even more, when he made known that he "didn't really care" if he got adopted by a dad or a mum saying. He said he desired a family because he "needed people to talk to" whenever he needed to.
For Frankel, 49, who has a soft spot for children, this was not the first attempt at adoption. She opened up about how difficult it is to adopt older children while recalling her experience trying to adopt a 3-year-old a while back.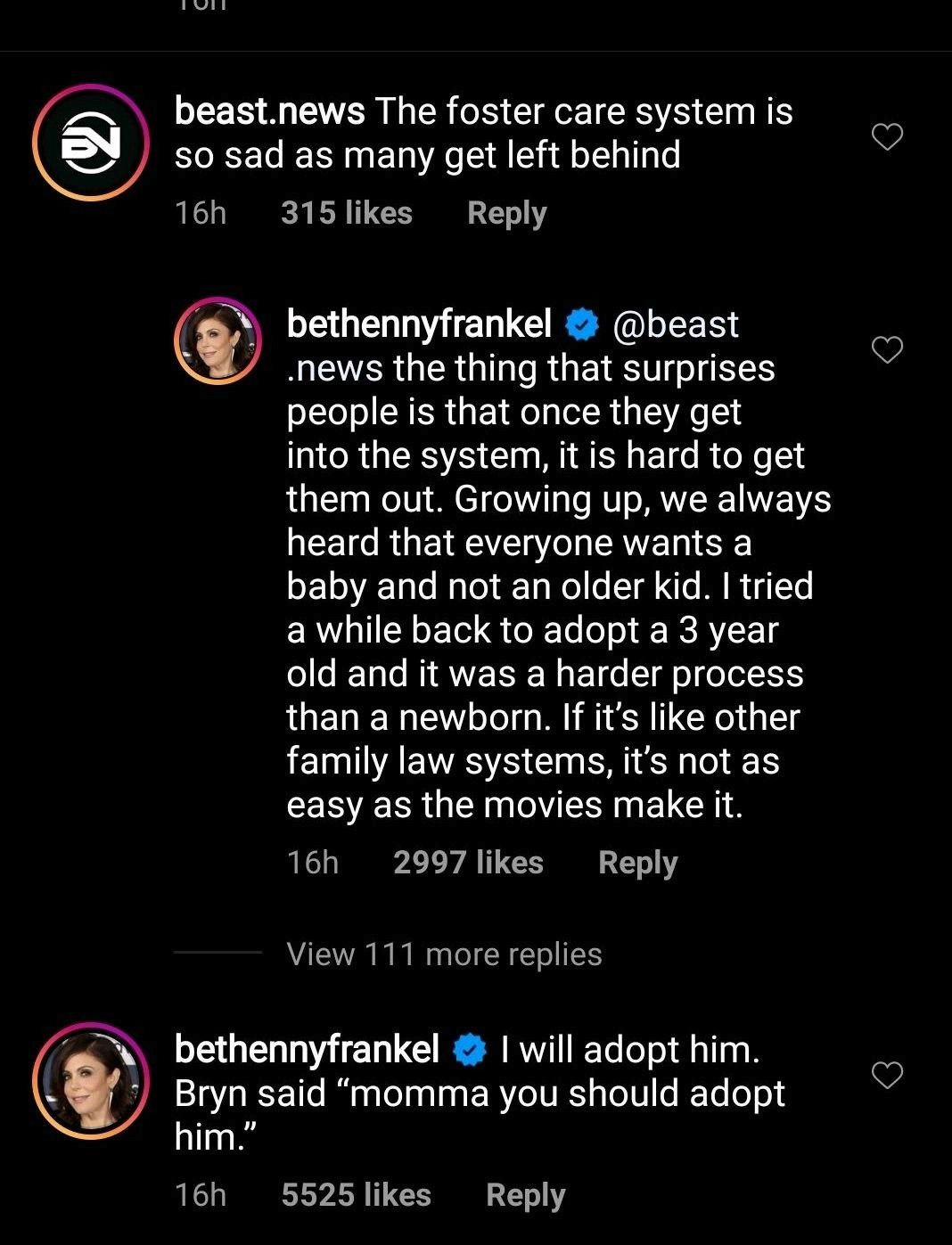 Bethenny Frankel's Comment on PEOPLE's Post on Instagram. | Photo: Instagram.com/people/
She explained that she believed it would be easy for her because most people want babies, neglecting the older kids in the foster home. However, the reverse was the case for her as the adoption process was difficult. She noted that it is "not as easy as the movies make it."
Apart from the former "Real Housewives of New York City" star, there are currently over 5000 other potential parents who saw the broadcast and want to adopt Jordan. One other follower wished for this opportunity afforded Jordan to be extended to the other "sweet babies."
The "Skinnycare Cocktails" founder has a big heart as she has proven time and again. Earlier this year, the entrepreneur embarked on creating Coronairus kits and fundraising for kids who could no longer partake in free school meal programs as a result of schools on lockdown.
The kits which contain gloves, hand sanitizers, immune builders, hydration kits, and cash cards are part of Frankel's "B Strong" initiative which was set up to render help to people who have been affected by tragedy and poverty.
Her wonderful exploits come after the entrepreneur and author lauded her daughter Bryn earlier in May during her 10th birthday with a series of photos on Instagram. In the accompanying caption, she referred to her baby girl as "sweet" and "loving," thanking her for bringing "meaning to my life every day."
Although Frankel shares the 10-year-old with her ex-husband Jason Hoppy, she is currently dating Paul Bernon, a film producer. She started seeing the businessman in 2018 following the passing of her boyfriend, Dennis Shields.
It will be recalled that the O.G Housewife ended her 12-year run on the reality TV show, "Real Housewives of New York City" in August 2019 to focus on her business and family. She recounted the exciting years on the show while speaking to PEOPLE saying that life after the roller coaster on-screen has felt "like a detox."
Frankel now spends her time focusing on her Skinnygirl Supplements venture and raising her beautiful daughter, Bryn.
Please fill in your e-mail so we can share with you our top stories!