Meghan Markle & Prince Harry Praise Queen Elizabeth as They Give a Glimpse of Their $14.7m Home
Following their withdrawal from their royal duties, the Duke and Duchess of Sussex made a public appearance from their new house in California, for the first time. The couple's intention is to keep working on Queen Elizabeth II's legacy.
After leaving the UK to live in the Los Angeles area, 35-year-old Prince Harry and his wife, 39-year-old Meghan Markle, made their first joint and public interview, which gave the world a clue of what their $14.7 million mansion in Santa Barbara, California looks like.
The meeting was a conversation among the Queen's Commonwealth Trust members, who were discussing the power of digital communities, and their potential to influence and generate positive changes over future generations.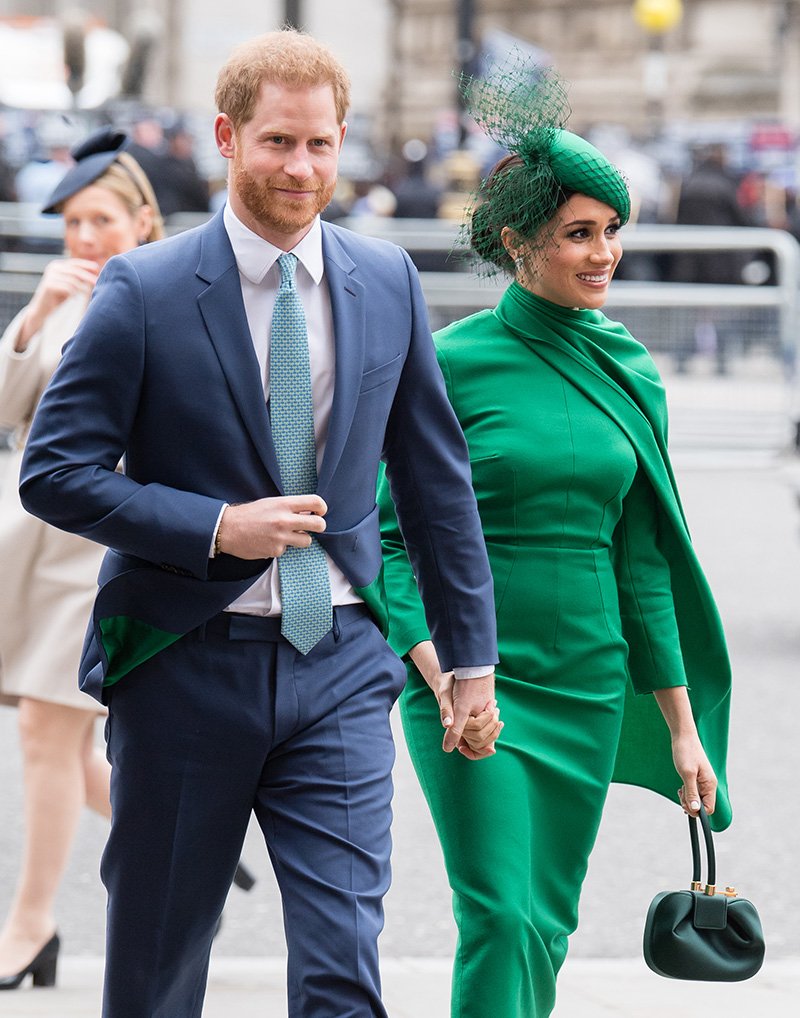 The couple spoke only a month after they finally found a suitable and peaceful home for them and their one-year-old son, Archie. In the video, they speak in a well-lighted room with an indoor plant behind them, and as some sources have told, the house is in a private location with space enough for the whole family to enjoy.
As social leaders from Zambia, Australia and the UK spoke with the Duke and Duchess of Sussex, the couple explained the responsibility they were all assuming.
Prince Harry also highlighted the importance of his grandmother's legacy by saying: "Hearing you guys, and knowing the broad spectrum that QCT engulfs, you're the definition of the 21st century Commonwealth, and what it means to be part of it. You are there, standing for equality, for mutual respect, and for fairness."
LEAVING ROYALTY
Prince Harry and Meghan announced their decision of stepping down from their royal duties in March 2020. Their action shocked the royal family and the world as they also moved from the UK to Canada, and later to California, the same month.
Carolyn Durand and Omid Scobie's "Finding Freedom" reveals how much Meghan Markle was set up to fail. In spite of Prince Harry's efforts to protect her, the British media built a racist mythology around her, one that was, ultimately, enabled by the crown https://t.co/fw0utKcyVS

— The Cut (@TheCut) August 20, 2020
In a new book published this month called "Finding Freedom: Harry and Meghan and the Making of A Modern Family', the authors explain the couple's decision arose some tension inside the family, especially between both brothers, Harry and Prince William, 38.
Some sources have revealed that Queen Elizabeth II, 94, is ready to overcome this past issue, and has decided to let the door open for Meghan and Harry whether they want to come back to their royal duties. However, the matriarch has allegedly insisted that both her grandchildren talk over their issues and settle a solution to their differences.
NEXT GENERATION
More recently, it has been told that Queen Elizabeth II is also stepping back from some of her royal duties, especially since her husband, Prince Phillip, has been having some health struggles since his 99th birthday last June.
New Photos Emerge of Meghan Markle and Prince Harry's Rare Appearance Distributing School Supplies https://t.co/FqUA1rdEcD

— Oprah Daily (@OprahDaily) August 21, 2020
During the last months, and mostly after the coronavirus pandemic, the Queen has been entrusting many of her tasks to her sons, particularly those that require charity work and public appearances.
As the matriarch is also engaging her grandson William and his wife, 38-year-old Kate Middleton, with other significant royal duties, some sources have revealed that she is confident that the couple will
make a perfect pair
as the King and Queen of England. She has allegedly said that they are both hard workers, committed, and do not engage in any scandals.