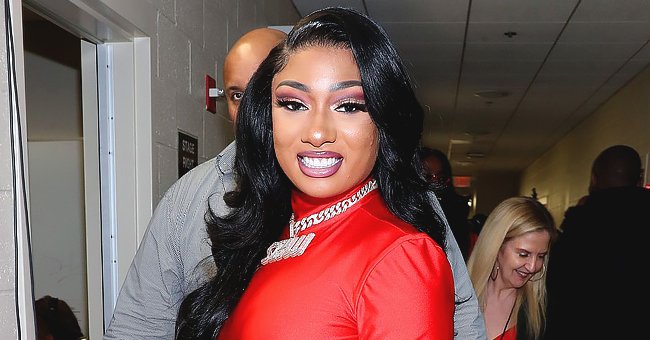 Getty Images
Megan Thee Stallion Looks Gorgeous as She Flashes Her Toned Abs in a Classy White Outfit

Famous rapper Megan Thee Stallion recently quickened a lot of pulses when she took to social media to share saucy photos of a night out with friends.
Megan Thee Stallion recently grabbed a lot of attention when she shared a series of photos documenting a fun night out with her friends.
In the photos, she looked gorgeous in a white tank top with a low cut neckline that revealed a bountiful cleavage. The talented rapper paired the top with white shorts that flaunted her toned legs.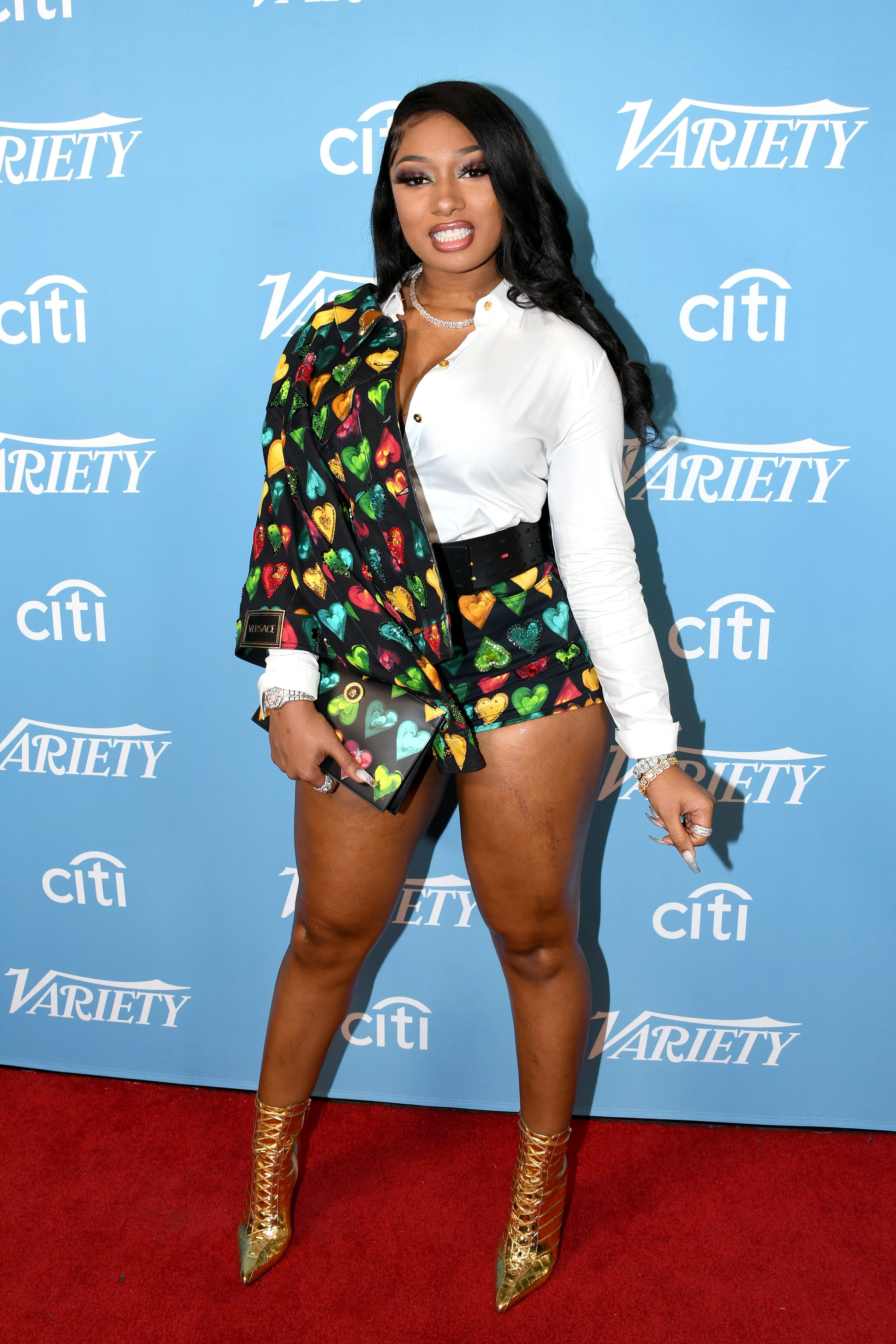 Megan Thee Stallion arrives on the red carpet for Variety's Hitmakers Brunch at Soho House on December 07, 2019 in West Hollywood, California | Photo:Getty Images
She covered her black curly hairdo with a white and red umbrella hat and had large golden hoops on for earrings.
In one photo, she can be seen bent over in the world-famous golf pose as she prepared to strike a ball. Other photos saw her striking poses amid her equally gorgeous friends. Megan captioned the post:
"Throwin up the deuce and givin [explitive] dab."
Fans could hardly get enough of everything the talented rapper was serving. They took to the comments section to gush over her attire and her near-perfect figure.
Words like "hot," "sexy," and "gorgeous" were used by most, and those who were too stunned for words chose to use heart or flame emojis to express themselves.
Megan has been making headlines alongside fellow rapper Cardi B since they released their latest single, "WAP," earlier this month.
Aside from the lyrics and Kylie Jenner's surprise appearance in the corresponding music video, the outfits Megan and Cardi wore got a lot of tongues wagging, making the highly anticipated rap collaboration the talk of the town.
She really wanted to do it, so she canceled a show to get it done.
Throughout the 3-minute-long video, Megan and Cardi showed off their gorgeous shapes in coordinating swimsuits, Mugler corsets, animal-print bodysuits, and fishnet tights.
According to People, the outfits were a result of the collaborative efforts between Cardi's stylist, Kollin Carter, and Megan's stylist, EJ King — both of whom reportedly had fun incorporating sexuality into fashion.
Megan is well known for her love for dresses that attract a lot of attention. In July, the famous rapper shared a teaser to her "Girls in the Hood" music video.
In the video, she was dressed in a revealing, striped white and blue dress as she bent over at the waist to shake things up. She released the full video at midnight on the same day.
One of Megan's favorite cloth brands is "Coach." In an interview with Complex at the runway show organized to show off the brand's men's and women's Fall/Winter 2020 collections, she spoke about working with them.
According to her, she had always worn clothes from them since she was in second grade because her grandma often bought them.
She made her campaign debut for the fashion brand in November 2019. Though she had been quite busy at the time, the famous rapper stated that she really wanted to do it, so she canceled a show to get it done.
When asked what she loves about the brand, Megan declared that she simply loved the vibe and the aesthetics they always exuded. She also added that the prestigious brand has always been there and will always be there.
Please fill in your e-mail so we can share with you our top stories!