Cardi B's Adorable Daughter Kulture Looks like an Angel as She Sleeps Wearing Diamond Earrings
Rapper Cardi B dotes on her sleeping 2-year-old daughter and marvels at how beautiful she is in a sweet clip shared on her Instagram Story.
Rapper Cardi B recently took to her Instagram Story to dote on her young daughter, Kulture. The rapper posted a video of her baby girl snoozing adorably and could not resist how angelic she looked. Cardi wrote:
"Wow she sooo beautiful. God bless my little baby."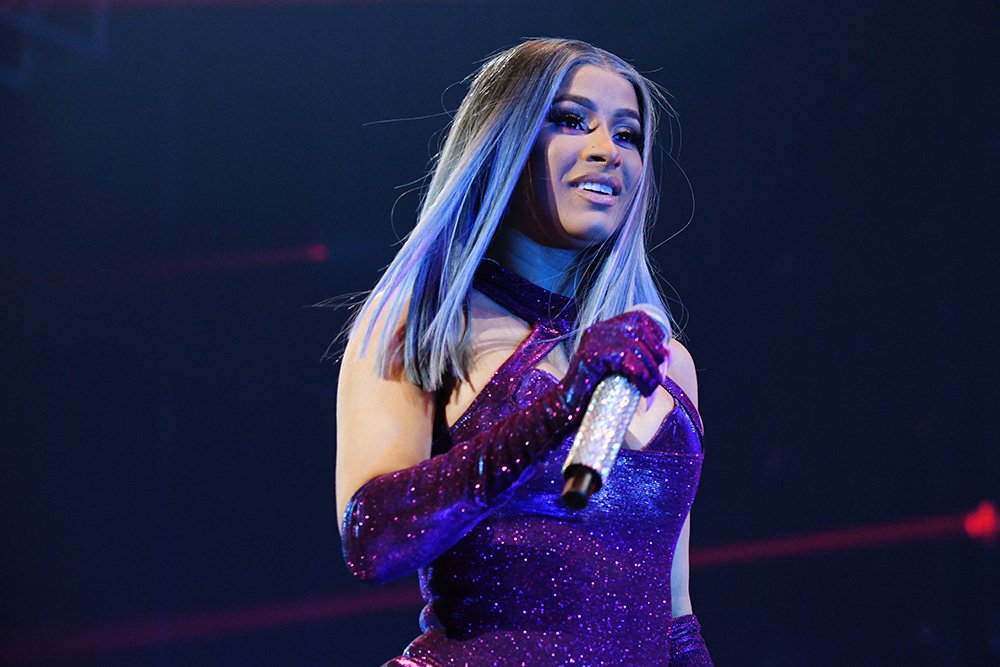 In the video, Kulture was sleeping peacefully with her head on a large-sized pillow. Her hair was done in a pretty cornrow style that pronounced her sweet angelic face.
Kulture's baby pacifier lay by her arm while her glint earrings and bedazzled bracelet glimmered in the light. Behind the camera, Cardi marveled at her young daughter's flawless beauty.
Although Cardi's little one is no stranger to stealing the breath away from anyone who sees her with her sweet face, the rapper reportedly admitted that Kulture is going through a common challenging phase in her life.
Dubbed the "terrible twos," Cardi shared that her daughter was now entering the stage where she throws a lot more tantrums and is generally more mischievous.
Although it seems like the 27-year-old had motherhood all figured out to the best of her ability, she still frequently received a lot of backlash.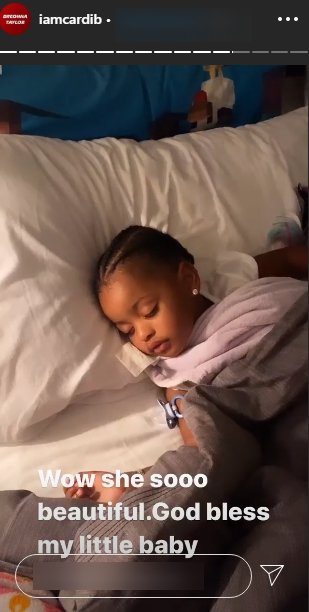 Along with the incessant tantrums being thrown unexpectedly, the "Bodak Yellow" rapper also revealed that the stage came with an uncontrollable and insatiable craving for ice cream.
That proved particularly difficult for the mom because if she gives Kulture any ice cream or candy at night, she becomes extremely hyperactive.
The rapper admitted that she felt like she was dealing with a younger version of herself and her younger sister, Hennessy Carolina.
Although it seems like the 27-year-old has motherhood all figured out to the best of her ability, she still frequently receives a lot of backlash and criticism for many of her actions. These critics include a lot of mom-shamers.
Kulture, who Cardi shares with her husband, rapper Offset, turned two in June. To celebrate her baby girl's new age, Offset bought a stylish hot-pink Hermès Birkin bag.
Offset posted a video of himself presenting the special gift to his daughter who was dressed in a pink fairy outfit with matching wings, bunny ears, and shoes.
Birkin bags retailed mostly between $12,000 to over $200,000 and Kulture's present was worth $9000.
On seeing the extravagant birthday present, many comments started to roll in. Some joined in the celebration while others criticized both rappers for getting Kulture something so unnecessarily expensive and an allegedly not-so-thoughtful present for her.
Cardi responded right off the bat to the haters in a video shared on Twitter. She explained that she knew kids do not care about fancy bags and whatnot, still, they go outside in public, and if their parents look glammed up while they do not, it will still be wrong.
Cardi concluded that if she was looking fabulous, her daughter would too. And true to her word, Kulture has become her mom's mini-me, mimicking her in beauty and fashion.