Kevin Jonas' Kids Make Him Feel Proud and Blessed — Meet Valentina and Alena
Kevin Jonas first became a worldwide heartthrob alongside his brothers as part of teen pop sensation the Jonas Brothers. But these days, the talented guitarist is also a loving husband and a doting father of two adorable girls. Meet them.
As the oldest member of the Jonas Brothers, Kevin Jonas reached certain personal milestones quicker than his famous siblings, Joe and Nick Jonas.
While the other two went on to pursue solo careers after they decided to split their successful band, Kevin married fellow New Jersey native Danielle Deleasa and created a family by her side.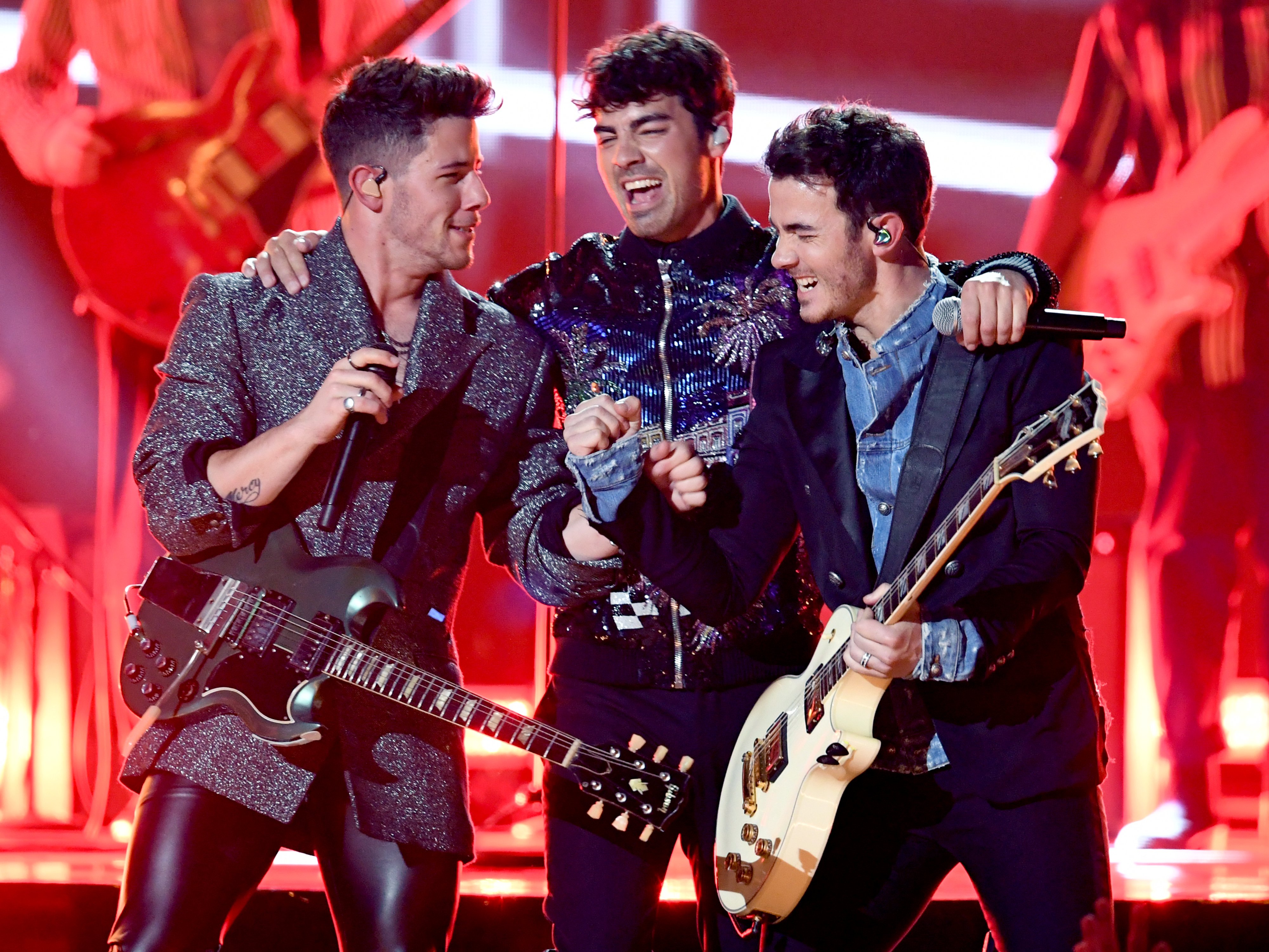 Although the band is now back together—and still driving girls crazy with their catchy songs—now the three brothers are on the same page: Nick is married to Priyanka Chopra, and Joe recently welcomed his first child with wife Sophie Turner.
MEET KEVIN JONAS' WIFE
Unlike his brothers, Kevin Jonas never made gossipy headlines for his relationship status. While Nick and Joe were romantically involved with people from the industry like Taylor Swift and Miley Cyrus, Kevin chose a "normal" girl for his happily ever after.
As for the possibility of his daughters chasing a career in the industry, Kevin has mentioned he wouldn't be against it.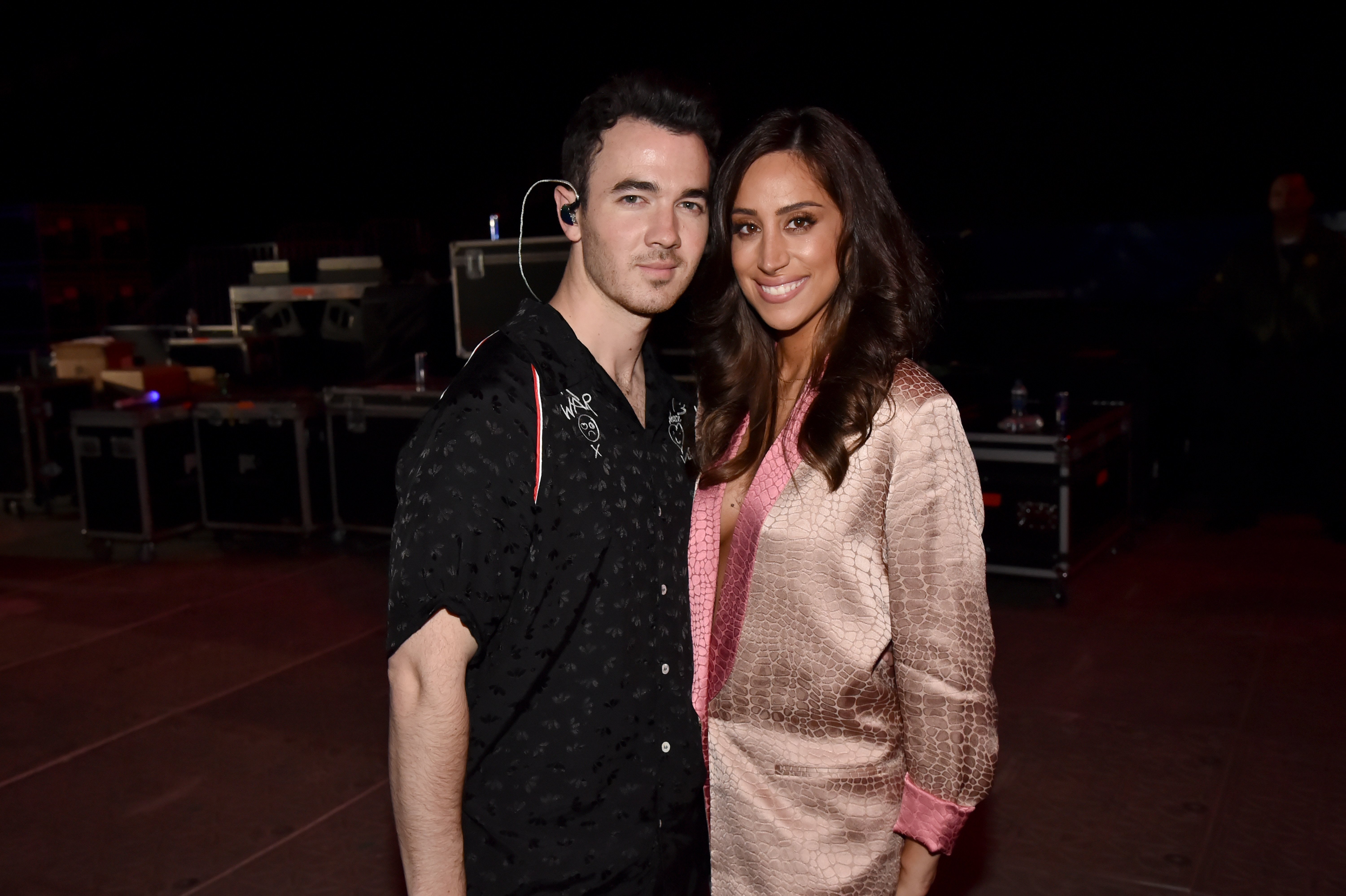 Kevin met Danielle Deleasa in May 2007 while they were both vacationing with their respective families in the Bahamas.
At the time, the Jonas Brothers were still virtually unknown, so Danielle had no idea who the kid following her around the tropical resort was.
She refused to give him the time of day at first, claiming that, since he lived in L.A., she didn't want to waste her vacation time with someone she probably wouldn't see again.
But Kevin had a crush at first sight, and he was determined to make it work. He ended up getting Danielle's phone number from her big sister, and once they were back home, he made it clear to Danielle that he wanted more than just a summer fling.
It didn't take long for the musician to win Danielle's heart, and their relationship flourished alongside the Jonas Brothers' career.
Danielle saw her boyfriend go from a small town boy-bander to a Disney worldwide sensation, and she stuck along for the ride.
JOINING THE JONAS FAMILY
Kevin surprised Danielle in July 2009 by appearing at her door in New Jersey after an overnight flight from Vancouver, where he had a concert.
He proposed with a cushion-cut diamond ring he designed, and Danielle, a former hairdresser-turned-jewelry designer, said yes "like 500 times," according to what Kevin told People at the time.
In December of the same year, the couple tied the knot in a lavish ceremony that was almost ruined by a blizzard in a glamorous castle in Long Island.
They recently celebrated their 10th wedding anniversary with a special party where they had a four-tiered cake and pictures of their big day decorating the walls. 
"These ten years have been the most amazing adventure, and I can honestly say I love you more now than I ever thought I could ever love someone," Danielle wrote in a heartfelt celebratory Instagram post.
On the other hand, Kevin made sure to let everyone know that he's not one of those husbands who forget the important dates in their relationship. He vividly remembers the date he met Danielle, the date he proposed, and their wedding date.
"I remember them because they are the three most important days of my life," the 32-year-old explained, adding how grateful he is to Danielle for helping him see his true potential and for showing him what love is every day.
Of course, that love has multiplied in the last decade with the addition of two more members to their family: Alena and Valentina, whom Kevin says make him feel "so proud and blessed."
AT THEIR OWN PACE
From the moment they got married, people started questioning Kevin and Danielle about when they would have kids. However, they were still young at the time and decided to focus on growing as a couple first.
Fans got to witness a part of that development when the couple accepted E!'s proposal to document their married life in the short-lived reality series "Married to Jonas," which ran from 2012 to 2013.
At the time, Kevin had decided to step away from music after the Jonas Brothers split because of creative differences and started his construction and realtor business.
He also got involved in the development of apps and technology, appeared on T.V. shows like "Celebrity Apprentice," and made a cameo as a contractor for Kathy Wakile in "The Real Housewives of New Jersey."
KEVIN AND DANIELLE JONAS' KIDS
The couple welcomed their first child, daughter Alena Rose Jonas, on February 2, 2014. They confessed at the time they were equally nervous and excited about the prospect of becoming parents.
Still, Kevin admitted in an interview with Oprah Winfrey's "Where Are They Now" that he struggled to connect with Alena when she was a baby.
He explained that he understood the baby girl needed her mom, so he dove into work, not knowing what his place was.
Luckily, Kevin and Alena now have a great bond, with the celebrity dad saying that his daughter is himself in a girl form. Now six years old, Alena is goofy, outgoing, and enjoys dancing to her dad and uncles' songs.
Alena's little sister, Valentina Angelina Jonas, was born on October 27, 2016, and completes the family for now. Danielle confessed after Valentina's birth that having another child was like "literally having five."
According to her parents, Valentina is calmer than her sister and a sweetheart who has already shown a caring nature at three years old.
ENJOYING THE SPOTLIGHT
The adorable sisters are constantly pictured on their parents' social media, and Alena already takes pride in mentioning to anyone interested that her dad is a Jonas Brother.
When Kevin, Joe, and Nick decided to reunite in 2019, Alena put the surprise in jeopardy when she told her school friends that "the Jonas Brothers are coming back!" as her uncle Nick recalled:
"'We're like, 'We got this on lock. No one's gonna tell.' Kevin comes home and says, 'Guys, Alena told her whole class.' Luckily, those 5-year-olds… they're tight-lipped."
Alena and Valentina also melted hearts when Danielle posted a video of them congratulating their dad and uncles over their VMA's nominations in July 2019.
According to Kevin, the girls were happy to welcome Sophie Turner and Priyanka Chopra into the family, although Valentina wasn't so fond of Chopra at first.
The 3-year-old is very close to her uncle Nick, so there was a bit of jealousy when the "Quantico" actress came into the picture to steal the singer's attention.
As for the possibility of his daughters chasing a career in the industry, Kevin has mentioned that he wouldn't be against it but would make sure to let them know all the ins and outs of working under the spotlight.
Alena does enjoy the attention, and she has no problem talking to the camera or putting on a show in her living room. Maybe if Valentina is up for the challenge, we might witness the Jonas Sisters selling out stadiums in the future.