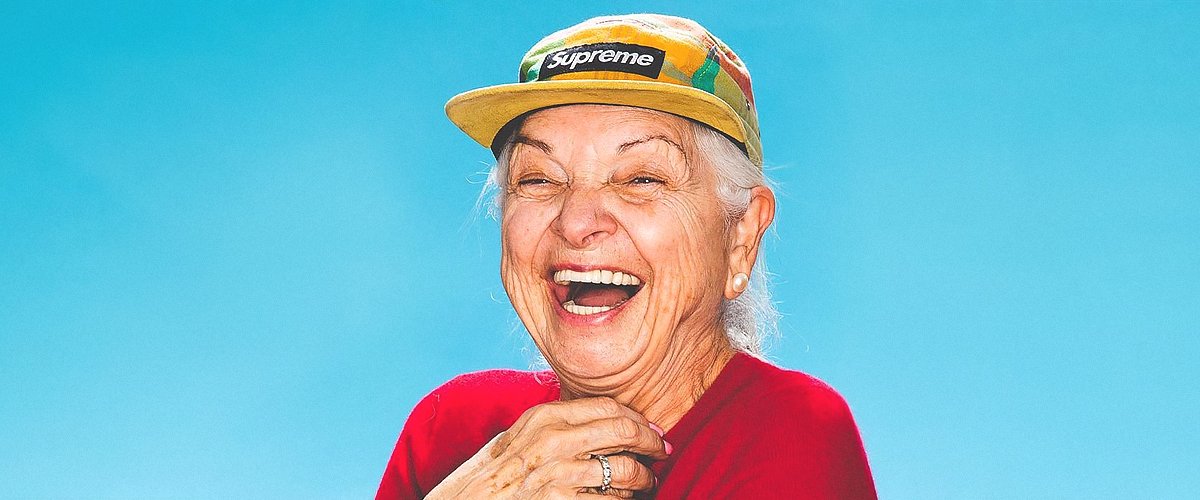 instagram.com/lili_hayes
Lili Hayes Is a 72-Year-Old Hilarious Tiktok Star with over 22m Likes — Get to Know Her
Charli D'Amelio, Chase Hudson and Addison Rae had better watch out because comedian Lili Hayes is causing a furor on TikTok and even A-list celebrities are taking notice.
Lili Hayes is an unlikely star for a teen-orientated platform like TikTok that provides an outlet for short, snappy videos. She is a 72-year-old grandmother, and her spiky humor and sassy attitude are taking social media by storm.
Lili started out on Instagram, where she quickly garnered a very respectable 250,000 followers, but she seems to have found her true metier on TikTok where she has over 800,000 followers, and her weirdly compelling videos have scored an incredible 22 million likes.
Lili has already collaborated with Grammy Award-winning singer/ songwriter Fiona White on a couple of duets, one of them a Valentine's day cover of Sonny and Cher's iconic "I've Got You Babe."
SUPREME GRAN
Part of Lil's unique and irreverent charm is that she doesn't look like a granny should. Instead, she's tricked out in the edgy Supreme gear surfers and street-wise skaters swear by, which she mixes and deliberately mismatches with swag by Brooks Brothers, Nike, and bold-as-brass retro Cazal glasses.
Lili owns a collection of Supreme hats, and her obsession started when her son and biggest fan Kevin Hayes presented her with a bold floral print Supreme cap to wear on a trip to Israel. Hayes was hooked, and now it's an integral part of her look.
Lili. like a series of other adventurous seniors, is taking to TikTok like a duck to water, and pipping the mostly teen users at the instant fame post. TikTok, which allows users to post vids between 5 to 60 seconds, with the added attraction of filter enhancements is barely two years old and already boasts now has over 1,5 users.
IT'S ALL ABOUT THE SASS
So what makes Lili stand out in the middle of the hundreds of millions of competing vid posts of posturing, singing, dancing, and ranting users? Her sharp wit, her no-nonsense hard-tack delivery, her gravelly voice, and the fact that she looks like everyone's gran but sounds like a mobster hitman with indigestion and an itchy trigger finger.
Lili's look doesn't hurt either, although she does garner thousands of comments protesting her usurpation of Supreme. Skaters and surfers can't seem to figure out if she's mocking them of stealing their jazz. Whatever Lili's doing, she's doing it right because as of now she has over 20 million likes on her posts, an incredible achievement in the cut-throat competitive world of social media celebrity.
CELEBRITY FOLLOWERS
And speaking of celebrities, Lili's caught the eye of at least one A-lister, singer Christina Aguilera. Lili did a vid in which she sings along to "Lady Marmelade," the 2001 version by Aguilera, Mýa, Pink, and Lil' Kim for the film "Moulin Rouge." The song's 20-year "Moulin Rouge" anniversary is coming up, and maybe the ladies will invite Lili to record the ultimate version.
The idea isn't as far-fetched as it may seem. Lili has already collaborated with Grammy Award-winning singer/ songwriter Fiona White on a couple of duets, one of them a Valentine's day cover of Sonny and Cher's iconic "I've Got You Babe." As for Aguilera, she loved Lili's lip-sync version so much that she made her own version, and captioned it:
"I wanna be like her when I grow up… @lili_hayes you make me so happy!"
HOW IT ALL BEGAN
But how did a 72-year-old clothes saleswoman from L.A.'s garment district become a social media sensation? Blame her son. Kevin, who is a director, editor, and band photographer is also his mother's biggest fan. He thought his mom's bad singing and snappy come-backs were hilarious, so he started recording her and posting to social media.
Lili's videos went viral, and suddenly the gran with the attitude and the thick accent was a social media superstar and was even featured in an article by Vogue magazine. Lili is on Instagram, TikTok and even has incredibly successful YouTube posts. The ongoing COVID-19 pandemic which has so many people in confinement seems to have boosted Lili's reach even more. She's out there, killing it, and she's definitely here to stay.
Please fill in your e-mail so we can share with you our top stories!