instagram.com/thenikkibella
Nikki Bella & Artem Chigvintsev Share Their Excitement as They Reveal Their Wedding Plans
The "Total Bellas" star and her husband-to-be have had to readjust their plans to marry this year because of the novel coronavirus pandemic, and they are yet to figure out how to go on with it.
36-year-old former professional wrestler Nikki Bella's plans to marry her fiancé, 38-year-old professional dancer Artem Chigvintsev, has been postponed indefinitely due to the COVID-19 pandemic, but this has only given the couple more time for wedding planning.
On a recent episode of Bella's podcast, she was asked by a fan about how long she was going to postpone the wedding, to which she answered that they would rather keep waiting than having a "social distance wedding."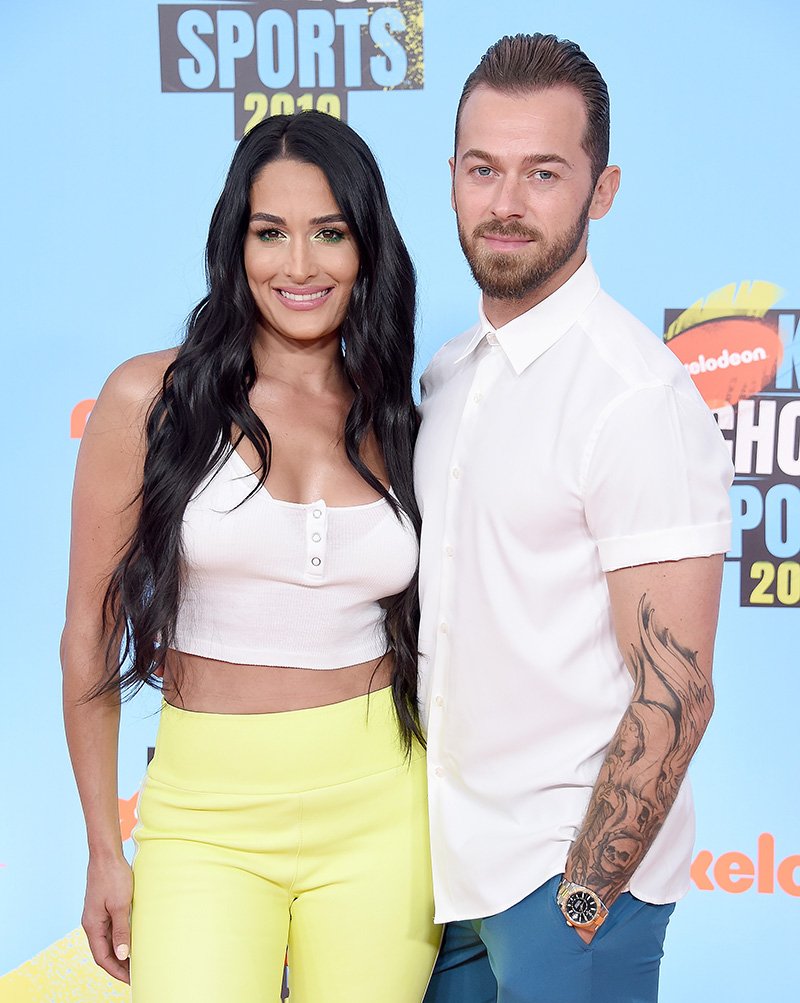 Nikki Bella and Artem Chigvintsev attending Nickelodeon Kids' Choice Sports 2019 at Barker Hangar Santa Monica, California in July 2019. I Image: Getty Images.
In an intervention, Chigvintsev teased that more wedding details were going to be eventually revealed on the reality-TV series "Total Bellas," and he joked about not wanting to see his guests enclosed by plastic walls to avoid contagion.
Chigvintsev continued by explaining that the wedding had to actually be a celebration, and given the current world situation, he and Bella are still trying to figure out how to adapt their wedding to the times on which we are all living.
In any case, the couple doesn't want to have a party on which guests have to be six feet apart from each other.
Bella and Artem welcomed their first son Matteo on July 31, and since he was born before the couple could marry, now his parents are more willing to wait in order to make it possible for the baby to play some role in the wedding ceremony.
"It would be kind of awesome for him...[to be] present in a sense," Artem said in the above-mentioned episode of "The Bellas Podcast," admitting that it was going to take longer to have Matteo walking down the aisle with them.
The comment led Artem and Bella to joke about how they wouldn't be surprised if their child started to walk very soon, since Bella recalled that both she and her twin sister "walked at 9 months."
While Artem proposed Bella back in November 2019 while on a romantic getaway to France, their fans had the chance to watch his beautiful proposal in June, when behind-the-scenes of the special moment was aired on "Total Bellas."
Both Bella and Artem's families were dining together at a lavish French chateau when Artem surprised his future wife, fooling her into believing that he was only celebrating her birthday before he presented her an engagement ring.
Artem popped the question right after enjoying a dance to the music of a string quartet, and he later shared during a confessional that he had spent a long time planning the big moment.
Please fill in your e-mail so we can share with you our top stories!