Keyshia Cole & Son Tobias Enjoy Time at the Beach Amid Rumors of Split from Her Baby's Father
While rumors fly that Keisha Cole has split up with her boyfriend, Niko Khale, the star is choosing to focus on her son Tobias, 1,  instead. 
Recently fans have been speculating over Keyshia Cole and Niko Khale's relationship after they noticed that the pair had stopped following each other on social media. 
However, Cole, who welcomed her son Tobias with Khale last year, does not seem to have let the rumors bother her and has been spending time at the beach with her son. 
Despite the rumors, recently, the proud parents came together to celebrate their son's birthday, throwing him a "Toy Story" themed party.  The party even included pony rides as well a three-tiered cake with the mother taking to Instagram to wish her son a happy birthday. She wrote:
"Can't BELIEVE this YEAR HAS GONE BY Sooooo FAST!!! ? I see so much of me in you it's scary ? Love u so much pop pop!!! My love and protection for you is ENDLESS!!! ? ."
Recently, Cole has been spending time at the beach and while the breakup rumors have not been confirmed, it looks like she has been having a great time with Tobias. 
The star has been sharing a series of videos and photos of her time there, including one where she holds her adorable son as she poses for the camera. 
The more of his music that she listened to, the more she wanted to know about him.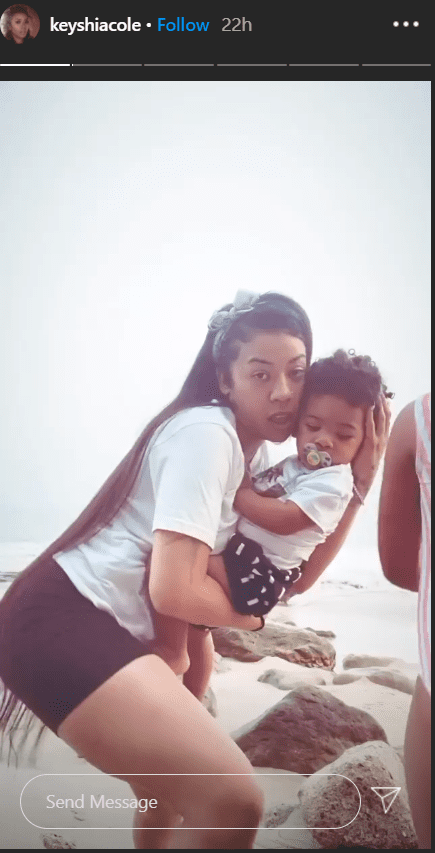 Cole met her son's father when he had remixed her song "Let It Go" and she reached out on Instagram after liking his music.
She said that the more of his music that she listened to, the more she wanted to know about him, adding that at the time she had been done with men after a series of bad relationships. She said:
"I was over it, and I was just like, 'I wonder if he really feels the way he say he feels in his lyrics, because if it is, I need to hurry up and get him before somebody else does.'"
How did @KeyshiaCole and @NikoKhale meet? Well, it started with #Instagram! 📱Join in the conversation right now by ☎️ calling us at 866-FOX-SOUL or tweeting us @foxsoultv! pic.twitter.com/friyiKo6nQ

— foxsoultv (@foxsoultv) November 16, 2019
The pair announced the birth of their first child with Cole sharing an adorable photo of the newborn to her Instagram page.
The star also has another son, Daniel Gibson Jr. who she shares with former NBA player Daniel Gibson. They were married from 2011 to 2017. 
While Cole may not be talking about her relationship with Khale, earlier this year, she opened up about her mother who has battled drug addiction throughout her life. 
The addiction has strained the relationship between the mother and daughter. However, it was revealed that her mother, Frankie Lons has checked herself into rehab.