TikTok Star Charli D'Amelio Opens up about Her Personal Experience with an Eating Disorder
American TikTok star Charli D'Amelio opened up about her struggle with an eating disorder. The 16-year-old dancer revealed in-depth details of her personal experience. 
Fast-rising TikTok star and social media personality, Charli D'Amelio, in a recent heartbreaking post on her Instagram, opened up about her struggles with an eating disorder. 
D'Amelio, whose energetic dance videos shot her into global fame over the past year, bravely shared this trying experience with her fans. The star explained she had been afraid to share this part of herself with her audience.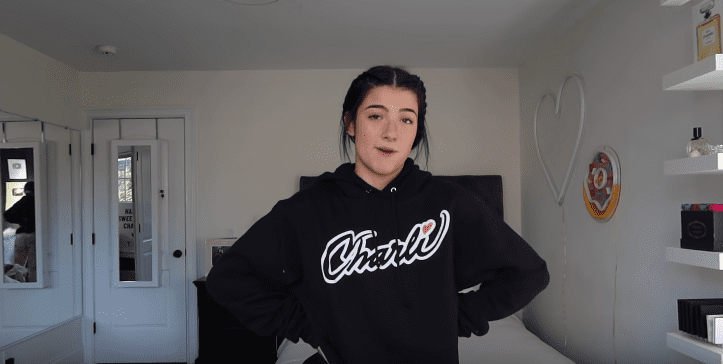 This was most certainly a huge step for the 16-year-old. However, she hoped to use the post to reach out to those who needed it since there are so many people out there battle eating disorders behind closed doors.
The star who understands what it means to suffer in silence said in her humbling Instagram story post on Thursday: 
"I've never talked about my own struggles with eating disorders... It's so uncomfortable to admit to even your closest friends and family, let alone the world."
The dancer explained that she had always tried to use her voice when it came to issues surrounding body image. However, she apologized to her fans if she had ever played and sang along to a triggering song. 
D'Amelio also shared a link to the National Eating Disorders Website. She urged her audience to reach out if they needed it and added that it was okay to reach out and get help. 
It had significantly helped her vent all the pent up pain and sadness.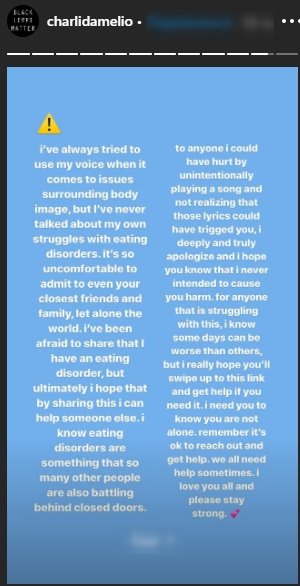 Along with her 18-year-old sister, Dixie D'Amelio, the star recently opened up about their experiences with cyberbullying. The main focus of the attack had reportedly been on body and weight. 
The girls expressed that despite the fame, the online negativity had been a difficult mountain to climb. However, Dixie clarified that her younger sister, Charli, usually got more hate as she was the more popular one. 
Charli further explained that she was not new to cyberbullying as she had a previous brush with it in elementary school. She also advised against holding in the pain as it caused more damage. 
The 16-year-old added that she found her solace in dance. It had significantly helped her vent all the pent up pain and sadness. Dixie, on the other hand, frequently went for therapy sessions.
She also announced the release of her book titled, "Essentially Charli: The Ultimate Guide to Keeping It Real." Set to drop December 1, it gives in-depth details of her life and also addresses how she deals with fame and cyberbullying. 
The star, who recently partnered with UNICEF to fight against cyberbullying and raise more awareness, has clearly decided to join the ranks of leading youths making an impact in this generation.