Kim Kardashian Addresses Criticisms after Launching Maternity Line for Her SKIMS Shapewear
Businesswoman Kim Kardashian West responded on her Instagram after being criticized for trying to make pregnant women look slimmer with her new maternity collection. 
American businesswoman and socialite Kim Kardashian West has been facing some massive backlash after announcing the release of her new maternity collection.
The collection called "SKIMS Maternity Shapewear" has been under severe criticism since Kardashian opened up about its release on Sunday. The underwear is aimed to give comfort and support for the changing body during and after pregnancy.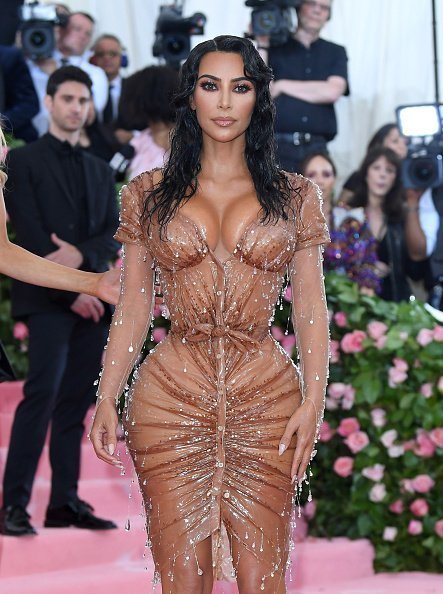 However, many of her fans immediately began to question the authenticity of the collection, pointing out that it was defeating the whole essence of being pregnant as it was trying to make them look slimmer. 
Compressing the pregnancy bump did not sit well with many fans and they complained bitterly about it. Kardashian was moved to reply to their criticism on her Insta Story. She said:
"...if you haven't been pregnant before, you may not know the struggle of what it's like carrying all of this weight.."
She further defended the collection, saying that the line is simply meant to give comfort and support to pregnant mothers. She also divulged its usefulness to mothers who had undergone the Caesarean section.
Kardashian explained that maternity wear was not meant to compress the pregnancy bump but rather to help with weight. She added that tens of thousands of women had requested for it. 
Teigen also put up a video on her feed where she was seen wearing the newly released maternity wear.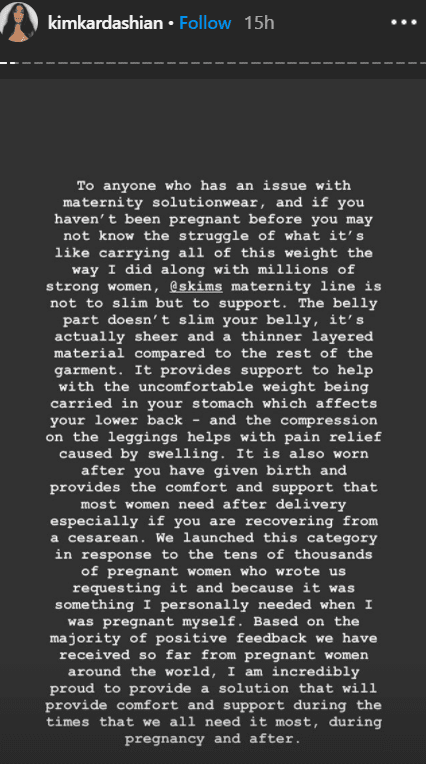 Jameela Jamil, who has never failed to voice her resentment of the Kardashian family, gave her views. She chimed that pregnant women did not need to feel insecure about their bodies but appreciate its beauty.
On the other hand, model and long time family friend, Chrissy Teigen, who is also currently pregnant with her third child, reportedly came to the business mogul's defense. 
In a post on her social media, she explained that the essence of the maternity wear was not to trick anyone or make pregnant women feel inferior about their bodies.
Instead, it is only to aid pregnant women and lend more comfort during the arduous journey. Teigen also put up a video on her feed where she was seen wearing the newly released maternity wear. 
Chrissy Teigen Models & Supports Kim Kardashian's Maternity Skims Collection (via @JustJared) https://t.co/5Hd5q8bBrZ

— TMZ (@TMZ) September 15, 2020
The model is not the only one in support of the collection. Several fans spoke about their excitement and gratitude for its release, most of whom were formerly pregnant women and mothers-to-be. 
The SKIMS Maternity Shapewear collection includes a nursing bra and one-piece bodysuits. It will also be available in nine colors and sizes ranging from XXS to 5X. The collection is set to go on sale on September 16.