'Schitt's Creek' Breaks Emmy Record after the Show Wins 9 Awards
CBC produced series "Schitt's Creek" broke the Emmys record for most wins in one season, taking home 9 awards, including Lead Actor and Lead Actress in A Comedy Series.
The Canadian series, "Schitt's Creek" was the biggest winners at the 72nd Primetime Emmy Awards with nine solid wins out of 19 nominations.
The CBC-produced show, which is in its sixth and final season, took home the award for Outstanding Lead Actor in A Comedy Series with actor Eugene Levy, who stars as Johnny Rose. His son, Daniel Levy, also won Outstanding Supporting Actor in A Comedy Series.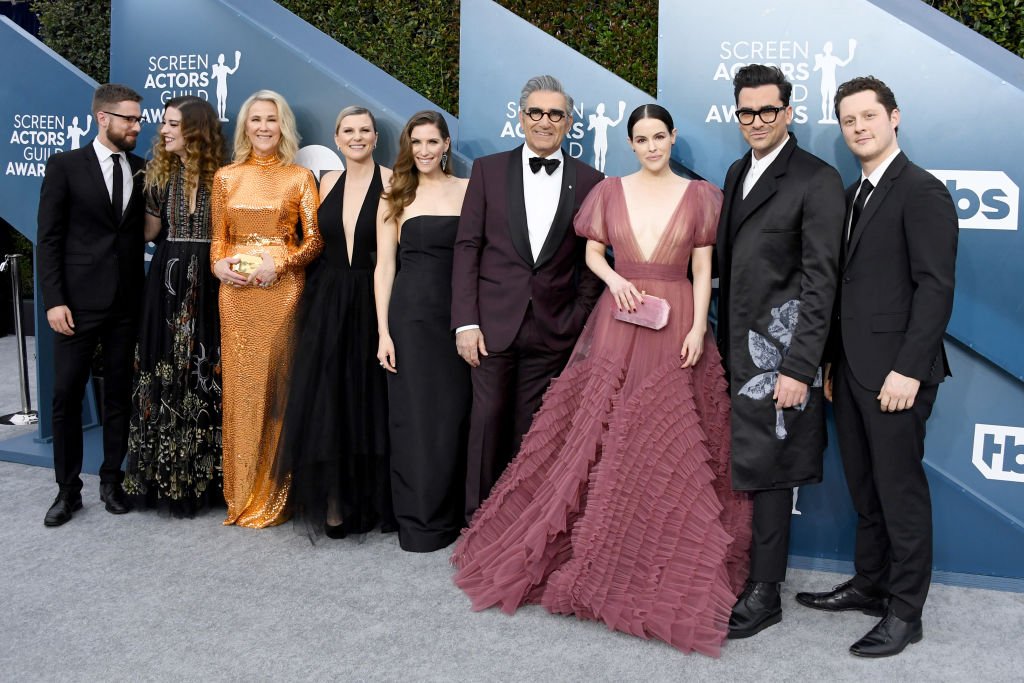 The beloved sitcom also won the above-named major acting categories for the female counterparts with Catherine O'Hara bagging Lead Actress while Annie Murphy won Supporting Actress. 
After the highly-fulfilled wins, the cast of "Schitt's Creek" went to a decorated venue in Toronto to celebrate their victory in style.
The series, which tells the story of a wealthy family who was forced to move to a motel after losing their money, picked up the coveted comedy awards for Outstanding Directing, Outstanding Comedy Series, and Outstanding Writing For A Comedy Series by Daniel Levy.
The last two awards were for Outstanding Casting For A Comedy Series and Outstanding Contemporary Costumes. "Schitt's Creek" premiered in January 2015 on CBC Television.
It soon gained a strong following when it debuted Netflix after its third season. While accepting the award for best comedy series, Daniel gave a heartwarming speech about the core of the show, saying: 
"Our show, at its core, is about the transformational effects of love and acceptance, and that is something we need more of now than we've ever needed before."
Eugene also praised his son during his acceptance speech, thanking him for being the brains behind the captivating storyline. Other big winners from the award night were HBO's "Succession," which took home the award for best drama series and best actor for Jeremy Strong.
HBO's "Watchman" also picked up the award for best-limited series with its star actors, Regina King, and Yahya Abdul-Mateen III, taking home awards.
After the highly-fulfilled wins, the cast of "Schitt's Creek" went to a decorated venue in Toronto to celebrate their victory in style. As seen in photos shared by the show's official Twitter account, the crew coordinated in black and grey outfits.
They tugged at hearts as they posed behind a beautifully decorated backdrop fully adorned with white roses. All members looked stunning, but Dan Levy stole the show in a grey skirt-suit with pleats. 
and our Roses have arrived! pic.twitter.com/JuFHlsVUZd

— Schitt's Creek (@SchittsCreek) September 20, 2020
While the show is in its final season, the cast and team aren't ready to hang their boots yet. For Daniel, he is set to appear in the romantic comedy,  "Happiest Season." He also signed a three-year deal with ABC Studios to develop scripts.
His father Eugene would reportedly feature in the animations, "The Beast" and "Heroes of the Wildfire," alongside O'Hara. The renowned actress also has other projects like the movie, "Extinct."
Murphy will continue her rise in television shows with an appearance in the AMC Studios comedy, "Kevin Can F*** Himself." The sitcom is a spinoff of the CBS show, "Kevin Can Wait," which was canceled after two seasons.