Rihanna Shares Nighttime Skin Care Routine as She Shows Her Glowing & Makeup-Free Complexion
Rihanna is showing how she gets her glowing complexion as she takes fans through her skincare routine. Check out how she does it. 
In addition to being a world-famous singer, Rihanna also owns the extremely successful makeup line Fenty, and the brand just launched a new skincare line. 
Now the star is letting fans in on the secrets to her amazing skin as she shows off her skincare routine in a video shared by Harpers Bazaar. 
In the video, Rihanna shows off her nighttime skincare routine which starts with removing her makeup using the Fenty Total Cleanser. 
When her makeup is off, she gives tips to have great skin which includes a good diet, adding that she tries to implement healthy ingredients into her line. She also said:
"Some of the best tips that i've gotten from skin care, hydration ... I need to stay hydrated so I use a Fenty beauty hydrating mist."
The next step in her routine is the Fenty Fat Water, a two-in-one toner and serum which is a thicker liquid that does not strip away the skin and adds moisture into the skin. 
Rihanna also reveals that the line is very environmentally friendly, vegan, and gluten-free before launching into the third step which sees her using the Fenty Skin Hydra Vizor Moisturizer. 
PQ
One thing that Rihanna wanted to address was the misconception that people with dark skin do not need to wear SPF, saying that it was essential to protect all parts of your skin. 
Her moisturizer contains SPF 30, with the star saying that she learned the hard way how harsh the sun had been on her skin when she started to develop hyperpigmentation. She said:
"I think the biggest misconception with SPF, in particular, is that Black people don't need it, and as a woman of color I'm here to say that's a lie.SPF is for everyone and every day."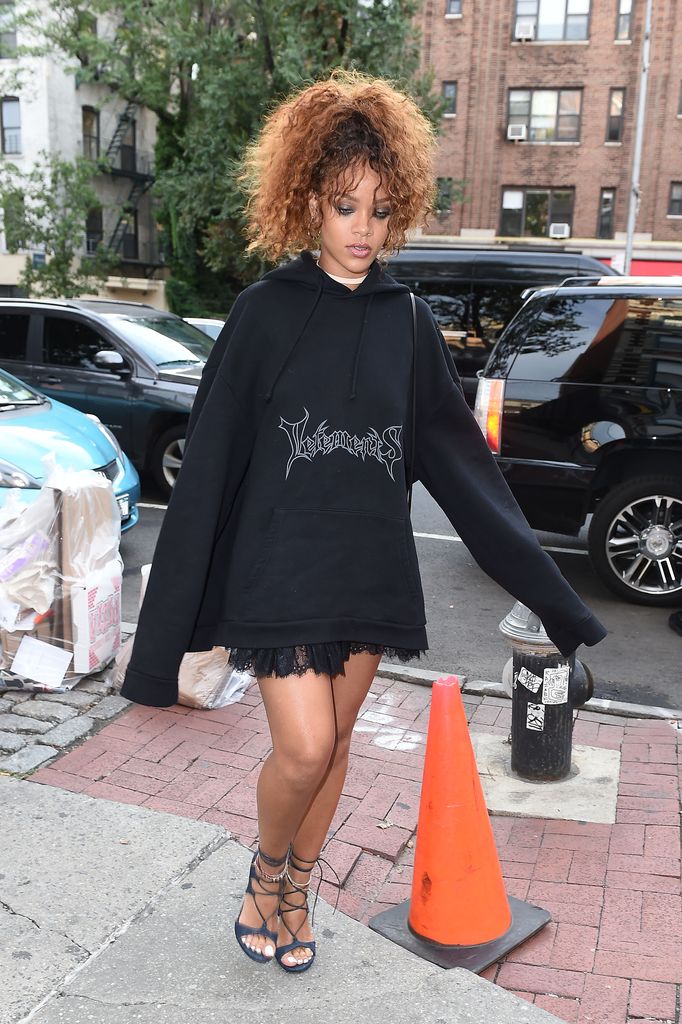 In her video, Rihanna also revealed that the skincare line had been inspired by her Barbadian heritage, even using the Barbados Cherry which is full of vitamin C, in her products. 
For her campaign, the makeup mogul even roped in A$AP Rocky and cast him in the campaign launched in July, where the rapper discussed his self-care routine. 
In the campaign, he revealed that he has sensitive skin and had to be cautious when it came to alcohol-based products. However, he was a fan of the Hydra Vizor Moisturizer. 
Rihanna has also given tips when it comes to her makeup. She said the easiest way to look polished without being too overdone is to use a bronzer to warm up the face.