Eve Stands Close to Her Billionaire Husband in a Selfie as They Pose with Expensive Cars
American rapper Eve, in a recent selfie post on her Instagram, stood close to her billionaire husband Maximillion Cooper as they posed with expensive cars.
In a recent selfie on her Instagram, American rapper and singer Ever Cooper was seen standing next to her billionaire husband, Maximillion Cooper as they posed with expensive cars. 
In the photo, the couple stood on a stretch of brown grass while the colorful race cars were lined up behind them. They had on pairs of sun shades and struck up a cool pose as they took the selfie.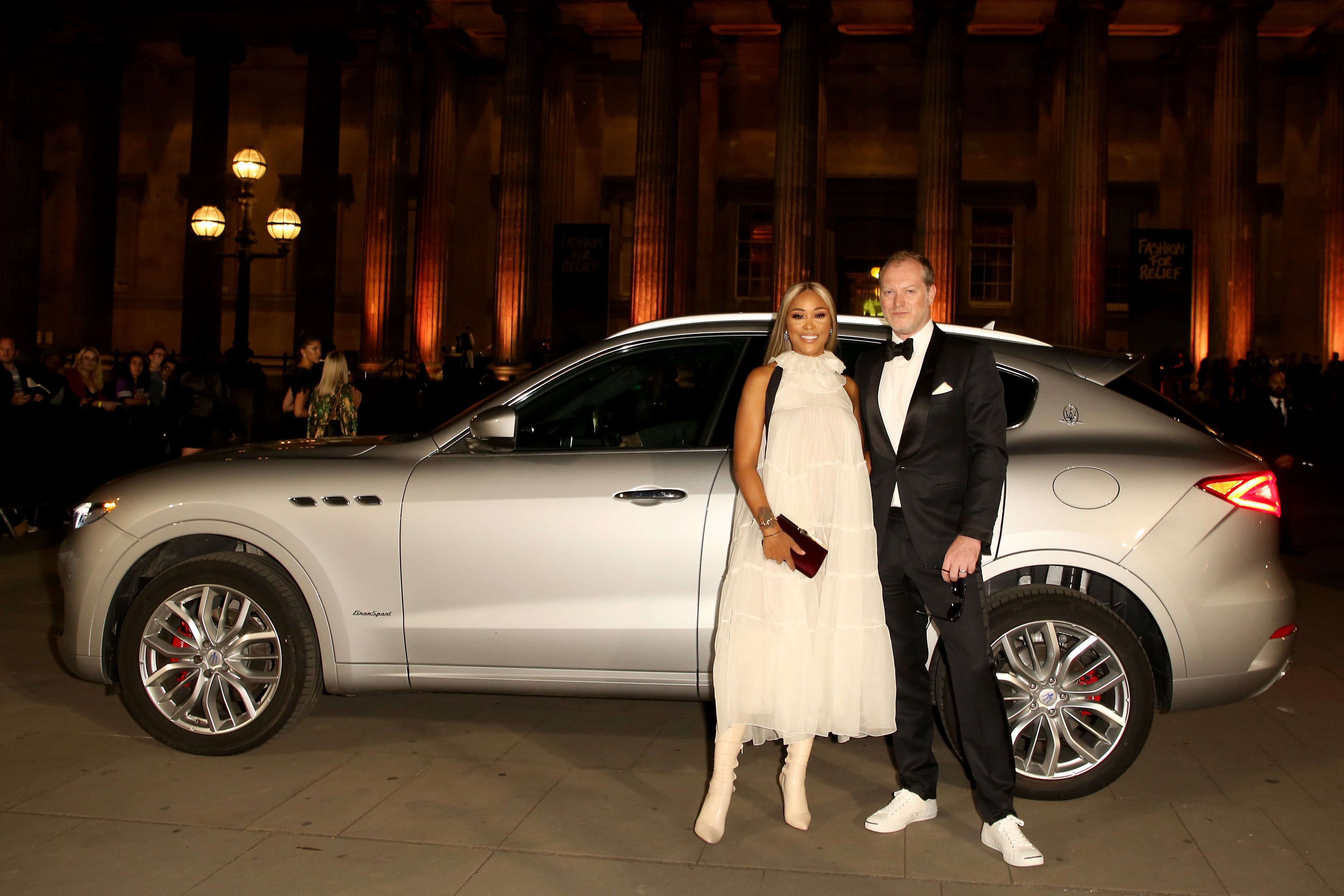 Maximillion had on a crisp white open front shirt and a black blazer, while Eve was clad in a thick black overcoat. She let her brown highlighted braids fall down her shoulders and had on green earrings.
The rapper also had on gold and white stylish rings and painted her nails dark purple, almost the same shade as her lipstick. While she rested her hands on his shoulder and pouted slightly, Maximillion grinned. Eve captioned:
"❤️ @mrgumball3000, even the clouds and rain couldn't ruin the day or the beautiful cars. Thanku @salonpriveuk"
Eve and Maximillion have been together for six years and their love only seems to wax on stronger. They were said to have met in 2010, at a Gumball 300 rally and they have been unbreakable ever since. 
The couple got engaged on Christmas Day after Maximillion proposed to the rapper while they were holidaying in Scotland. The love birds eventually tied the knot in a romantic beach ceremony in Ibiza in June 2014. 
She felt inadequate and did not open up about it for so long because it was shameful. 
Maximillion was previously married to Julie Bangstrup and the pair have four children together — Lotus, Jagger, Mini, and Cash. Though Eve admitted that it was rocky at first, she said she loved being a part of their lives and could not wait to give them siblings. 
This has, however, proven near impossible as the rapper is reportedly battling with infertility. In a recent interview, she opened up about her painful pregnancy struggle. 
Eve said that she felt inadequate and did not open up about it for so long because it was shameful. She added that as a woman, it was expected for pregnancy to come naturally, and her situation made her feel broken and damaged.
Despite being unable to get pregnant, the love between the rapper and her husband seems to go on just fine. Eve is also more or less a mother to his kids as they have already formed a tight bond. 
The rapper revealed that she had to have uncomfortable conversations about racism with Maximillion during the "Black Lives Matter" protests. Being in an interracial marriage, it was an essential topic of discussion for the pair.
Eve reportedly received backlash
for not having the conversation beforehand. However, she disputed the claims and explained that it was not the first time the pair was having the conversation.