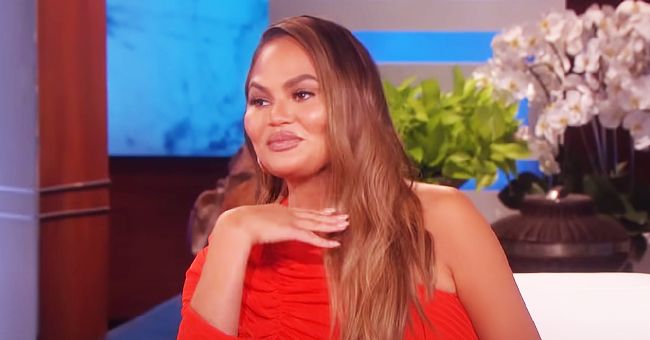 Getty Images
Here's Why Pregnant Chrissy Teigen Had to Postpone Her Cookbook and Temporarily Stop Filming
Chrissy Teigen recently revealed why she had to put everything on pause to take care of her health amid her "high-risk" pregnancy.
In a series of tweets, Chrissy Teigen revealed that she had to stop filming for her Quibi series, "Chrissy's Court," and postponed the release of her third cookbook due to pregnancy problems.
The expecting mom was "devastated" to make the announcements, but had to prioritize both her health and her unborn baby's life. "Baby cannot do it," she said.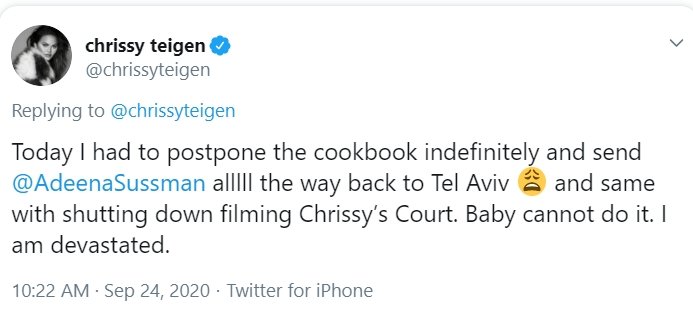 Screenshot of Chrissy Teigen's tweet. | Source: Twitter.com/ChrissyTeigen
Previously, Teigen shared that her doctor put her on bed rest because of her son's weak placenta, causing a lot of bleeding, which categorized her pregnancy as high-risk. In one of her updates, she said:
"Been in bed for all but 5 mins of the last 24 hours. Here til [sic] next Tuesday [...] On punishment for saying the first two pregnancies were easy peasy."
Tiegen also experienced complications in her past pregnancies with her daughter, Luna Simone, 4, and son, Miles Theodore, 2, whom she shares with John Legend.
The cookbook author revealed that she has been experiencing pregnancy headaches recently, which she had to go through when pregnant with Miles. At that time, Teigen turned to her fans for advice on how to ease the pain.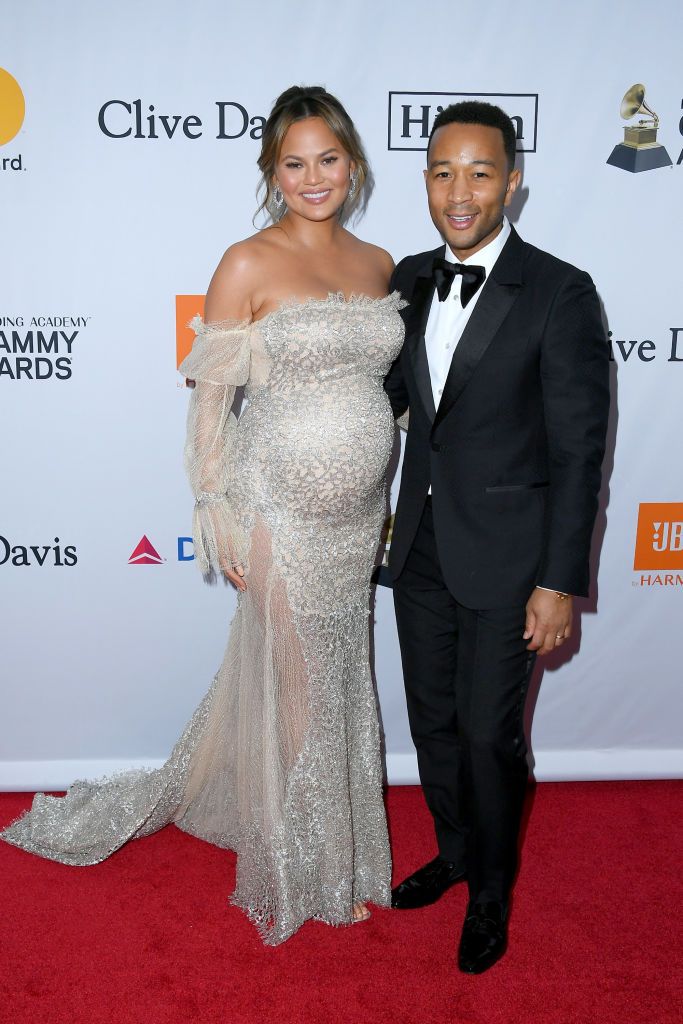 Chrissy Teigen and John Legend attend he Clive Davis and Recording Academy Pre-Grammy Gala and Salute to Industry Icons on January 27, 2018, in New York City. | Source: Getty Images
Teigen often felt anxiety before giving birth and had to deal with postpartum depression after.
Teigen and Legend are expecting a baby boy in the coming months, which the pregnant mom accidentally revealed in one of her social media posts. "It's super weird," she said. "Cause the baby is really, really healthy, and he's big!"
The couple initially had trouble conceiving and sought fertility treatment to start a family. As part of the IVF process, Teigen took hormones through injections to stimulate her ovaries.
The hormones had different effects on the former model, including weight gain and sensitive emotions. Being under the public eye only made it worse, but she dealt with things well.
Through IVF, the couple had their first child, Luna. However, becoming pregnant was only the beginning of their many trips to the doctor and changing emotions. Teigen often felt anxiety before giving birth and had to deal with postpartum depression after.
As part of her therapy, Teigen turned to cooking until eventually becoming a cookbook author. In 2017, the happy mom revealed that she was pregnant with her second child, Miles.
With Teigen's infertility struggles in the past, the couple did not think that it was possible to get pregnant naturally; hence, the big surprise when they found out a third baby was on the way.
Please fill in your e-mail so we can share with you our top stories!