See Ray Allen's Touching Post for His Only Daughter Tierra as He Celebrates Her Birthday
Ray Allen is a proud father who recently took to social media to commemorate his only daughter, Tierra's birthday with a touching tribute.  
NBA star Ray Allen's only daughter, Tierra, is crossing a new milestone and the proud father took to his Instagram page to celebrate. He shared a series of photos that featured her.
The first photo was a selfie that captured the beautiful woman's delicate features which included soft brown eyes, a gorgeous mouth, and a cute nose that sported a nose ring.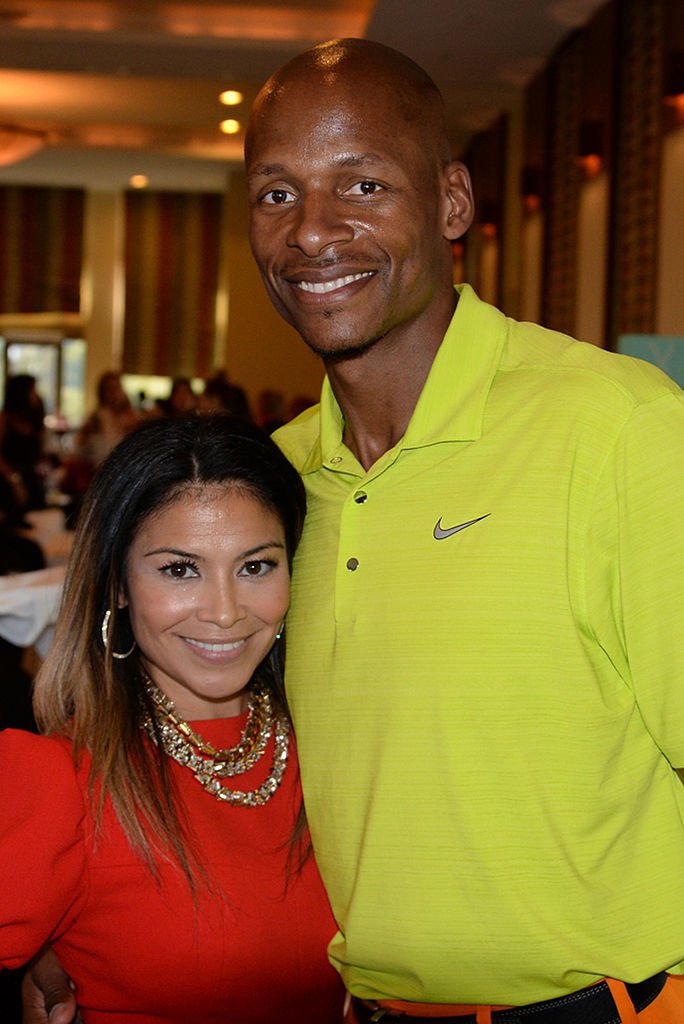 The second image showed her outdoors seated on an empty staircase. She was dressed fabulously in a white top, a long beige coat, leather pants, and a high top pair of shoes. 
The third shot captured Tierra at what seemed to be a cafe, looking down at her birthday cake. Her eyes were closed as though she was making a wish, as is standard practice. Allen captioned the post,
"Happy Birthday @lifextierra. I just want to tell you all that...Whenever she walks in the room, she lights the room up! Tierra... . I love you!"
In the comments section, fans joined Allen in wishing Tierra a happy birthday. Some expressed disbelief that he had a girl child which is understandable since the boys make more headlines because they have chosen to follow in their father's footsteps.  
In 2019, a video which captured Allen using tough love to train his sons to be better surfaced on Instagram. The NBA legend sat near his outdoor court in the footage while passing comments on the free throws his boys were shooting. 
As he explained, he makes the boys complete multiple free throws after a drill to teach them how to be clutch when they are drained and the game is at risk. 
Williams is famously known as a TV chef — she graduated from Northeastern University.
Ray Allen explains to his kids the importance of free throws and how to be clutch in uncomfortable situations 👏

(via trayfour/IG) pic.twitter.com/2sKKKDuDVc

— Bleacher Report (@BleacherReport) September 2, 2019
Allen retired as a basketball player in 2016. As a player, his prowess on the court was nearly god-level, and no one will contest the fact that he was the most excellent shooter in the history of the NBA — until Stephen Curry entered the picture. 
He was also loved by many. Los Angeles Clippers forward Paul Pierce had this to say about him:
"I would consider Ray 'The Barack Obama' of the NBA. He can convince you pretty much about anything."
Allen worked hard to perfect his craft as a successful player, and there is no doubt it is what he expects of his boys. Allen has been married to his wife, Shannon Walker Williams, since 2008. They allegedly dated for four years before eventually tying the knot. 
The pair shares four children. Williams has a child from a previous relationship and Tierra is Allen's daughter with his ex, Rosalind Ramsey. 
Williams is famously known as a TV chef — she graduated from Northeastern University, and she is a former member of Motown Records group, "Shades."
The singing group was created when Williams and the other three members were in college. The quartet dropped their self-titled and only album in 1997.  It produced several hit singles like "Tell Me (I'll Be Around)" and "Serenade." 
The group was not meant to last and they disbanded later that year. After the split, Williams tried her hand at acting and showed up on different TV programs including "As the World Turns," and "Strangers with Candy."
Now, Williams and her husband are in the process of reinventing fast food in America.