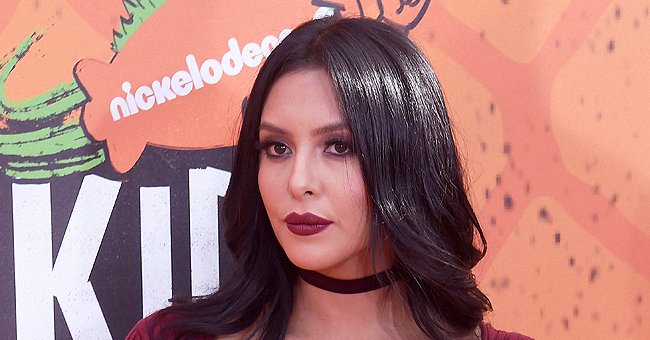 Getty Images
Vanessa Bryant Shows Daughter Bianka Holding a Photo of Late Dad Kobe in a Heartbreaking Post
Vanessa Bryant shared a heartbreaking picture of her baby daughter Bianka Bella holding a framed picture of her late basketball legend father, Kobe Bryant.
It has been eight months since the legendary basketball star Kobe Bryant tragically lost his life, but the pain is still the same for his family, loved ones, and fans. His wife and daughters seem to miss him more and more every day.
His wife Vanessa proved just how much their children miss their dad by sharing a heart-wrenching photo of their daughter Bianka Bella that had the netizens reaching out for tissues.
Captioning the emotional Instagram post "DaDa," Vanessa shared a photo of Bianka looking at her dad's framed photograph as she held it in her little hands. The monochrome photo saw Bryant posing with his Lakers jersey on in a basketball court.
Bianka, who has her father's smile, seems to be missing him. Bryant, his daughter Gianna, and seven others lost their lives in a fatal helicopter crash in Calabasas, California on January 26, 2020.
One of the fans thanked Vanessa for sharing moments of her life with Bryant's fans even though she does not owe them anything. They praised her for knowing how much his fans love him and expressed their gratitude for still sharing the best parts of him.
She and Bryant shared four daughters together and he was famously known as a doting girl dad.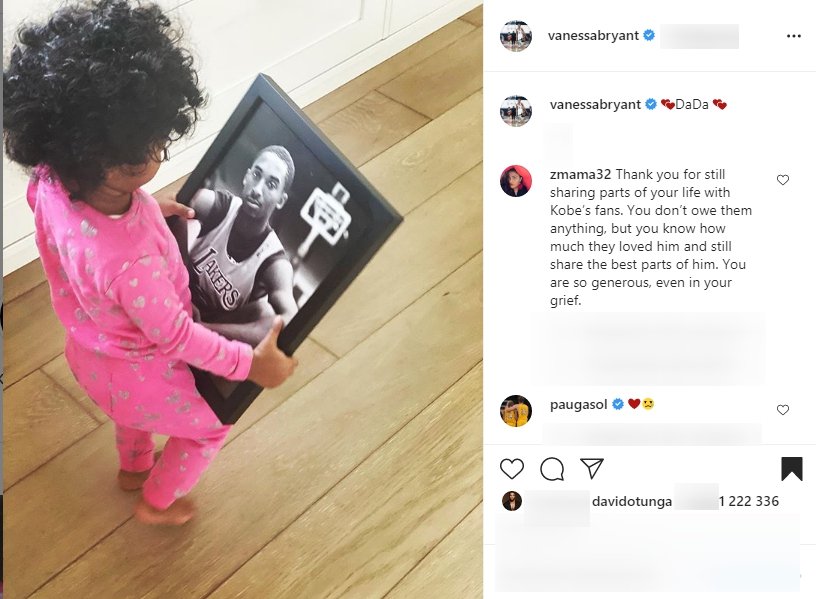 Vanessa and Kobe Bryant's daughter Bianka Bella Bryant hold a picture of her late dad. | Source: Instagram/vanessabryant
The heartbreaking post comes three days after Vanessa shared a meme about being let down by the most trusted people while being loved by the most unexpected ones. The post was seemingly dedicated to her mother, Sofia Laine, after her explosive interview about their relationship.
In the interview with Univision's "El Gorda y La Flaca," Laine accused her daughter of kicking her out of her house following the death of her son-in-law and even asked her to give her car back.
Vanessa firmly denied the claims, saying that she had never done anything like that. She was taken aback by her mother's audacity and desire to do her wrong in the wake of the huge loss she has been struggling to deal with.
She further alleged that Laine had removed all her precious diamond jewelry from the apartment that she provided to her. On top of that, she claimed that her mother even put away all the furniture to make it look like she did not have her daughter's support.
HER MOTHER WAS NOT SUPPORTIVE
Vanessa said she and her late husband had been supporting Laine for the past two decades and she continues to do so. On top of that, she also provides her with monthly alimony.
While previous reports claimed that Laine had been her daughter's rock following the January tragedy, Vanessa said she had not been supportive or even physically present in the months that followed. She and Bryant shared four daughters together and he was famously known as a doting girl dad.
Please fill in your e-mail so we can share with you our top stories!