Harry Belafonte Is 93 and a Proud Father of 4 Kids — Meet All of Them
Legendary singer Harry Belafonte, also known as the King of Calypso and one of the most successful Jamaican-American music stars, has four children from two different relationships.
Born in March 1927, Harry has been famous for decades for his outstanding singing skills and the constant fight against social injustice, championing different social and political causes, and even being friends with Martin Luther King Jr.
The 93-year-old singer is currently married to Pamela Frank, his third wife. With his previous two spouses, Marguerite and Julie, Harry Belafonte had four children – two with each. Here they are.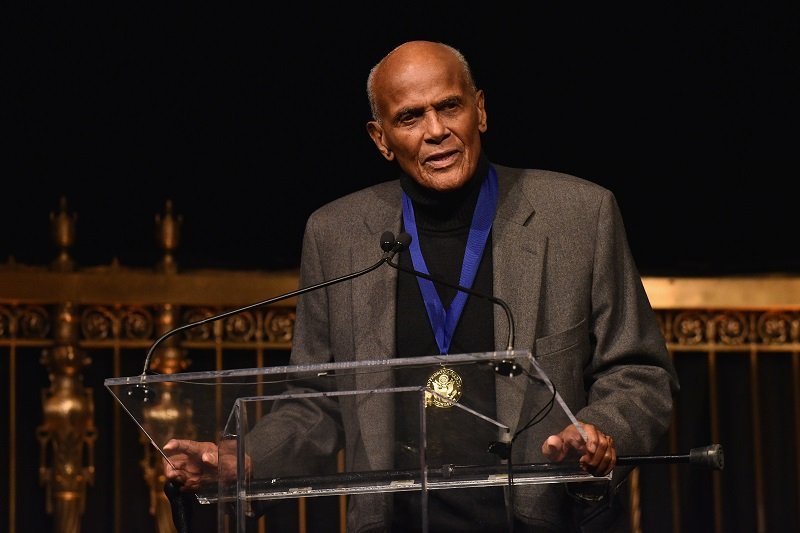 ADRIENNE BELAFONTE
Marguerite and Harry's eldest daughter is Adrienne Belafonte. She graduated from West Virginia State College with a Bachelor of Arts Degree in Art and eventually got her Master of Arts Degree in Community Counseling.
Unlike her father, Adrienne chose a career in counseling, working for 25 years with children and their families. Apart from that, she serves as the Executive Director of the Anir Foundation, which she created with her daughter, Rachel, back in 1997.
@AdrienneBelafonte @GinaBelafonte @RachelBiesemeyer @manyriversfest c'mon out. Gonna be a fun 2 days! pic.twitter.com/diwfOd3noU

— Shari Belafonte (@ShariBelafonte1) October 1, 2016
Their foundation is a volunteer program in which Americans can focus on social change in underserved Southern African communities and the Caribbean, as well.
They mainly focus their efforts on assisting families with housing and education problems while also teaching people how to prevent some health-related issues, including HIV and AIDS.
In January 2019, Adrienne Belafonte made headlines for being the keynote speaker at a program commemorating the life of Martin Luther King Jr. at her alma mater, West Virginia University.
SHARI BELAFONTE
Out of Harry's four children, Shari Belafonte is probably the most similar to him. Apart from being an activist, as well, she has been acting since the late 70s.
Her first gig came in 1979 when she briefly appeared in an episode of "ABC Weekend Specials." Then, in 1983, her career skyrocketed after being cast as Julie Gillette in "Hotel." Most recently, Shari has worked in "General Hospital," "The Morning Show," and "Sistas."  
In June 2020, the actress pointed out that, as Martin Luther King Jr's best friend, her dad used to help him out with his speeches. According to Shari, Harry even has some pages of the first drafts of Martin Luther King's "I Have a Dream" speech.
At the moment, Shari is married to Sam Behrens, a TV actor best known for working in "General Hospital."
After appearing in "Friends" and a short film titled "Old Love," Gina took a long hiatus.
DAVID BELAFONTE
Julie and Harry Belafonte's first child together is David Belafonte. He has been involved in the entertainment industry, too, taking small roles in "Across the Tracks" and "Timebomb."
Apart from that, he worked in the music and production department in the TV special "An Evening with Harry Belafonte & Friends," and is expected to appear in a short film that he also co-wrote, "Kissy Cousins Monster Babies."
So proud of my man @davidbelafonte receiving his black belt in Brazilian Jujitsu from amazing professor Babs Olusanmokun @wayofbabs after years of training! I love you! pic.twitter.com/2c3GsXpIvy

— Malena Belafonte (@Malenabelafonte) February 24, 2019
As per his love life, he has been married to Malena Knopf Mathiesen since 2000. At the time of the wedding, Malena was a fashion model and host of "The Malena Mathiesen Special."
David, on the other hand, was the vice president of Belafonte Enterprises, a company based in New York and founded by Harry that encompassed music publishing units and film and television companies.
Love pic.twitter.com/UmcmcNBDHn

— Gina Belafonte (@GinaBelafonte) June 23, 2020
GINA BELAFONTE
Gina, Harry Belafonte's youngest daughter, is also an actress and producer who has been taking gigs since the 80s. In 1991, though, she landed one of the most significant roles in her career: Carmela Pagan in "The Commish."
In 2001, after appearing in "Friends" and a short film titled "Old Love," Gina took a long hiatus.
#NewProfilePic pic.twitter.com/7V2Bsms5a2

— Gina Belafonte (@GinaBelafonte) March 28, 2020
She eventually came back to the big screen in 2016, portraying Senator Gina Piccollo in "Courting Des Moines." Gina also worked in the critically acclaimed "BlacKkKlansman."
At the moment, she lives between Los Angeles and New York and is mainly focused on working with different artists and activists around the world to promote cultural and civil engagement in this century.