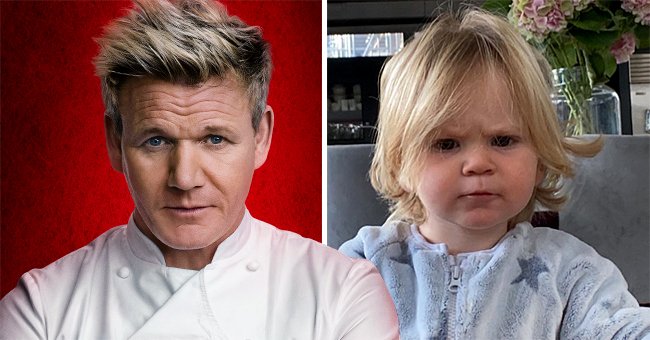 instagram.com/gordongram GettyImages
See Gordon Ramsay's 1-Year-Old Son, Oscar Flaunt His Dad's Trademark Scowl in a Cute Photo
One of the most famous chefs in the world is also a proud father of five, but it is his youngest son who has inherited his true character, exactly like his dad's.
53-year-old famous chef Gordon Ramsay recently took to Instagram to post a series of photos in which he proudly shows the resemblance he and his 17-months-old son, Oscar have.
In the hilarious first snapshot, little Oscar looks straight at the camera giving that recognizable look his father does with his scowl, shown in the following picture. The post leaves no doubt that the boy inherited his dad's expression.
Gordon Ramsay posing for a promotional photo for his show "Hell's Kitchen" in September 2018. I Image: Getty Images.
Many fans did not hesitate to comment on the funny images. Some of them wrote phrases as if the baby was using the same words his dad would say when something does not like him.
User @michaeldshapiro1 wrote "This breakfast is RAW!!," and @karisaselfloveandfitness assured that "he will be sayin 'where is the lamb sauce' real soon??." Meanwhile, user @fisted_flakes wondered "how many times has he yelled at y'all for the milk being too cold."
LIKE FATHER LIKE SON
While "The Kitchen Nightmare" host has been away from his restaurant, he has been close to social media, sharing many photos and videos of himself and his son to show that both are so much alike.
In some pictures posted on the baby's own Instagram, Oscar is in a hair drying session with his mother Tana Ramsey, while he copies the same scowl expression as his dad.
On another post, the culinary artist joined the Friday Dance challenge on TikTok by making his best moves to Nightcrawlers' song, "Push The Feeling On." Another clip showed the one-year-old grooving his arms and legs just like his father.
Besides Oscar, Ramsey shares four other children with his wife Tana. They are 22-year-old Megan, 18-year-old Matilda, and twins Jack and Holly, who are 20 years old.
BACK TO WORK
Last July, baby Oscar was named senior sous chef at the restaurant his father leads in London, and he was the first in row, right after the boss, when Ramsey could finally reopen the place.
Earlier this year, when the pandemic was announced and many restaurants and pubs shut down their activities, chef Ramsey had to close his chain of restaurants and dismissed over 500 members from his staff.
At the time this decision brought him lots of criticism and a strong negative reaction to many people who used to be customers, admirers or fans of the chef's multiple TV shows.
However, the master chef could finally get back to business after the government withdrew the shutdown. In a statement, he said made sure about safety measures in the restaurant and he shared how excited he and his staff feel about coming back to work.
Please fill in your e-mail so we can share with you our top stories!