Savannah and Chase Chrisley Live Together — inside Their Lavish Los Angeles House
"Chrisley Knows Best's" Savannah and Chase Chrisley moved out of their dad, Todd Chrisley's house, into a great L.A house featured in their spin-off series, "Growing Up Chrisley."
In 2019, Savannah and Chase Chrisley moved out of their dad, Todd Chrisley's house, to prove that they were all grown up. The pair decided to give a tour of their new home in Los Angeles for their spin-off, "Growing Up Chrisley." Chase began:
"I don't know who cleans this, but this is our kitchen. My mom's not here so Savannah will be picking up the slack."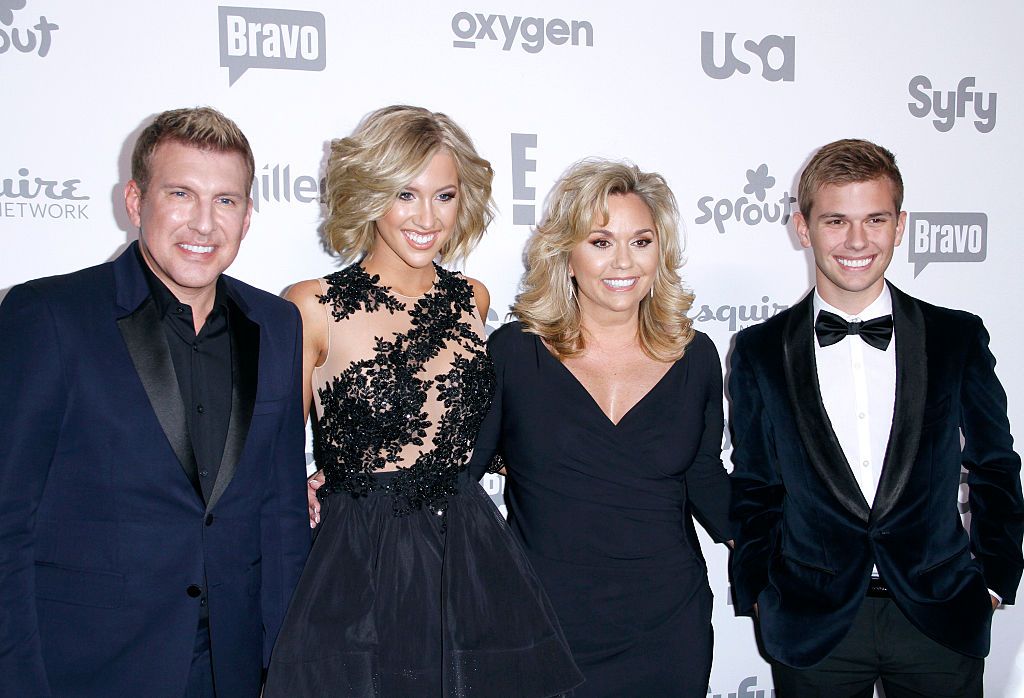 Right after he joked, a clip from the show showed Chase as he watched his younger sister, Savannah, make waffles in the all-white kitchen where rustic kitchen bar stools and a large eight-person dining table were fitted.
As he complained about her not making the waffles the way their mom used to, the blonde bombshell stared at him before jokingly yelling that she was not his momma.
The frame shifted to the living room, which boasted of an amazing large fireplace, a flat-screen TV, a chic rustic coffee table, and a white Chesterfield sofa. 
Chase then went on to mock his sister, revealing that she could often be found on the sofa eating her feelings away if neither he nor his best friend, Elliot, were not already on it.
The next part of the house tour took place in the backyard. Fitted with an entertainment area, a pool, hot tub, gazebo, and some tropical landscaping, Chase easily deemed it his favorite part of the house.
The next stop was his bedroom, where he briefly showed off his neat arrangement and well-organized bed, referring to it as where all the magic happened.
Savannah's room was the last stop for the tour, and Chase let the camera take in the pretty white and blue printed comforter and the light-embracing floor-to-ceiling windows. 
According to him, Savannah's room, which was significantly bigger than his, was where no magic happened, and he added that no magic needed to happen in there. 
A clip from the show flashed right after, showing their father, Todd, rapid-firing questions at Savannah and her fiance, ice hockey player Nic Kerdiles after he found Kerdiles' toothbrush in their house. 
Most recently, in July, Chase and Savannah got to talk about their lives and childhood as Chrisleys, months after the second season of "Growing Up Chrisleys," ended.
Both siblings said that it changed their lives and forced them to grow up fast due to all the pressure and scrutiny they were subjected to. Now all grown up, both Chrisleys were ready to take on the world and live their lives how they wanted.