Tori Roloff Shares Update on Opening of 'Roloff Farms' with Adorable Photos of Her Kids
Tori Roloff excited fans with a positive update about the Roloff Farms opening amid pumpkin season with a series of heartwarming photos of her beautiful family.
Fans of "Little People Big World" are in for a treat as pumpkin season comes alive at the renowned Roloff Farms. Reality star Tori Roloff gave an update about the farm's opening with a recent post on Instagram that included her beautiful family of four.
In the series of heartwarming images, Tori showed off how her little clan was enjoying the farmland. The first slide was a group picture of her family as she and husband Zach posed with their children, Jackson and Lilah. 
The cute family posed in front of a signboard with the words Roloff Farms, surrounded by juicy pumpkins. The other slides showed the kids tugging at hearts as they played with pumpkins of different sizes.
Amy and Matt, who were married for 30 years before getting a divorce, recently had a feud over the farmland on September 29.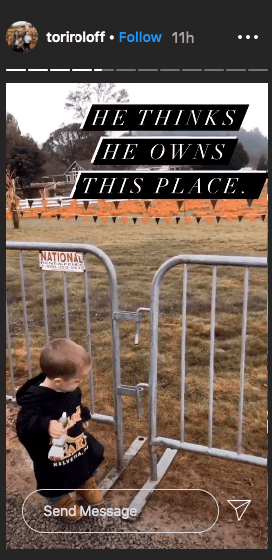 In the accompanying caption, the mother-of-two explained that she was thrilled for the farm's opening as it was her daughter's first pumpkin season, and her son has been waiting to wear his new boots around the farm.
She praised the Roloff family for working hard to make the farm safe and comfortable amind the ongoing pandemic. However, she noted that she wouldn't be so active. In her words:
"Unfortunately, with COVID, me and our kids will be less involved. But Zach, Matt, and Amy are all around and doing such an amazing job!!"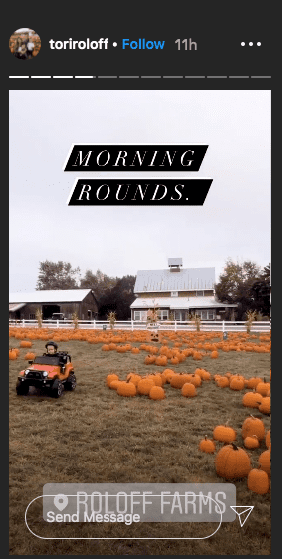 She concluded, urging fans to wave at them if they ever visit the farm. The lovely update came shortly after the former couple, Amy and Matt Roloff, were seen working on the farm on opening day. The matriarch took to her Instagram Story to updates fans about how the opening day was going as she donned a patterned mask.
Amy and Matt, who were married for 30 years before getting a divorce, recently had a feud over the farmland on the September 29 episode of their family TLC show, "Little People, Big World."
According to reports, the duo was negotiating the terms of Amy selling her part of the farmland to her ex-husband. Initially, Amy was reluctant to sell off her share because of the deep sentiments she had towards the property.
However, Matt wasn't having it and offered her a huge amount of money with an ultimatum of six weeks to decide. Amy eventually reportedly sold her share for a whopping $667,000, making Matt the sole owner.
When asked why he wanted his ex-wife's part, Matt allegedly said he wanted to give the family closure. The opening of the Roloff Farms comes days after Tori caused a stir online after teasing her fans about baby number 3.
During an Instagram Q&A, the 29-year-old told a fan who asked about her family plans that she wouldn't mind having another child if God wills. Tori has previously hinted at her desire to have more shortly after the birth of Lilah in 2019.
The reality disclosed that she thought she only wanted two kids, but that no longer seems to be the case. Her husband of about five years seems to share the same sentiment as he noted he doesn't mind four or five children.