Dwayne Haskins' Father Used to Train Him Every Weekend — Facts about the NFL Player's Family
NFL player Dwayne Haskins, currently playing for the Washington Football Team, has made clear how important his family is to him and how close he is with them.
Born in May 1997, the 23-year-old quarterback has been a professional football player ever since the Washington Football Team, formerly known as Redskins, picked him in the first round of the 2019 NFL Draft.
Although Dwayne is still relatively young, he is already a respected quarterback, especially for his impressive accomplishments in high school and college football.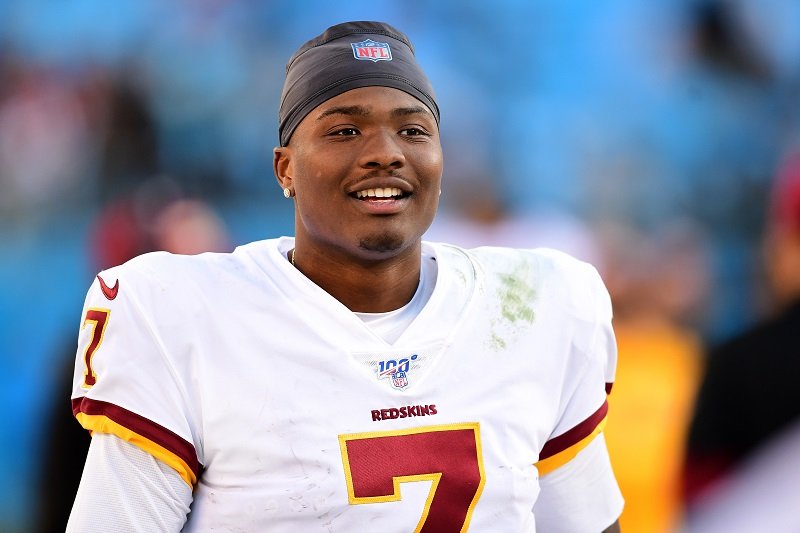 DWAYNE HASKINS' CHILDHOOD
He grew up in Highland Park, New Jersey, with his dad Dwayne Haskins Sr., mother Tamara, and younger sister Tamia. The NFL star used to be a fullback, but when he turned ten, he started playing in the quarterback position to be "more involved."
At the time, his father used to train him every weekend, according to Jim Gay, a man who used to be around Dwayne during the early years of his career.
Jim admitted that Dwayne Sr. would take his son to a hill near the Rutgers football stadium in New Jersey to run up and down with weights on.
Dwayne Sr. used to say that his kid would be "great one day," but Jim didn't take him seriously as "every father says the same thing." Time proved that Dwayne Sr. was right, and that hard work pays off.
The Haskins eventually moved to Gaithersburg, Maryland, where Dwayne attended Bullis High School in Potomac. There, he passed for over 5,300 yards and 54 touchdowns.
Even at that time, he was making great impressions, and not only because of his game. According to his football coach at Bullis, Dwayne "cares about everyone."
DWAYNE HASKINS' IMPRESSIVE COLLEGE CAREER
Apart from that, Dr. Jerry Boarman, the Head of School at Bullis, pointed out that the young quarterback was a "very Christian and family-oriented" man. He also praised Dwayne Haskins' parents by saying that they provided a "strong foundation."
Dwayne then went to Ohio State, where he had a record-breaking sophomore season, passing for over 4,000 yards and more than 40 touchdowns.
Since he broke the single-season passing and touchdown records for his university and the Big 10 Conference, he was named Big 10 player of the year and was a finalist for the Heisman Trophy.
Dwayne is not the only talented person in the family.
DWAYNE HASKINS WAS RAISED FOR GREATNESS
It is fair to say that the Haskins raised their children to accomplish big things, especially because they didn't want to be average.
As Dwayne Haskins revealed, he used to be scared to get a C in middle school. If he got a 79.5 on a test, he would ask teachers if he could boost his grade by taking extra credits.
.@OhioStateFB QB @dh_simba7 is very close with his sister, Tamia.@BTNJourney featured the Haskins siblings' friendship, and you won't want to miss how Dwayne turned his bye week into a family surprise. 👇 pic.twitter.com/Rler1aurui

— Big Ten Network (@BigTenNetwork) November 17, 2018
According to the NFL star's dad, they never thought Dwayne would be an NFL quarterback. They just wanted to raise him to "fulfill his purpose" while inspiring other people to do the same.
Fortunately, Dwayne has got a lot of support from his sister, Tamia, who once admitted to being very proud of her brother and that he was her best friend.
Family over everything ❤️ #OTFF pic.twitter.com/qJnntjduES

— Dwayne Haskins, Jr (@dh_simba7) March 29, 2019
Dwayne Sr. elaborated on the siblings' relationship, saying that they "make each other's day." He said that it all started at five or six years old when he used to go to the bus stop and hold her hand.
Tamara Haskins, the quarterback's mother, also admitted that he is a role model for Tamia, but Tamia is also a role model for him as they look up to each other due to their respective "special gifts."
Dwayne is not the only talented person in the family as Tamia is into acting. The NFL player went to one of his sister's play called "Wyrd Sisters" and admitted to being very proud of her.
If the fact that Dwayne Haskins' family is his main priority wasn't obvious already, maybe knowing that he spent most of his first million dollars ($750,000) buying a house for his mother will make it clear. Way to go, champ.