Sue Bird and Megan Rapinoe Have Been Dating for Four Years — inside Their Love Story
U.S. women's soccer co-captain Megan Rapinoe has been dating basketball player Sue Bird since 2017, and they are the most romantic couple ever in sports.
Megan Rapinoe and Sue Bird have been turning the sports world upside down ever since Bird dropped the double bombshell in 2017: she is gay, and in love with Rapinoe.
Rapinoe and Bird are doing for LGBTQ sports figures what Ellen DeGeneres and Portia de Rossi did for the community in the entertainment industry. The two Olympic medalists are living together, and are sports new power couple.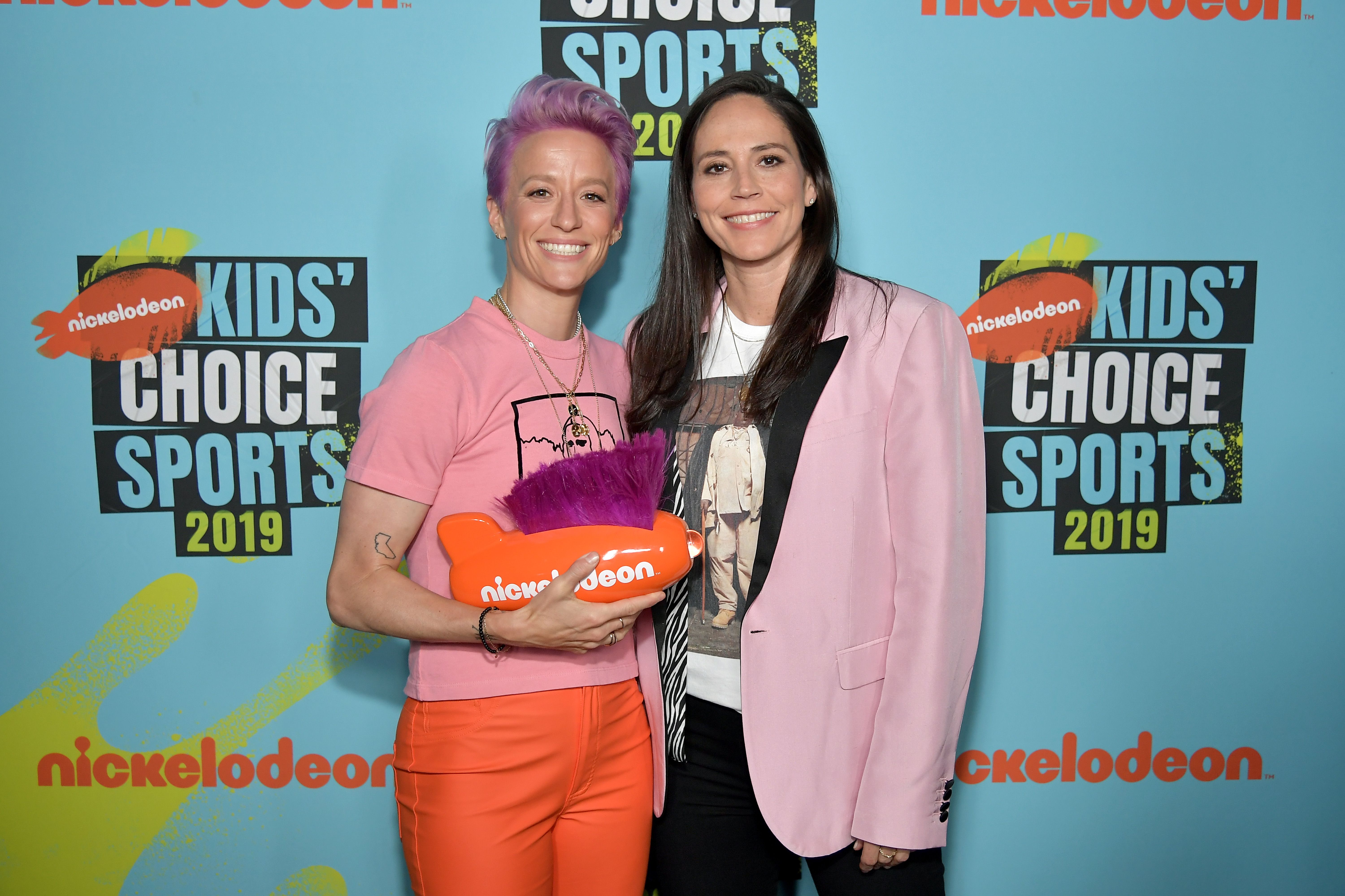 LGBTQ LOVE 
Rapinoe, an Olympic Gold Medalist, assumed her sexual orientation in college and came out publicly as a lesbian in 2012. The U.S. women's soccer team co-captain was in a long-term relationship with Australian soccer player Sarah Walsh.
The relationship ended in 2013, and Rapinoe became engaged to Seattle singer-songwriter Sera Cahoone. The couple called off the wedding in 2015, and that was when Rapinoe met Seattle Storm WNBA player Sue Bird.
Rapinoe loves clothes, founded a fashion line with her twin sister Rachel, and has a huge wardrobe
MEETING SUE BIRD
Even though both women live and work in Seattle, they first met 7,000 miles away, at the 2016 Olympics in Rio de Janeiro, Brazil. Rapinoe and her soccer team were eliminated at the quarter-finals, so they decided to cheer on the U.S. basketball team, which would eventually take Olympic Gold in Rio.
Rapinoe and Bird were briefly introduced at the celebratory after-party, and even though the soccer player didn't notice, the basketball player was definitely impressed. Rapinoe said:
"Sue's friends say that she lingered around the table, but I didn't really notice that too much."
Back in Seattle, Rapinoe made the first move, by dropping into Bird's DMs to share her support for the stance the basketball player and her team had taken in solidarity with the Black Lives Matter movement after the death of Alton Sterling.
A conversation ensued, and the two women were soon chatting regularly and exchanging emails. They started dating, fell in love, and at the 2017 Seattle Pride parade, Bird came out, saying:
"I'm gay. Megan's my girlfriend. ... These aren't secrets to people who know me."
Since then, the two women have moved in together and hung up their collection of 5 Olympic Gold Medals. The couple squabble over the usual things, but one thing that is not in dispute is closet space.
Rapinoe loves clothes, founded a fashion line with her twin sister Rachel, and has a huge wardrobe. Bird just has sneakers, lots of sneakers. She explained:
"Megan is very much into fashion. And I wouldn't just call it clothing. She's into everything — clothing, bags, shoes. She's on top of the new stuff for sure. I love sneakers. My storage room is 75 percent sneakers."
But whatever their divergence as far as fashion choices go, the two women share the same winning mindset that has made them the world-class athletes they are. And it gives them the ability to offer each other unparalleled support and understanding.
Rapinoe recently incurred strong criticism by emulating Colin Kaepernick and taking the knee during the national anthem. The more low-key Bird came out in fierce defense of her girlfriend. However, Bird admits that Rapinoe is the activist in the family. She said:
"Megan feels really passionately about things. I just never felt that calling, if that's the right word. I was living my life, just not necessarily leading the charge. But I never felt that made me any less real."
While Rapinoe may be the more vocal of the two, Bird's quiet example has struck close to home with many women who are still living their lives, not quite in the closet, but out of the limelight.
As Bird explained, the fact that they are a happy well-adjusted couple is as relevant as their sexual orientation. After all, it's all about love.