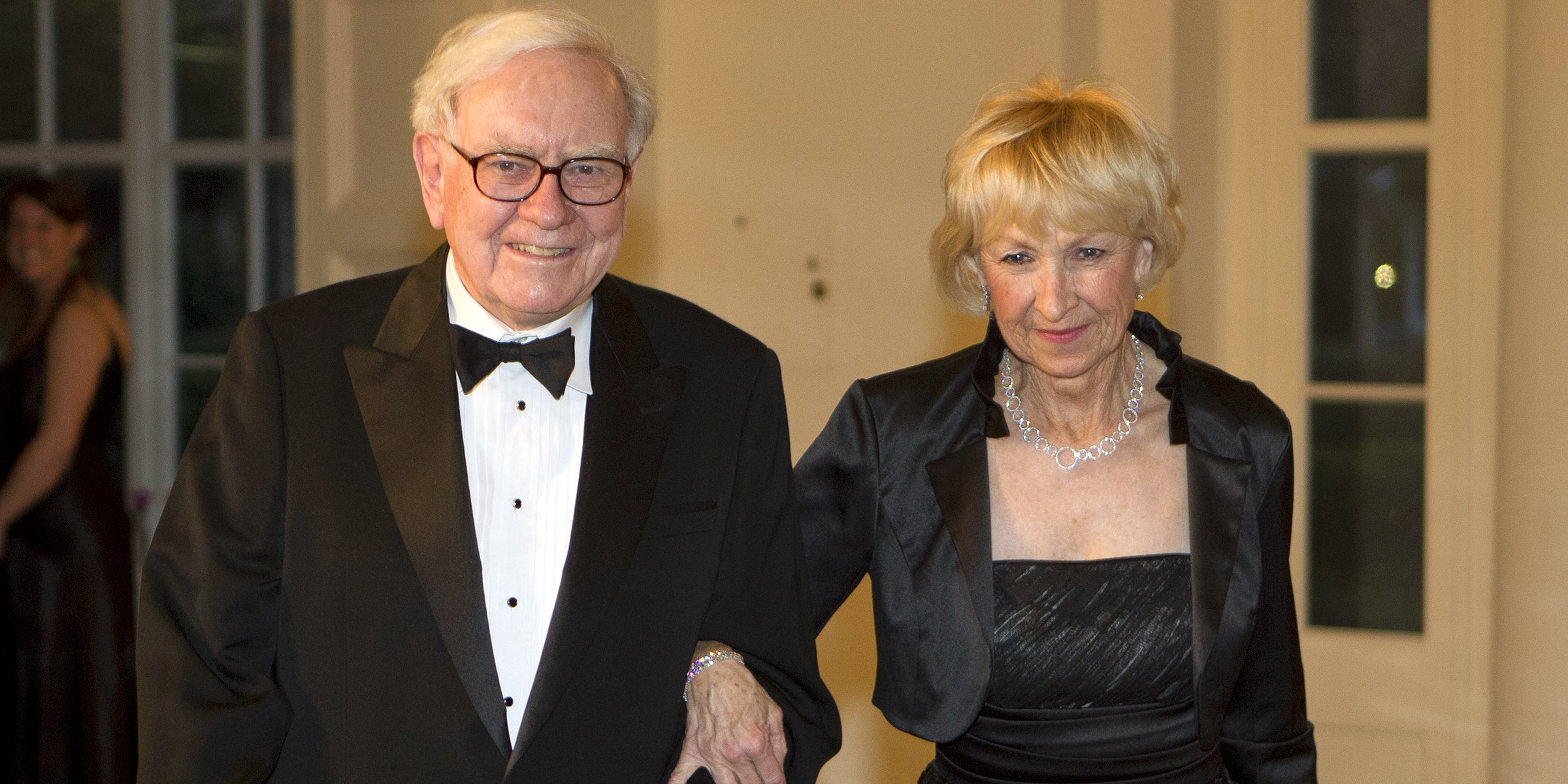 Warren Buffett and Astrid Menks | Source: Getty Images
Astrid Menks Is Warren Buffett's Second Wife - Inside the Billionaire's Personal Life
Astrid Menks is the second wife of billionaire businessman Warren Buffett. Even though she has kept a low profile outside of the spotlight, there is a lot of interest in Warren Buffett's wife and what she has been up to.
Astrid Menks is the second wife of Warren Buffett, one of the world's wealthiest investors and businessmen. Astrid was always by her husband's side, locking arms with him, whether he was involved in philanthropic causes or social gatherings.
Menks has kept most of her personal life under wraps despite being thrust into the spotlight after marrying Buffet. She even avoided the attention of gossip columns and any media outlet that covered rumors.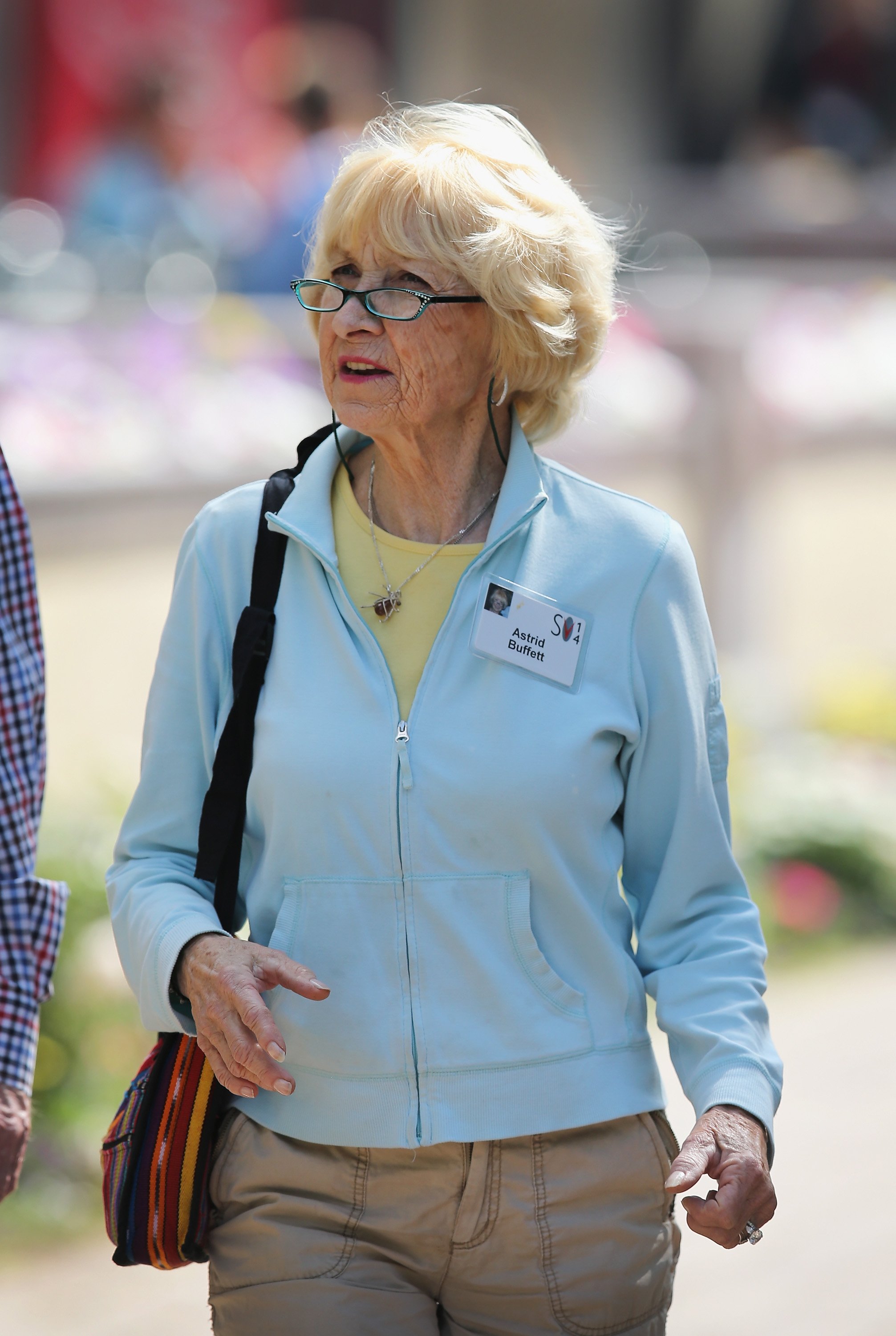 Astrid Buffet, 2014. | Source: Getty Images
Astrid Menks Was Born in Latvia
Except for a few details about her humble beginnings, little is known about Menks. She was born in Latvia in 1946, and at the age of five, she and her family relocated to the United States in search of better opportunities.
The family first lived on a farm in Wordell, Nebraska. However, they relocated to Omaha because the Wordell farm lacked basic amenities such as running water and electricity.
Menks enrolled at the University of Nebraska but dropped out due to financial difficulties. She worked as a manager at a women's clothing store to earn more money before becoming a cocktail waitress at a French Café in Omaha.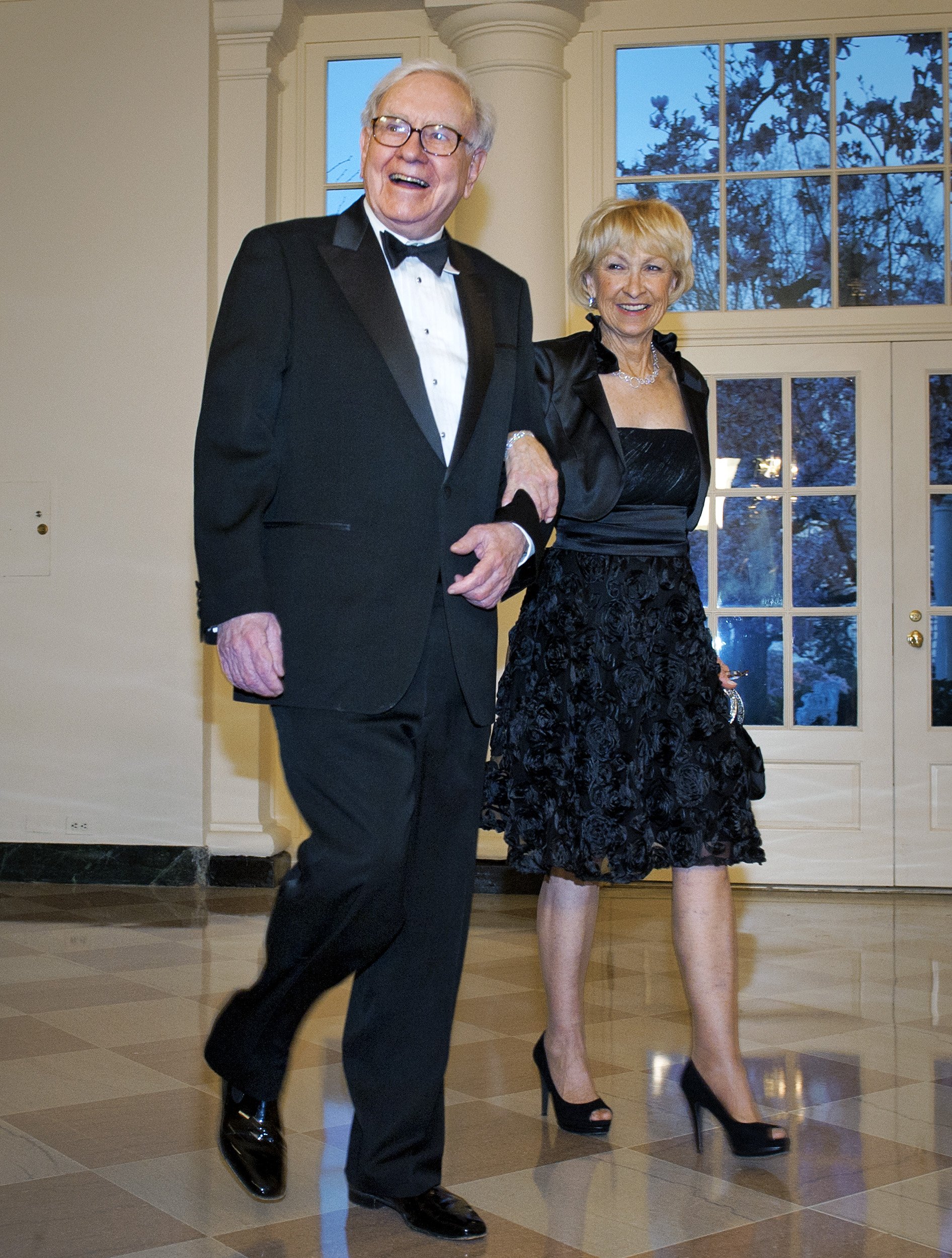 Warren Buffett and Astrid Buffett, 2012. | Source: Getty Images
In the mid-1970s, Menks met Buffett while working as a waitress. Despite meeting in their youth, the couple married in 2006, in their 60s and 40s.
Fully aware of her companion's attachment to his then-wife, Menks opted to settle for what she could offer: companionship.
While Buffet has focused on business, Menks is involved with charitable causes. She supported the Henry Doorly Zoo in Omaha, a conservation institution responsible for discovering eleven new lemur species. She also loves to collect antiques and hunt for good bargains all over Nebraska.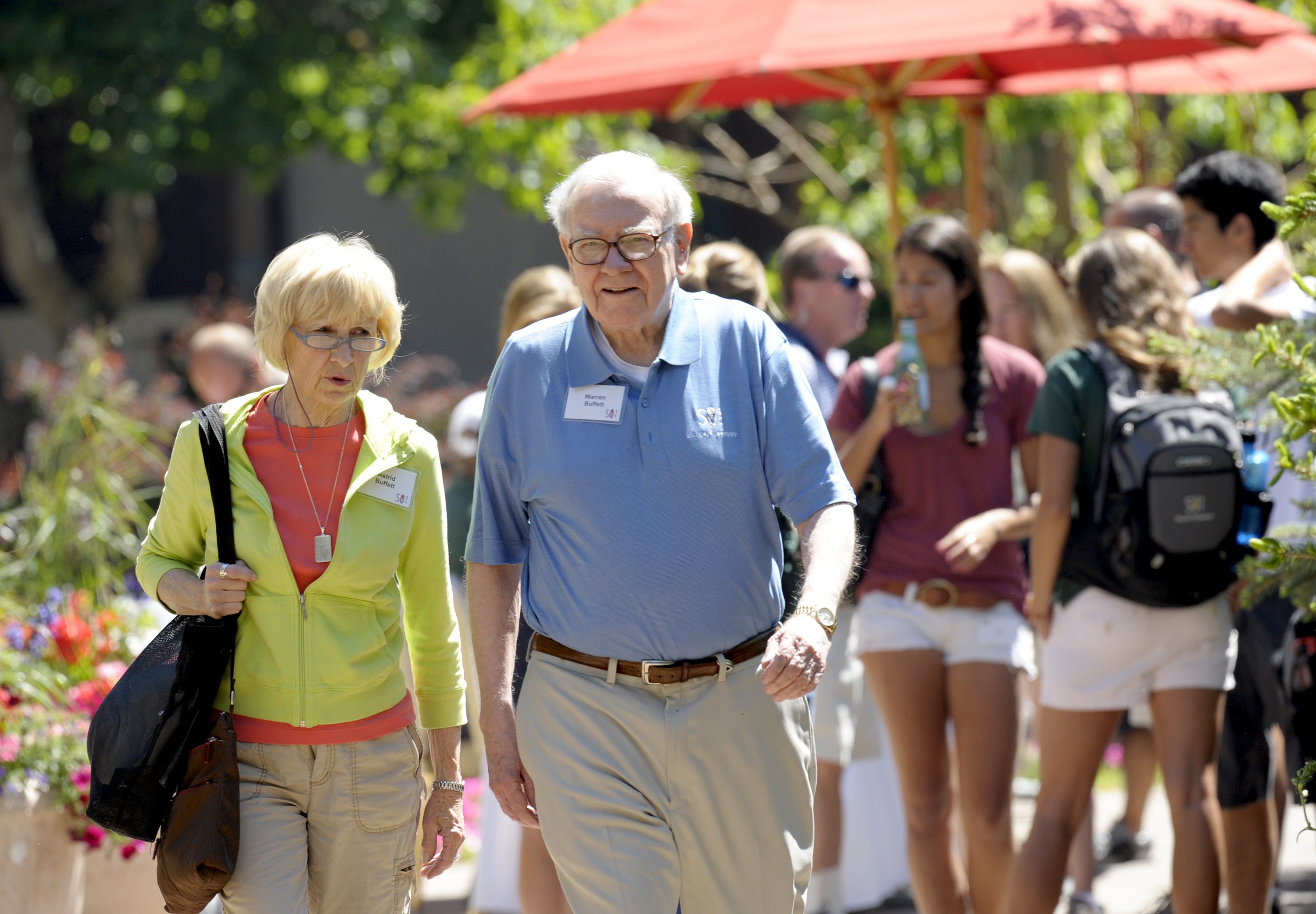 Astrid Menks and Warren Buffett, 2011. | Source: Getty Images
Astrid Menks and Warren Buffett's Love Story
The love story of Menks and Buffet is unique. Menks began a relationship with Buffet while he was still married to his first wife, Susan Thompson. On the other hand, Buffet did not consider their situation adulterous.
Menks and Buffett have lived together since the 70s. She moved in with him shortly after Thompson introduced them. The two women encountered each other earlier at the French Café, where Menks worked as a waitress and Thompson, a singer.
Fully aware of her companion's attachment to his then-wife, Menks opted to settle for what she could offer: companionship. She devoted her time to caring for Buffett, attending to his emotional and nutritional needs while keeping his home together.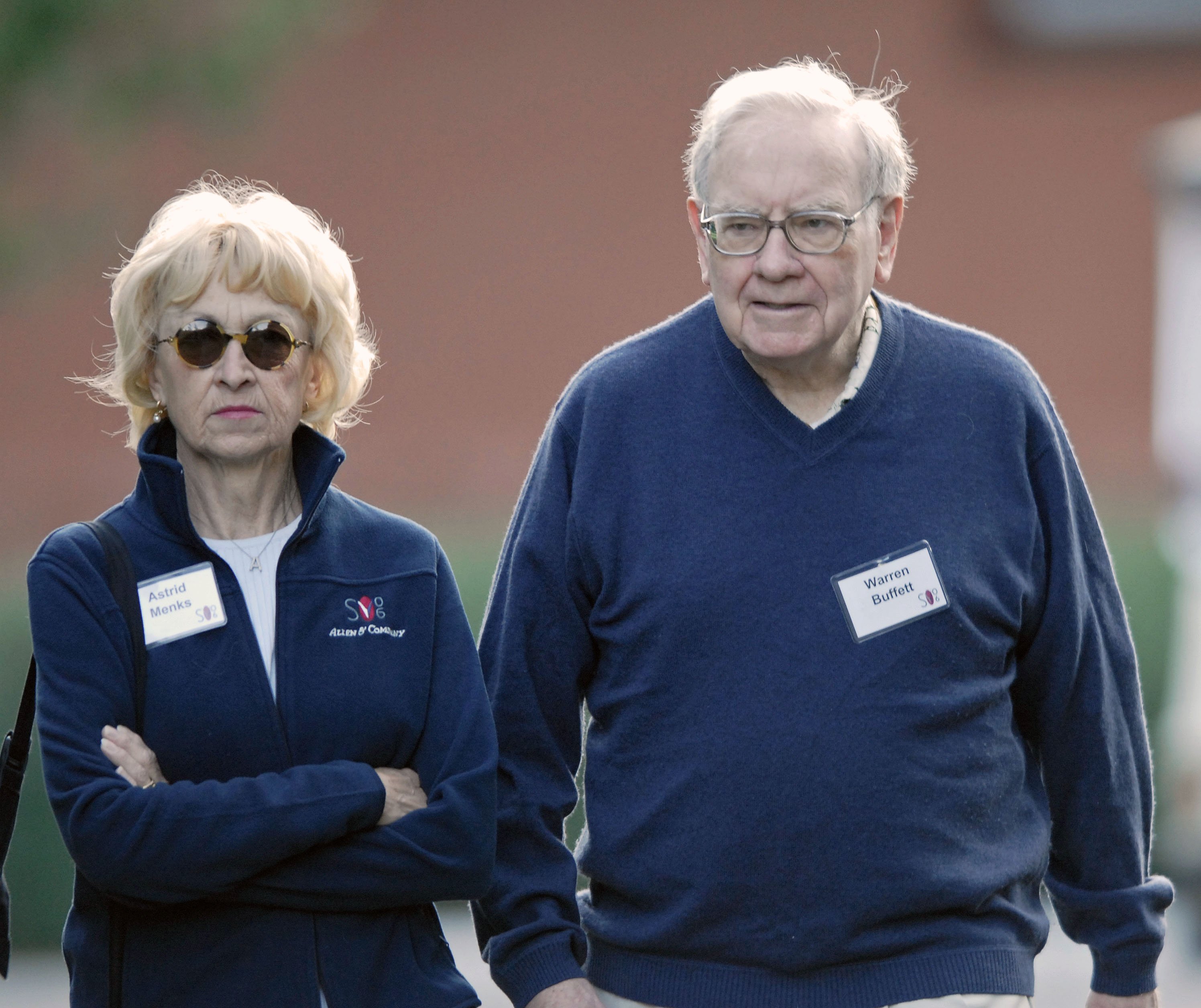 Astrid Menks and Warren Buffett, 2006. | Source: Getty Images
According to Buffett, the two women played unique parts in his life. While Thompson put his life together, Menks kept his life together. The situation worked for everyone involved, including the kids.
The couple enjoyed a blissful marriage for over two decades. In 1977, Buffett and Thompson came up with a new marriage arrangement and began living separately, with the latter moving to California to pursue her music career.
Before the separation, the twosome had extra-marital affairs known to each other. While Buffett was seeing Washington Post publisher Katherine Graham, Thompson retaliated by having an affair with her tennis instructor, John McCabe.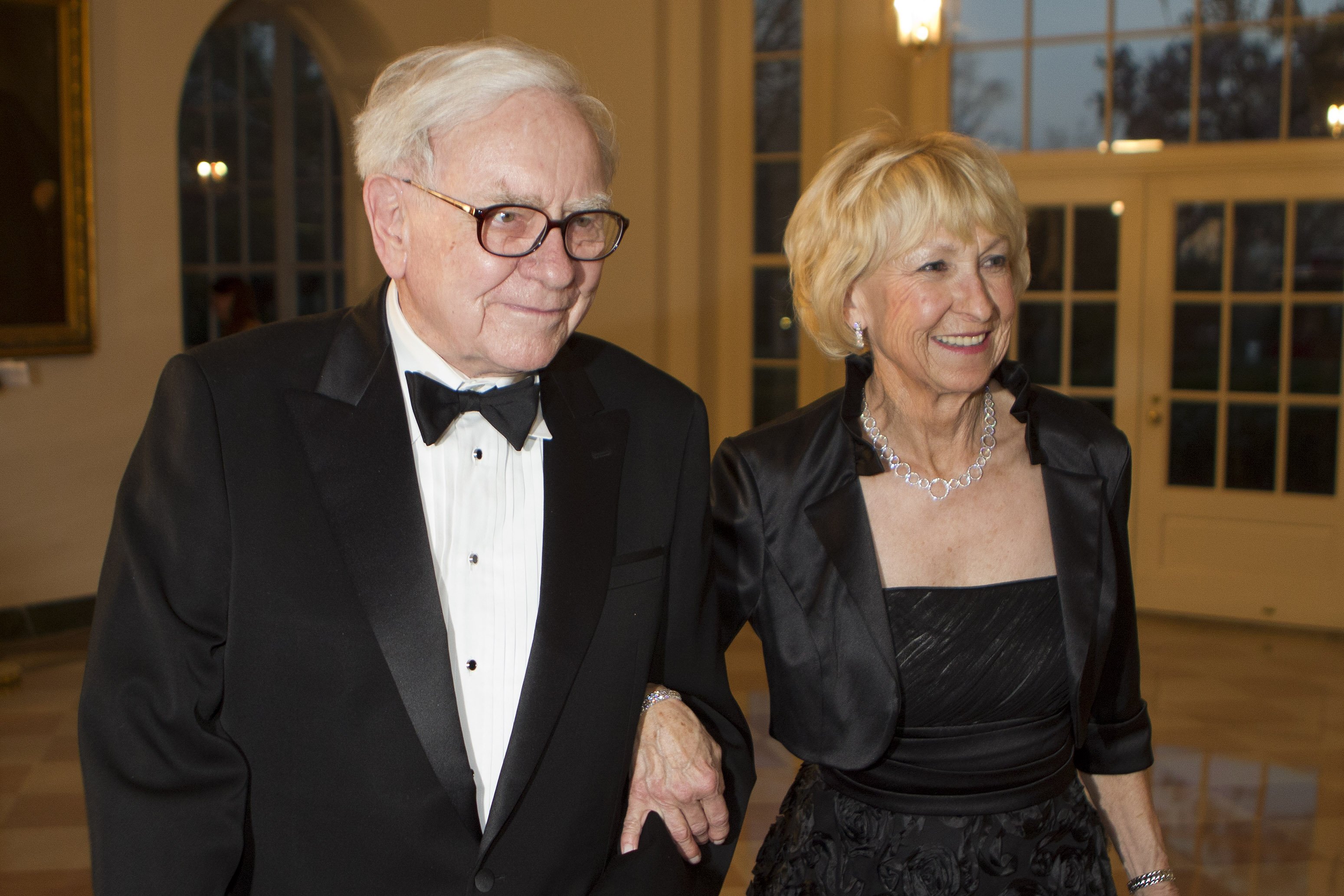 Astrid Menks and Warren Buffett, 2012. | Source: Getty Images
Despite seemingly being separated, the duo remained happily married, with no plans for a divorce. Interestingly, during their time apart, the entrepreneur sustained a relationship with Menks.
Thompson was in on the arrangement, as she reportedly introduced her husband to Menks. Sources also reported that the trio signed family Christmas cards as "Warren, Susan, and Astrid."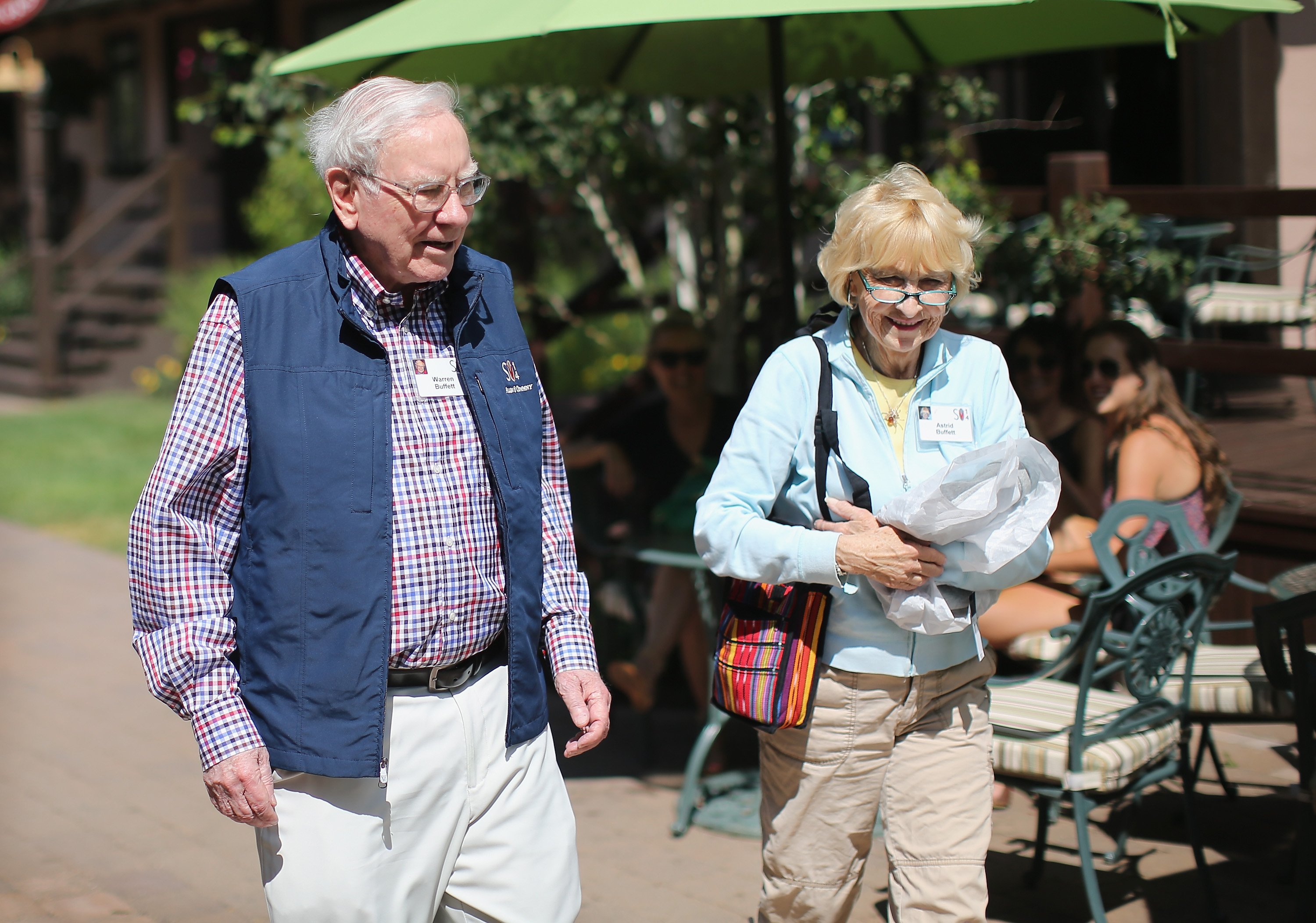 Warren Buffett and Astrid Menks, 2014. | Source: Getty Images
Buffett has been known to refer to his marriage as open and unconventional. He supported the trio's relationship. Susie, his only daughter with Thomspon, once pointed out that unconventional was not bad.
Susie also advised that more people tried it out. The unusual arrangement continued amicably until Thomspon's death in 2004 following a battle with cancer.
Astrid Menks and Warren Buffett Have Married after Decades
Menks married Buffett two years after Thompson died. Buffett and Thomspon's three adult children enthusiastically supported their special union, held in Nebraska in 2006. The ceremony lasted only fifteen minutes and was simple, brief, and uncomplicated.
The Omaha businessman was 76 when he married Menks, 60. Susie admired Menk's down-to-earth personality and felt Buffet's new wife was meant for her father. Susie said of Menks:
"I'm so grateful. She adores him and looks after him. She'd be with Warren even if he didn't have a dime."
Astrid Menks and Warren Buffett, 2022. | Source: Getty Images
Menks and Buffett's unconventional romance demonstrates how love can move in mysterious ways. Menks continues to live a private life and would be delighted to accompany her husband to any upcoming events.
The couple has only been seen a few times since then. Warren Buffett and his wife were last seen publicly on July 5, 2022, at a Conference in Sun Valley, Idaho.
Please fill in your e-mail so we can share with you our top stories!