McCain Family Showered with Tributes from Friends after Matriarch Roberta Passed Away at 108
John McCain's mother, Roberta, passed away recently! The news of her passing was followed by tributes from friends and loved ones who had nothing but positive remarks for her.
Roberta McCain recently passed away at 108. Following the news of Roberta McCain's passing, friends and loved ones of the late socialite have trooped to social media to pay tributes to her.
Popular Journalist Greta Van Susteren shared her condolences in a tweet where she described Roberta as her dear friend. She also shared some of their good memories and added that the late woman loved adventure.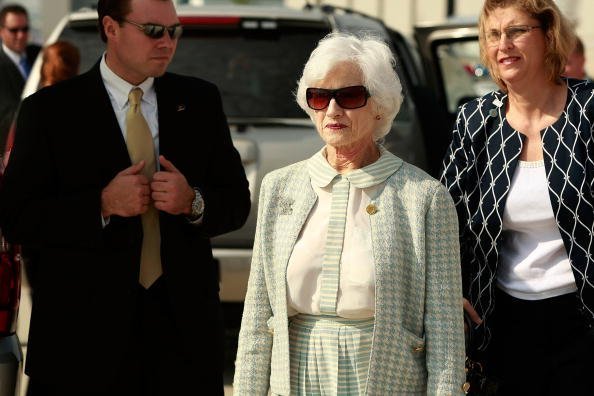 CNN correspondent Jake Tapper tweeted that the last time he saw Roberta, she was walking with her son Senator John McCain and making jokes about looking younger than him.
Television anchor Katie Couric also paid tribute in a tweet where she recalled an interview she had with Roberta and John. She added:
"She was sharp as a tack and a force to be reckoned with! Rest in Peace, Roberta."
My very dear friend Roberta McCain died...108 1/2 and what a great run it was and what a great friend she was to me. She loved adventure..loved a good party. Yes, she was elderly but I still never believed this day would come... pic.twitter.com/YJP0oslMJ5

— Greta Van Susteren (@greta) October 12, 2020
Apart from television personalities and journalists, some political figures in the United States also took time to pay tribute to Roberta.
United States Senator Sheldon Whitehouse tweeted that Roberta lived a majestic life while the Governor of Arizona, Doug Ducey, described her as a towering figure in American politics.
Last time I saw Roberta McCain, she was walking through the Capitol with her son the senator, joking about how much younger she looked than he did. 108!!! What a life. My deepest condolences to @cindymccain @MeghanMcCain and the rest of the fam —

— Jake Tapper (@jaketapper) October 12, 2020
Roberta was married to Navy Admiral John S. McCain Jr., who passed away several years ago. Together, the couple welcomed three kids, John, a former Senator, Sandy, and Joe.
In August 2018, John passed away after suffering from brain cancer. Before his death, John shared a great bond with his mom and often took out time to honor her during special moments.
Rest in piece, Roberta McCain. You lived a majestic life.

— Sheldon Whitehouse (@SenWhitehouse) October 12, 2020
A few months before his death, John took to Twitter, where he described Roberta as a wonderful mother in celebration of her 106th birthday.
The outpour of tributes for Roberta comes as no surprise as she was actively involved in her son's successful political journey over the years.
Angela and I are deeply saddened to hear of the passing of Roberta McCain. Born in Oklahoma in 1912, Roberta was a towering figure in American political and military life for more than half a century 1/ pic.twitter.com/OYrSjdfGUk

— Doug Ducey (@dougducey) October 12, 2020
Without a doubt, Roberta led an amazing life. Though she might be gone, her memory and legacy will forever be etched in the hearts of her loved ones and every life she touched.