Vanessa Bryant Flaunts New Tattoo Showing the Names of Her Family Members on Her Foot
Late Los Angeles Lakers star Kobe Brant's wife Vanessa decorated herself with meaningful ink and the internet is in love. Check out her tattoo featuring the names of her daughters and late husband. 
Vanessa Bryant will do everything to keep her late husband Kobe Bryant and their daughter Gianna's memories alive and what better way to do it than with some permanent body art. 
The 38-year-old recently took to Instagram to share a couple of snaps of her newest meaningful foot tattoo that featured her immediate family's names etched in an elegant font.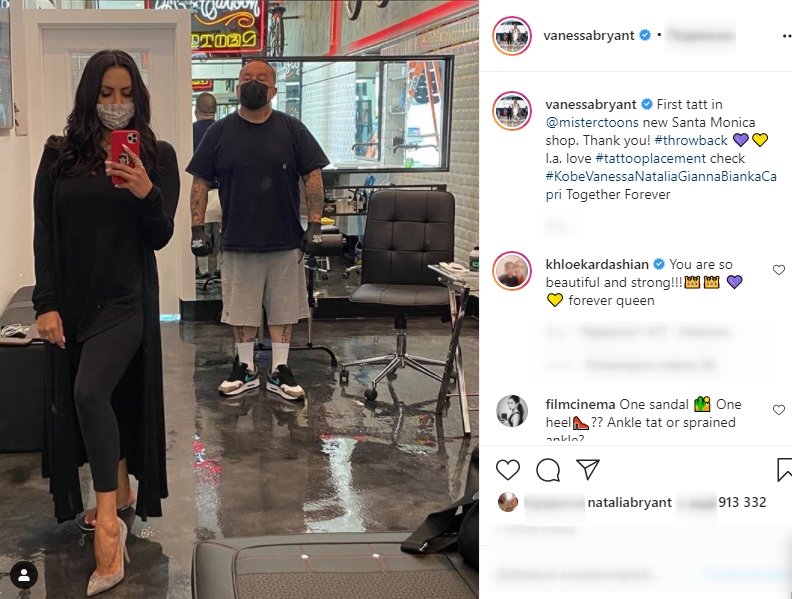 FOREVER ETCHED IN MEMORIES
The simple yet beautiful tattoo starts with Kobe's name followed by Vanessa, Natalia, Gianna, Bianka, and Capri's name. The tattoo artist behind the beautiful family tribute is Mister Cartoon who Vanessa thanked in the caption to one of her posts. 
Even though Kobe is no more, his family, loved ones, and fans continue to honor his memories in every way possible.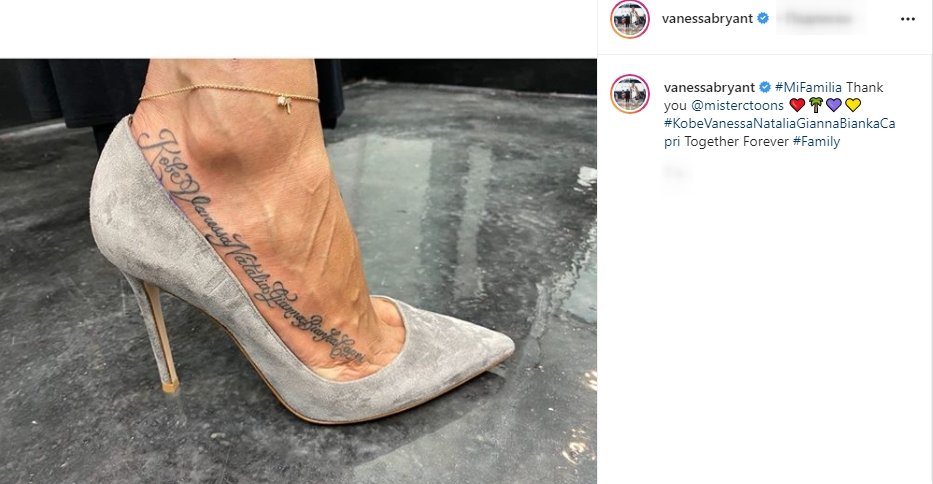 Back in July, she revealed her tattoos of the recent texts by her husband and late daughter Gianna on Instagram. Although she did not reveal what exactly their texts were, Vanessa did share that they were sweet messages. 
Vanessa is not the only one who got a tattoo in her legendary husband's honor. Kobe's sister, Sharia Washington, also paid tribute to him with ink that featured Gianna and the basketballer's jersey numbers.
HOW KOBE'S SISTERS MOURNED HIS DEATH
The numbers 2 and 24 were surrounded by a snake that represented an infinity symbol. The meaningful design was created by tattoo artist Peter Barrios and it looked pretty amazing. 
Washington and her sister Shaya Tabb shared that their lives had been forever changed after their brother's passing. They were present during Kobe and Gianna's memorial at the Staples Center. 
THE LAKERS WON NBA FINALS
Even though Kobe is no more, his family, loved ones, and fans continue to honor his memories in every way possible. Recently, his team, the Los Angeles Lakers defeated the Miami Heat and took home the NBA title and Vanessa could not be happier. 
Taking to her Instagram stories, she proudly congratulated the team. She wished Kobe and Gianna were here to see the Lakers shine. After the game, LeBron James also said that the team got closer to Kobe with their victory.
KOBE AND GIANNA'S TRAGIC DEATHS
Kobe and Gianna were among the nine passengers who lost their lives during a tragic helicopter crash in Calabasas on January 27, 2020. Nobody on the ground was hurt, but sadly, there were no survivors on board. 
Throughout his career that spanned 20 years, Kobe played with the Los Angeles Lakers before retiring in 2016. He was considered one of the most valuable players in the NBA's history.