Here's Why Artem Chigvintsev & Nikki Bella Won't Teach Their Son to Say Mom & Dad as 1st Words
Artem Chigvintsev and Nikki Bella have already begun teaching Matteo to speak. In a new interview, Chigvintsev candidly opened up about the couple's young son. 
Artem Chigvintsev and Nikki Bella's son Matteo is barely three months old, yet his parents are already working on teaching him to speak. Earlier this week, Chigvintsev revealed what he wants Matteo's first words to be.
The professional dancer and the "Total Bellas" reality star are both head-over-heels about their first child, who is arguably the spitting image of his father. Still, they do not want the baby's first words to refer to either of them.
MATTEO'S FIRST WORDS 
Chigvintsev and Nikki have both agreed that they will try to avoid having Matteo's first words as "mom" or "dad." In speaking to Hollywood Life, Chigvintsev said the pair are "so competitive" that it would be a bad idea. 
Instead, they want Matteo's first words to be "I love you." Chigvintsev implied that the young child was already starting to say the phrase, which was all his wife's idea. He explained: 
"He's obviously not saying it in words, but [there's the] intonation of him saying that after we say 'I love you.' But he is the most adorable thing ever."
Chigvintsev admitted that Nikki might not be on board with him sharing all this, but he was just too excited to keep it in. He then praised his wife for holding down the fort at nights when he comes home too tired to care for Matteo.
NIKKI SHARES FAMILY PHOTOS
Chigvintsev's words come two weeks after Nikki shared some heartwarming selfie shots of the family of three. In the photos, Nikki bathed her son in kisses as Chigvintsev smiled next to them.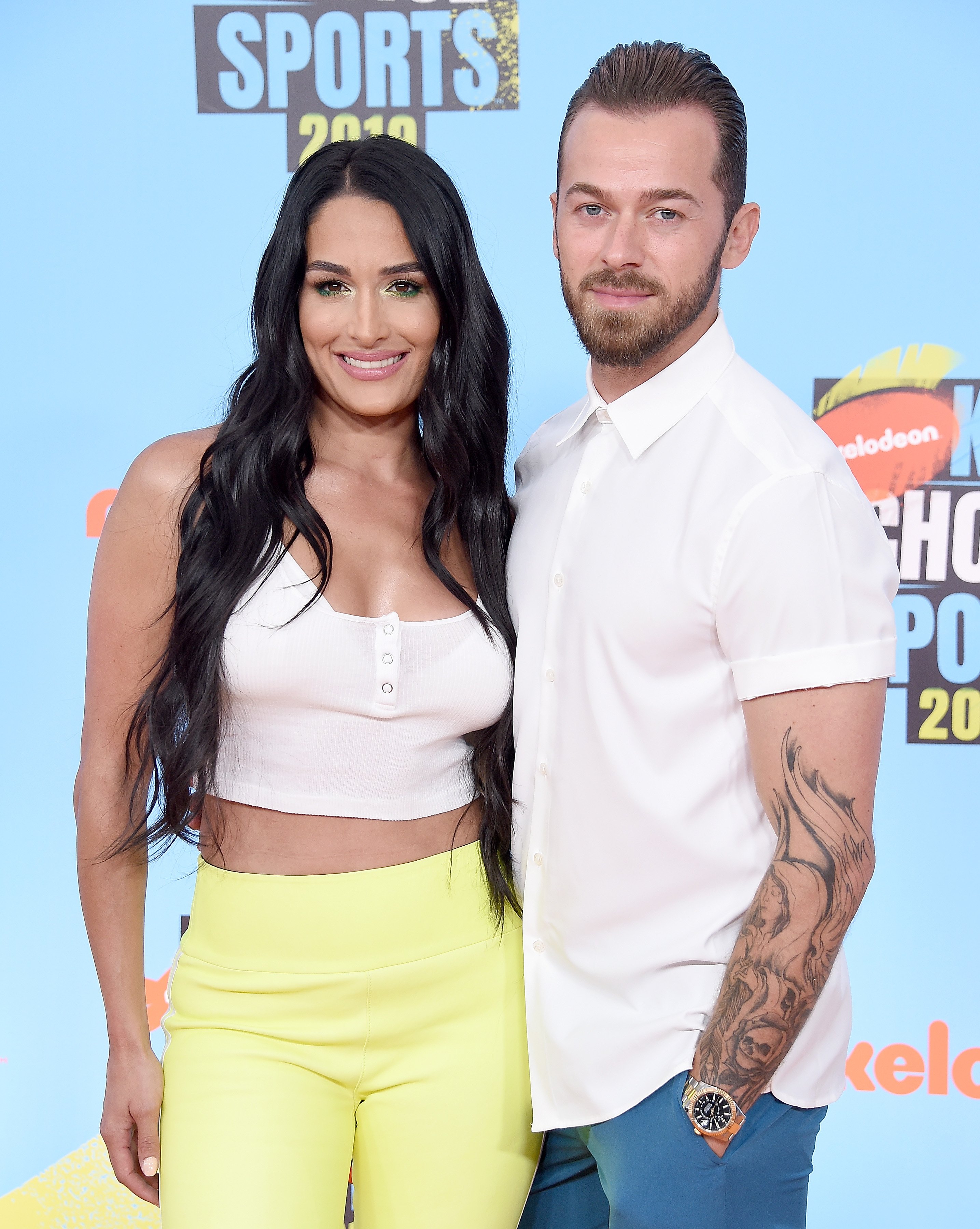 "Life doesn't get any better than this," wrote Nikki in the caption for the shot. Amidst their new parental bliss, the couple has also found time to spend alone, albeit while keeping an eye on Matteo. 
HAPPY HOUR FOR NEW PARENTS
Earlier this week, Nikki and her fiancé shared a clip from their at-home happy hour. The romantic date night featured the pair dancing away while each held a glass of wine. In the background, a French song plays. 
A table at the front showed a baby monitor, which allowed the couple to keep a virtual eye on their son while he presumably slept or played. Weeks ago, Chigvintsev did not have as much leeway as he does now.
CHIGVINTSEV LONELY AT WORK
Due to the coronavirus, Chigvintsev was obliged to stay away from his family as he filmed "Dancing With the Stars." At the time, the dancer said he was feeling "very lonely" without his wife and son around. 
Meanwhile, Nikki was left to rely on support from sister Brie, who had her second child just a day after her twin sister. Undoubtedly, Nikki is now getting some relief now that Chigvintsev can be back at home.