Melvin Gordon's Father Spent Five Years in Federal Prison — inside the NFL Player's Upbringing
Melvin Gordon Sr., the father and biggest supporter of Denver Broncos running back Melvin Gordon III, was sentenced to 10 years behind bars in March 2012.
Born in April 1993, Melvin has been a professional football player since 2015, when the Los Angeles Chargers (previously known as the San Diego Chargers) drafted him in the first round.
The running back was an obvious choice for any NFL team, especially because he was a 2014 Heisman Trophy finalist at the University of Wisconsin.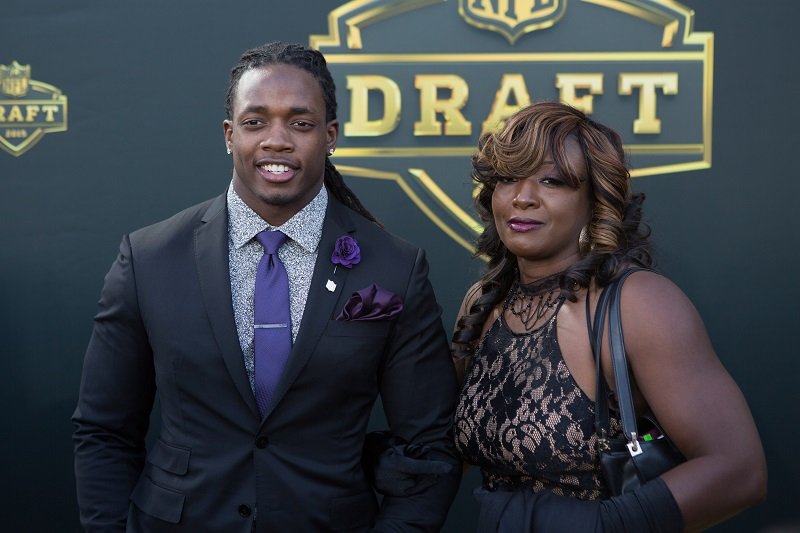 MELVIN GORDON'S FOOTBALL CAREER
During the four seasons he played college football, he completed over 4,900 yards rushing and 49 touchdowns. Melvin also set an NCAA record with 408 yards rushing against Nebraska.
His rookie year in the NFL was not as good as he had expected, though. He didn't score a single touchdown, had six fumbles, and rushed for 641 yards only.
Everything changed in the following season, fortunately. He even became one of the most promising backs scoring ten touchdowns, rushing 254 times for almost 1,000 yards, and catching 41 passes for 419 yards and two touchdowns.
Melvin Gordon knows that he is good, and that's why he calls himself the best running back in Los Angeles. He also knows that without his father, Melvin Gordon Sr. (also known as Big Bo), he probably wouldn't have made it to the NFL.
INFLUENCE OF MELVIN GORDON'S PARENTS ON HIS CAREER
When Melvin was still a young boy, Big Bo would put together agility courses with empty water bottles found in garbage cans so that his son could work on cuts and bursts.
Apart from that, Big Bo put up a weight room in their home's basement and even monitored Melvin's strength and conditioning program during his high school years.
One of the things that Melvin Gordon used to do, as well, was run up The Hill, a famous mound located in Kenosha, his hometown. After he was drafted, other young football players with dreams to be great started climbing it.
It is fair to say that Melvin is all about training hard, a lifestyle that Big Bo instilled in him. He also knew how to show Melvin tough love, telling him that he was not "good enough" to exploit his full potential and push him to his limits.
[Melvin Gordon Sr.] did what he needed to do.
Melvin's mom, Carmen Gordon, was also very present on his road to greatness. She attended most of his games in high school and college and is also a familiar face in the stands at her son's NFL games.
As the San Diego Union-Tribune reported, Carmen continues to plan her work schedule in advance so she would always be available to see her son play.
Even when he was at Wisconsin, she used to drive for about two hours from Kenosha to Madison for the games. If that wasn't enough, Carmen used to attend practice and cook meals for her son and his friends.
ARREST OF MELVIN GORDON'S DAD
Melvin Gordon's support system is nothing short of impressive. Sadly, his family's dynamic changed in March 2012, when Big Bo was sentenced to ten years in jail for being involved in a northern Illinois cocaine-dealing ring.
Carmen, who is still married to Big Bo, knew about it. She pointed out that her husband was not a "typical drug dealer," describing him as a "manager" who moved big weight.
On the other hand, Melvin didn't know much of his dad's business but once admitted that it was not a secret. The Broncos' running back said:
"You kind of know everything that's going on. But he was a good father. He did what he needed to do. He made me breakfast every morning."
The time that Big Bo spent in jail was nothing but a motivation for Melvin, who channeled his anger and resentment into his training routine and games.
While Melvin admitted it was hard to run his home while Big Bo was in jail, he also said that everyone makes mistakes and nobody is perfect.
Eventually, Big Bo's sentence was reduced twice, so he spent only five years in federal prison. His whole family is, of course, happy to see him out.
Melvin Gordon pointed out that some people make bad choices for the sake of their families. However, since he is now a successful football player, Big Bo doesn't have to make bad decisions anymore.