Erik Spoelstra Married a Former Cheerleader and Has Two Sons — Meet the Coach's Family
NBA coach Erik Spoelstra is married to former cheerleader Nikki Sapp, and they share two sons. Despite the 18-year age gap between the couple, they have managed to build a happy home — meet his beautiful family.
Since taking over the reins as head coach at Miami Heat in 2008, Erik Spoelstra has been all about breaking records. He is the first Asian-American head coach to win the NBA championship, and he did it in style, claiming back-to-back victories in 2012 and 2013.
Apart from his famous victories on the court, the notoriously private coach also has everything going for him in his personal life. He first made the headlines in 2012 when he began dating former dancer Nikki Sapp.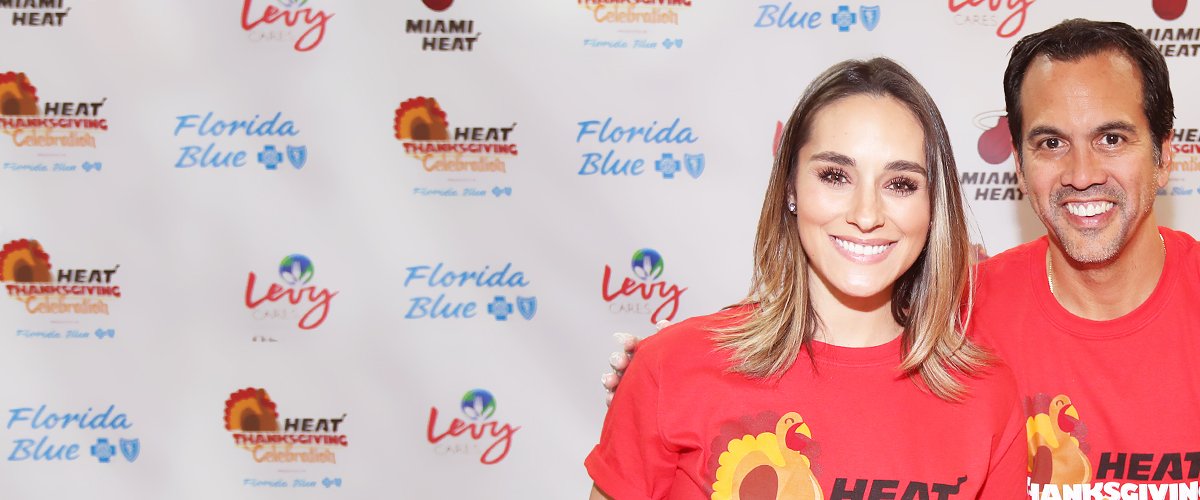 Over the years, Sapp has become a core part of Spoelstra's success story, and more importantly, she is the Instagram-friendly side to this fascinating relationship. Here is all you need to know about her. 
Spoelstra has always maintained a very strict approach to his training methods and has a players-only policy at team events.
MEET ERIK SPOELSTRA'S WIFE NIKKI SAPP 
Nikki Sapp is undoubtedly a joy to behold, but this blonde bombshell is not all about her looks — she has brains, plenty of talent, a heart of gold, and a love for contemporary fine art.
Growing up, Sapp was surrounded by art lovers — her grandmother and aunt taught her how to paint. It was inevitable that she would develop a passion for art, and she later majored in Art History at Florida International University.
While studying at FIU, she became a Miami Heat dancer and was also a dance teacher at a studio. Sapp taught about 12 classes a week while combining that with working at a luxury boutique to put herself through college. 
After college, she moved to Los Angeles, where she got a job as an associate in an art gallery. Today, she works as Creative Director and Contemporary Fine Art Specialist for Art Angels gallery. 
Sapp was also a 7th grade English teacher and dance coach. The 32-year-old art lover claimed she decided to teach because she wanted to share her passion for literature and dance with young people.
ERIK SPOELSTRA AND NIKKI SAPP'S PRIVATE ROMANCE 
While working as a director at the popular Guy Hepner art gallery in Los Angeles, she began dating Miami head coach Erik Spoelstra. 
The lovebirds managed to keep their relationship under the radar, and despite being an avid Instagram user, Sapp rarely shared any photos of her then-fiance on her Instagram feed. 
Spoelstra and Sapp eventually got engaged in 2015. The news of their engagement was well-received in the NBA community, especially the Miami Heat players, who sent congratulatory messages to the duo. 
While preparing for their wedding, Spoelstra swapped his bachelor pad for a luxurious South Florida estate, which cost a whopping $2.6 million. Nearly a month later, the cute couple tied the knot on July 22, 2016.
ERIK SPOELSTRA'S FATHERHOOD EXPERIENCE
At the beginning of 2018, the couple revealed they were expecting their first child together in April that same year. As a coach, Spoelstra always went into a game with a plan, but he could not give a precise answer when asked about becoming a first-time parent. In his words:
"Am I ready? I don't know. We're going to find out. Been reading my books."
In March 2018, the couple welcomed their first child together, son Santiago Ray Spoelstra. The notoriously private couple did not reveal their son's name until three days after he was born.
Santiago was delivered several weeks before his due date, and the 49-year-old coach revealed it was much like a breeze-through from the moment he got a call that his wife's water had broken. 
In December 2019, the couple welcomed their second son, Dante Nicholas Spoelstra. The Miami Heat coach had to leave his team to head back home in South Florida in time for his second son's birth.
Spoelstra has always maintained a very strict approach to his training methods and has a players-only policy at team events. However, becoming a father has caused him to tweak some of his team policies, and surprisingly he even invited players' wives, girlfriends, children, and pets to a team barbecue back in 2018.
During the self-quarantining period, Spoelstra opened up about the advantages of the lockdown, revealing it had helped him get some quality bonding time with his family. In his words:
"It's been an incredible blessing to be around our family much more often. We're able to spend our meals together. I wake up every single morning and not be in a rush to do anything. I can be at breakfast."
Erik Spoelstra's kids are still very young, but he tries to play an active role in their upbringing, despite the enormous demands of being in charge of one of the top NBA franchises. Despite the buzz surrounding the NBA, Erik Spoelstra's family remains his utmost priority. 
ERIK SPOELSTRA'S CAREER 
Erik Spoelstra was born on November 1, 1970, in Evanston, Illinois. He came from a long line of notable sports personalities. His grandfather, Watson Spoelstra, was a renowned sportswriter who covered the Detroit Tigers for many years.
His father, former NBA executive Jon Spoelstra, worked for several NBA franchises, including Buffalo Braves, Portland Trail Blazers, Denver Nuggets, and New Jersey Nets.
Spoelstra was a point guard in college and played for two years before rupturing his Achilles, which effectively ended his playing career and placed him on a coaching journey. 
In 1995, Spoelstra launched his NBA career when he joined the Heat as a video coordinator. Nearly 13 years later, he became the head coach of Miami Heat after Pat Riley left the position.
Spoelstra has enjoyed a successful NBA career, making four consecutive NBA finals from 2011 to 2014. During that period, he claimed the NBA championship twice with the help of a star-studded lineup, which included LeBron James, Chris Bosh, and Dwyane Wade.
He is currently in his 12th season as head coach of Miami Heat, and with age still on his side, the Heat fans will be smacking their lips in anticipation of further success, spearheaded by their easy-going coach.