Check Out L&HH Star Apryl Jones in This Gorgeous Snap Posing in a Black Alligator-Skin Suit
"Love & Hip Hop" reality star Apryl Jones is looking gorgeous in her latest social media post where she served a dramatic pose in a black alligator-skin suit.
Reality star Apryl Jones is not falling behind the trend of serving fierce and fashionable looks on social media. Her sense of style has been found remarkable by social media users. 
Jones, a versatile fashionista, can go from elegant looks to a relaxed chic ensemble. But in her Instagram post on October 19, she posted a stunning picture of herself in a designer outfit.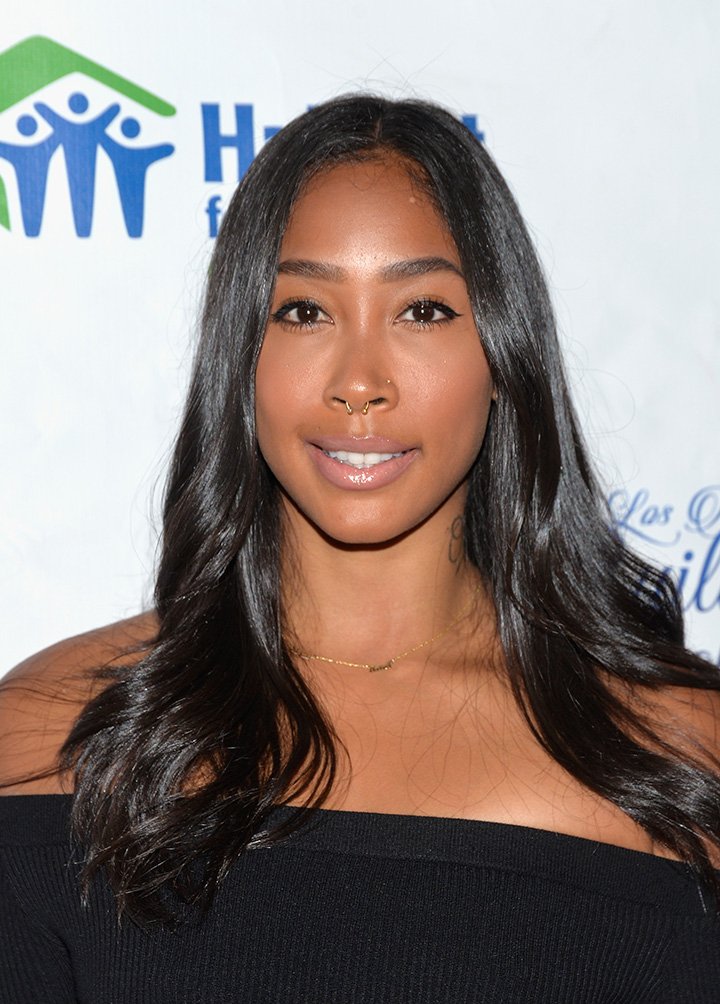 COLLARBONE AS HER FAVORITE ACCESSORY
In the photo, Jones, the former girlfriend of B2K band singer Omarion, sat on a stylish piece of furniture that matched well with her black alligator-skin suit. She put her head down a little bit and closed her eyes. 
She had minimal accessories. Her right hand, with perfectly manicured black nails, pressed on her left arm, highlighting the structure of her collarbones. Alongside the picture, she wrote:
"One of my favorite accessories on a woman is her collarbone. Bold, defined, and essential.#balmain"
Many fans agreed with the singer-songwriter that collarbones are beautiful accessories. Others noted that she is one of the most beautiful Black women they have ever seen.
A PROUD BUSINESSWOMAN
Aside from appearing in the LH&H show, Jones is a businesswoman. The doting mother of Megaa Omari, 6, and A'Mei Kasuko, 4, recently opened her wine business, Apryl Wines and  her merchandise business, Life is to Be Lived.
Despite the hardships she experienced in the past, she has managed to stand up on her own. She started her wine business in April, which was followed by Life is to Be Lived, selling merchandise such as fitness apparel and make-up.
IRKED FANS, OBLIVIOUS MOTHER
Amid her success and popularity, Jones has faced criticisms. The most recent was when fans criticized her for allowing her children to play on the stripper pole while dancing around it.
Jones danced to African beats as her children hung in the pole. Many online users were irked that she remained oblivious about the situation around her.
Regardless of his split from Jones, Omarion said that he and his children have remained close.
THE UNBOTHERED ONE
As Omarion, the father of Megaa and A'Mei, and Jones have gone separate paths, the B2K band singer remains unbothered by the reality star's romantic life. 
Jones has reportedly continued her romance with rapper Lil Fizz, Omarion's bandmate. The L&HH star and Lil Fizz began dating last year.
Regardless of his split from Jones, Omarion said that he and his children have remained close. He added that they are staying motivated and optimistic about their unique set-up.
Back in August, Jones gave a heart-warming tribute to Megaa on his 6th birthday. She shared throwback pictures of her son's favorite moments. 
The dedicated mother shared that she wished her son would remain a baby because he seems to be growing up so fast. She is also excited to see Megaa grow up as a fine man.