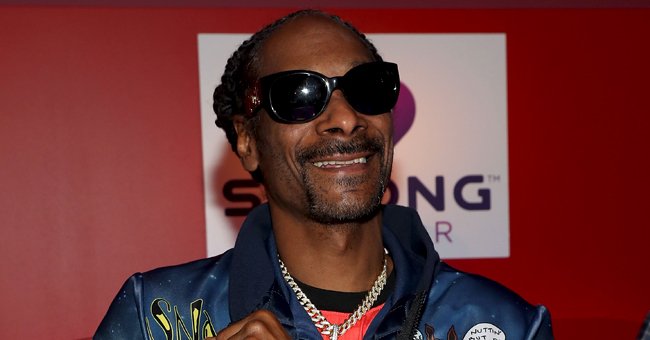 Getty Images
Check Out Snoop Dogg's Only Daughter Cori Flaunting Her Thighs in a Long Printed T-Shirt (Photos)
Snoop Dogg's only daughter, Cori Broadus took to her Instagram page to share two new pictures of herself flaunting her thighs while clad in a long printed T-shirt.
Cori Broadus, the only daughter of famous rapper Snoop Dogg, usually blesses her fans with cute pictures of herself on her social media pages and did so again in her recent Instagram post.
In the post, Cori shared two photos that showed her looking cool in a long T-shirt and flaunting her thighs. The T-shirt had a man's face and some words printed on it.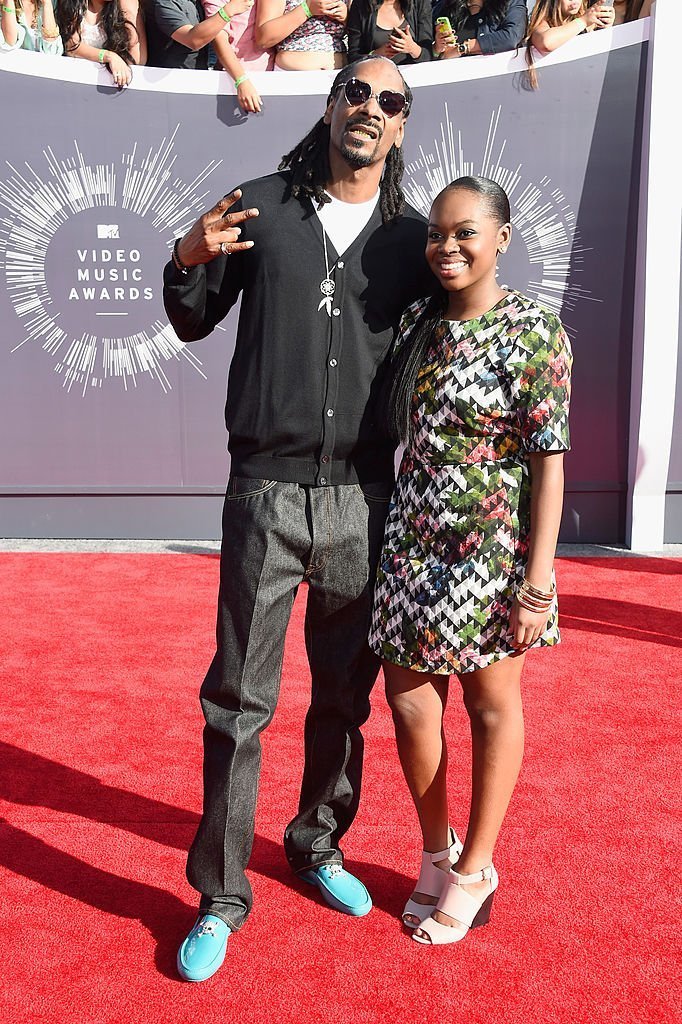 Snoop Dogg and Cori Broadus attend the 2014 MTV Video Music Awards on August 24, 2014. | Photo: Getty Images
The shirt stopped at Cori's upper thighs, revealing much of her lower thighs and causing some of her fans to drool over her. She also wore a blue durag and accessorized with big round earrings.
In the first snapshot, Cori, who seemed to be in the kitchen, sat on a table while looking straight at the camera. In the second snap, she tilted her body backward and looked in another direction. The post's caption read:
"Durags & Hoops? @fashionnovacurve fashionnovapartner."
The comments that trailed Cori's post were filled with compliments for her unerring beauty. One fan said she is beautiful while another fan said her thighs were to die for.
A third fan said they wanted the shirt Cori wore in the pictures while a fourth fan described her as a beautiful creature. One other fan noted that Cori has beautiful skin.
Cori is not just Snoop Dogg's only daughter but is the only one of his kids who went into music like him.
Fans have watched the youngster grow into womanhood with awe and amazement. When she was only 17, Cori showed the sort of person she was becoming when she posted a brutally honest message on her Instagram page about her color.
She shared a picture of herself that had many fans commenting on her beauty and in the caption, she revealed she was already comfortable with her skin, after having grown up despising her skin tone.
Showing great maturity even as a teenager at the time, Cori urged dark-skinned girls and women to appreciate that they are beautiful and not allow anyone to tell them anything different.
Besides Cori, the rapper also has three other children. He shares Cori and her brothers, Corde and Cordell, with his wife, Shante Broadus. Snoop Dogg also has a son, Julian, whom he shares with his former high school sweetheart, Laurie Holmond.
Cori is not just Snoop Dogg's only daughter but is the only one of his kids who went into music like him. She is an aspiring singer and goes by the stage name, Choc. Cori already has some songs to her name.
In 2018, she released a new song, "New Phone, Who Dis?" featuring Kamaiyah. She has released more recent songs and music videos since then. With her father nurturing her and serving as a worthy example, Cori may just go on to have a remarkable music career.
Please fill in your e-mail so we can share with you our top stories!