Cardi B Proudly Gushes over Daughter Kulture in Photo Shared from Video Call with Her & Offset
Cardi B proudly admitted that her two-year-old daughter is a replica of her and Offset after sharing a screenshot of the toddler doing a tongue-out pose.
Cardi B shared a new photo of her and Offset during a Facetime with their two-year-old daughter Kulture, and it is safe to say the apple didn't fall far from the tree.
The picture featured Kulture donning a pink outfit and flashing an adorable smile with her tongue out. The smaller screen of the Facetime saw Cardi and Offset also striking a tongue-out pose, known to be Cardi's signature's pose.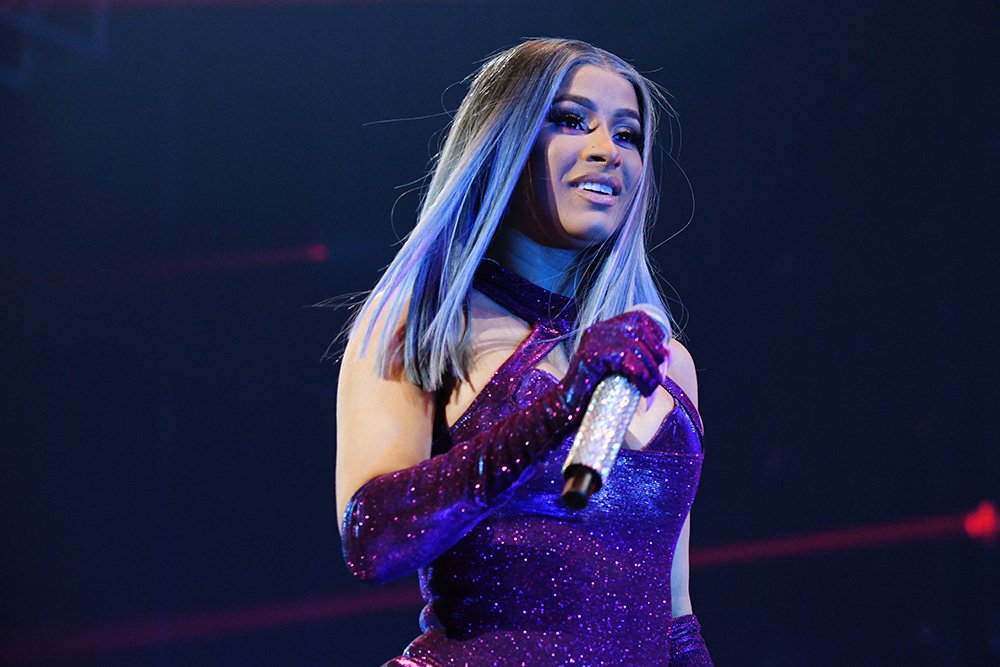 While captioning the picture, Cardi referenced the tongue out pose and added that the toddler was just as goofy as her and Offset. The rapper wrote, "Totally Our Daughter."
Cardi's post came only a few days after receiving a special birthday gift from Offset on behalf of Kulture. Taking to Instagram, the rapper shared a clip of a pink billboard featuring a photo of the mother-daughter duo and a text that read:
 "Happy Birthday Mommy Love, Kulture"
The public show of affection between Cardi and Kulture is no surprise as the rapper has constantly shown off her baby girl in the past. In celebration of National Daughter's Day last month, Cardi shared adorable throwback pictures of herself with Kulture alongside a sweet caption dedicated to the toddler.
Cardi filed for divorce, claiming that their union was damaged beyond repair.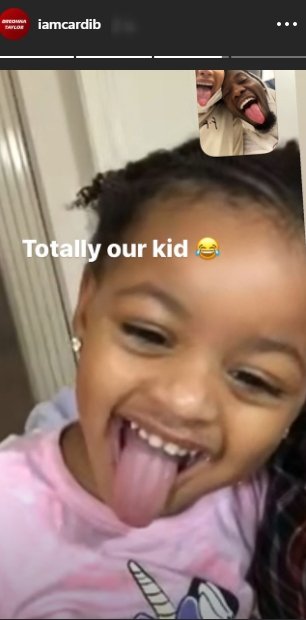 Kulture might only be two, but it appears the toddler is already following in the footsteps of her mother. Last month, the rapper shared a clip of her daughter singing along to Rihanna's hit song, "Work."
Kulture was seen standing around in a towel during bath time while "Work" played in the background. The toddler excitedly sang along while Cardi laughed.
Cardi and Offset welcomed Kulture in July 2018, and ever since, the couple has experienced several downtimes in their marriage, with the most recent being a divorce scare.
Last month, Cardi filed for divorce, claiming that their union was damaged beyond repair. She explained that even though they were not together anymore, she wished him nothing but good tidings.
Things, however, took a turn earlier this month when Offset gave her a customized Rolls Royce as a birthday gift. As a show of appreciation, she kissed him, much to the surprise of many.
The kiss sparked rumors that the pair had rekindled their romance. In response to the speculations, Cardi came out last week to admit that they got back together because it was hard not speaking to her best friend.
Though Cardi and Offset might have had a turbulent relationship, the duo has continued to dote on their daughter, who undoubtedly is a replica of her famous parents.