Watch Kristen Welker's Reaction to Maya Rudolph's Portrayal of Her on SNL
Kristen Welker was stunned to see herself portrayed in a skit on "SNL" after she moderated the presidential debate between President Donald Trump and Joe Biden.
Comedian Maya Rudolph did a skit on "Saturday Night Live" in which she portrayed NBC News White House correspondent Kristen Welker's in her role as moderator in the presidential debate.
Welker's NBC colleagues teased her about her being featured in the hilarious "SNL" skit, and the correspondent's reaction was unusual, considering the politicians usually lampooned on the show.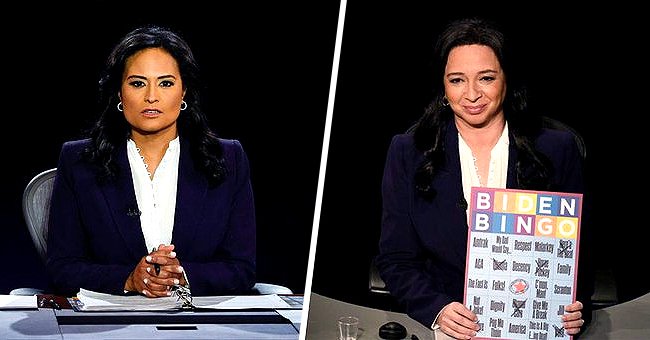 THE DEBATE
"SNL" recreated the last 2020 presidential debate, with Alec Baldwin -- as always -- as President Donald Trump, Jim Carrey as Joe Biden, and, of course, Maya Rudolph as Kristen Welker.
The sketch replicated Welker's calm confidence as she took the difficult role of moderator in what had promised to be a tempestuous close to the 2020 electoral campaign.
Alec Baldwin as President Trump kept mixing up Welker's identity with Padma Lakshmi, Mindy Kaling, and Hoda Kotb
Looking forward to joining @chucktodd on @MeetThePress! We'll recap the @DemConvention and look ahead to the @GOPconvention. https://t.co/MzQt8834H9

— Kristen Welker (@kwelkernbc) August 23, 2020
Rudolph was a Welker clone, in a low key blue suit, and an identical elegant blouse, her hair perfectly coiffed. Being a moderator in such a debate is always a milestone, but so is being depicted on "SNL." Welker told her colleagues on the "Today" show:
"I couldn't believe it. A completely surreal moment to see yourself depicted on 'SNL,' what an honor."
Welker went on to admit that she had deliberately stayed up late to watch "Saturday Night Live," and to catch the cast's take on the historical debate she'd hosted. She said:
"Maya Rudolph is my favorite, so it doesn't get any better than that, and it was just a fun skit all around. A lot of laughs."
Alec Baldwin as President Trump kept mixing up Welker's identity with Padma Lakshmi, Mindy Kaling, and Hoda Kotb, and another running joke was a constant reference to "Chinese bank accounts" and to the famous mute button.
Welker has been working for NBC News since 2011 as a White House correspondent and has in addition has become a co-host of "Weekend TODAY"  since January 2020.
I am so honored to receive this award and am looking forward to Thursday! https://t.co/QarHuUquAf

— Kristen Welker (@kwelkernbc) September 22, 2020
The 44-year-old journalist had her first experience as a moderator as part of the panel for the fifth Democratic debate in Atlanta in November 2019 alongside  Rachel Maddow, Andrea Mitchell, and Ashley Parker.
The biracial Welker graduated from Harvard with honors, with a major in history and she did her internship in ABC's "Today" in 1997. Welker will be receiving the Outstanding Journalist in Broadcast Television Award at the Washington Women in Journalism Awards.