Kim Kardashian Proudly Shows off Her Fit Body as She Poses in a Nude Bikini on an Island
"Keeping Up With The Kardashians" star Kim Kardashian thrilled her numerous fans with the new snapshots she shared on her Instagram page, showing off her fit body in a swimsuit. 
American socialite and reality television star Kim Kardashian turned 40 on October 21, but despite her advancement in age, she remains as stunning and sexy as ever. 
Kardashian showed her fans just how gorgeous she still is in a recent post on her Instagram page when she shared four lovely pictures of herself at the beach.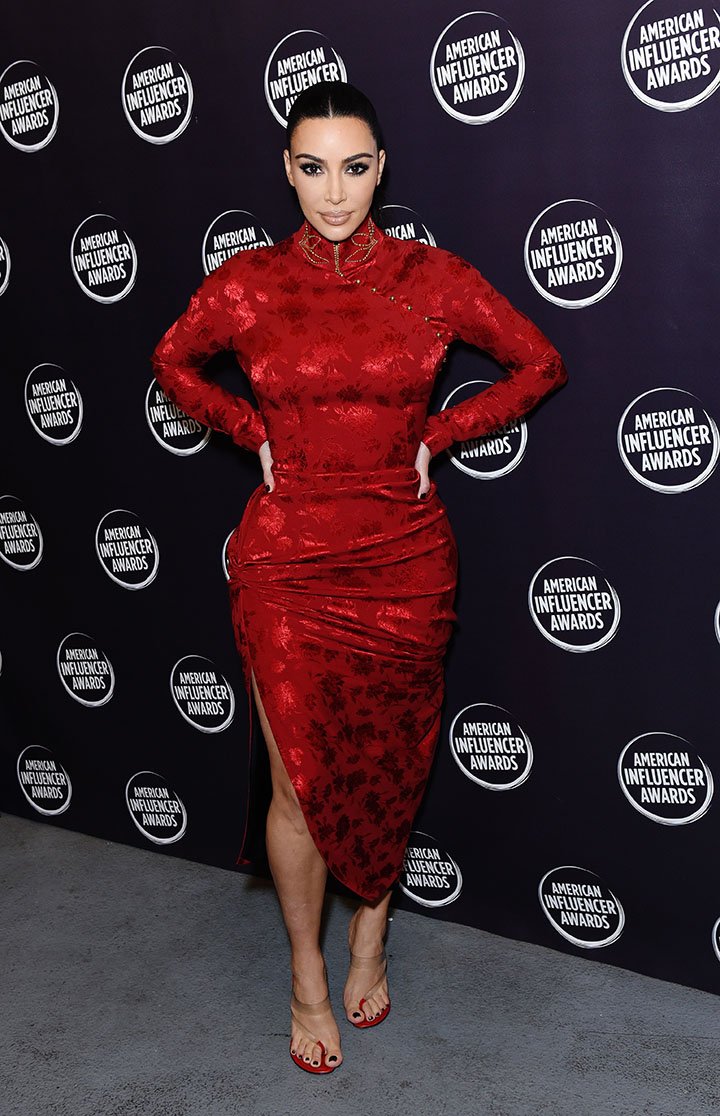 The first photo of the lot showed her in a nude string swimsuit which flaunted her incredible hourglass body shape as she raised both hands, resting them over her head as she did. 
Kardashian stood in the shallow part of the beach water, with the blue sea and blue clouds behind her making for scenic viewing. She accessorized her seductive look with a brown Louis Vuitton scarf and mirrored sunshades. She captioned the post: 
"This is 40!"
The second snapshot showed the mother of four walking on the blue waters. Behind her was a beautiful plantation at the shore. She rocked long dark hair and accessorized her look with a gold bracelet. 
Kardashian flaunted her ample cleavage in the third photo where she also walks on water, with the blue skies above her and the crystal blue waters below making for a beautiful shot. The last picture revealed her gorgeous backside. 
The SKIMS owner showed off an early birthday present as she modeled Alexander Wang's high-fashion take on 90s tourist wear.
The pictures Kardashian shared were from her secret 40th birthday vacation, with reports stating that the gorgeous beauty was at a private island in the Caribbean along with her friends and family who joined her for her big celebration. 
Her fans were thrilled with her appearance in the snapshots and took turns to pay homage to her in the post's comment section. One fan said she looked better than ever, while a second fan tagged her as gorgeous. 
The stunning pictures showed once again how Kardashian has become a fashion icon at her new age, as they signified the amazing style transformation she has made over the years. 
Kardashian remarkably evolved her style to become a sophisticated fashionista who always sets the trends with her outfits, skillfully rebranding to reflect her current position's multi-faceted nature. 
Ahead of her birthday, the SKIMS owner showed off an early birthday present as she modeled Alexander Wang's high-fashion take on 90s tourist wear, wearing a transparent crystal chain mini gown that revealed her curvy body. 
Earlier in the month, she looked all shades of cool as she dazzled in a blue two-piece dress while in Argentina. An impressive fact about the outfit was that it was made by a new Canadian label, Tyrell.
Though she stunned in the lovely dress, the fact the designer was unknown showed Kardashian's love for all things fashion, giving credence to her extraordinary fashion evolution.