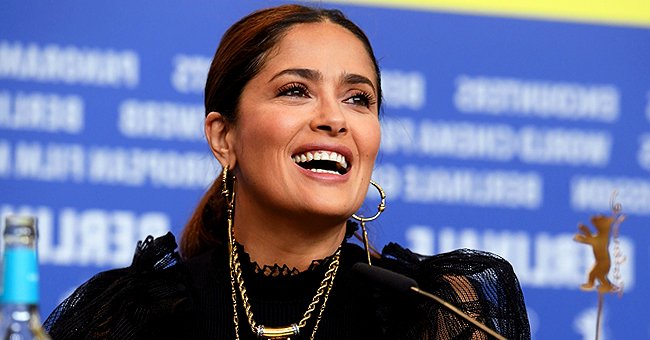 Getty Images
Salma Hayek Looks Gorgeous as She Gets Ready for Halloween in New Photo She Shared on Instagram

The Halloween season is here again, and many people are beginning to shop and get in the spirit of the season. Veteran actress and model Salma Hayek recently joined in, sharing a fashion fix for the perfect Halloween look.
Yesterday, famous actress Salma Hayek took to Instagram to share a Halloween-themed photo of herself. The image featured her dressed and covered up as she posed beside a few pumpkins.
Per reports, Hayek had taken the picture at Panzer's Delicatessen in London. The location had pumpkin decorations of all sizes, showing that they were also getting in the Halloween spirit.
Salma Hayek Pinault spoke at the 75th Annual Golden Globe Awards at The Beverly Hilton Hotel on January 7, 2018 | Photo: Getty Images
The actress stunned in her ensemble, which featured a body-hugging black pencil skirt that perfectly highlighted her curves.
She added a black blouse made of warm fabric, as well as a matching combo of a hat, scarf, and shoes. These suggest that there could have been a nip in the air. Hayek captioned the photo:
"Pumpkin Season ? ✨La temporada de calabazas. ? ✨#autumn #halloween #pumpkin"
If anything, the photo showed that Hayek has a keen sense of fashion. Her ability to match her bag with the hat and shoes is definitely impressive.
As for the other items, they were a sleek combination of black. Hayek's fashion taste was definitely on full display yesterday.
With close ties to some of the best brands, it's no wonder that Hayek has such a keen sense of style.
While Hayek has always made a name for looking good, it's no surprise that she had managed to keep her style so timeless.
For what it's worth, the actress is married to François-Henri Pinault, a French fashion entrepreneur, billionaire, and philanthropist.
Pinault is the chairman and CEO of Kering, a luxury fashion and lifestyle company. The organization is the parent of top brands like Yves Saint Laurent, Gucci, Alexander McQueen, and Balenciaga.
With close ties to some of the best brands, it's no wonder that Hayek has such a keen sense of style. The couple has been together since 2007, and they seem happy as ever.
Hayek and Pinault have one child; a daughter named Veronica Paloma. The couple announced her pregnancy on the same day they slipped the news about their engagement.
However, Pinault has several other children. The billionaire was previously married, and he had two children from that relationship – a son named François and a daughter named Mathilde.
He was once linked to famous actress Nicole Kidman as well. However, in October 2006, he had a son – named Augustin James – with supermodel Linda Evangelista.
Please fill in your e-mail so we can share with you our top stories!