Kim Kardashian Poses with Jonathan Cheban & Her Kids in 'Tiger King' Inspired Costumes (Photos)
Kim Kardashian recently decided to play dress-up with her BFF Jonathan Cheban and her four adorable children to create epic Tiger King-themed photos with the coolest costumes.
In the spirit of Halloween, Kim Kardashian teamed up with her four adorable kids and her BFF, Jonathan Cheban, to create Tiger King-themed photos, much to the delight of her fans. Kardashian wrote on her Instagram:
"Carole Baskin, Joe Exotic and our tigers ? #Halloween2020."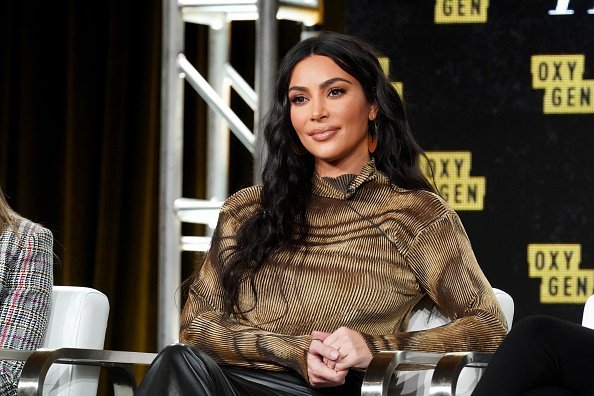 Kardashian's post, which came months after she first gushed about binge-watching the Netflix docu-series, featured her dressed as the show's "villain," Carole Baskin.
The beauty mogul wore a loose-fitting leopard-print top with a pair of blue jeans and a gorgeous purple floral crown sitting on her very long Baskin-inspired blonde hair. 
Cheban flawlessly channeled Baskin's archenemy, Joe Exotic, alongside Kardashian and her four kids, North, Saint, Chicago, and Psalm, all dressed up as the most adorable tigers ever.
After Kardashian gave her almost 200 million followers the full look of her "Tiger King" squad, the masses were impressed and delighted at how cute they looked. The kids looked like they were having a terrific time, and the photos came out perfect.
The four precious kids have their special places.
While letting her fans have at the epic photos, Kardashian headed to her stories to give behind-the-scenes footage of her and her little ones getting ready to pose for the camera.
The beauty entrepreneur who has one of the most impressive social media fan bases in the world has never been one to shy away from sharing her kids and the magic of motherhood with the world.
In June, one incredibly precious photo of Kardashian's children was posted on her Instagram page with the caption: "My whole heart."
The adorable portrait Kardashian shared featured her eldest daughter, North, sitting on the floor with her arms snugly wrapped around the youngest, Psalm. 
Her second daughter, Chicago, took up the center of the frame with her gorgeous heart-warming smile beside her big brother, Saint. The four precious kids have their special places in their mom's heart.
Kardashian is known for always expressing her unending and unconditional love to her four children, even when things get tough. The proud momma's post came just days after the family celebrated her hubby, Kanye's 43rd birthday, in typical Kardashian-West fashion. 
The 40-year-old has come a long way with her journey as a mom and continues to warm hearts with her love for her children, especially with their insanely cool costume parties.