Tori Roloff's Daughter Lilah Gets Glasses to Fix Her Crossed Eyes — See the Adorable Snaps
"Little People, Big World" star Tori Roloff updated fans on the new development with her daughter Lilah. Even though the mom of two initially experienced "mixed emotions," she is warming up to the change quickly.
Following a health scare last month, Tori and Zachary Roloff's second child and daughter, Lilah is getting cuter by the day, and the little "crossed eyed beauty queen" has a new accessory to boot. 
Hoping to avoid surgery, Zach and Tori had 1-year-old Lilah fitted with her first pair of glasses to help correct her lazy eye. Born in November 2019, Lilah and her older brother Jackson both have dwarfism like their dad Zach, and the glasses aim to help with the condition called strabismus, which means she was basically born crossed eyed.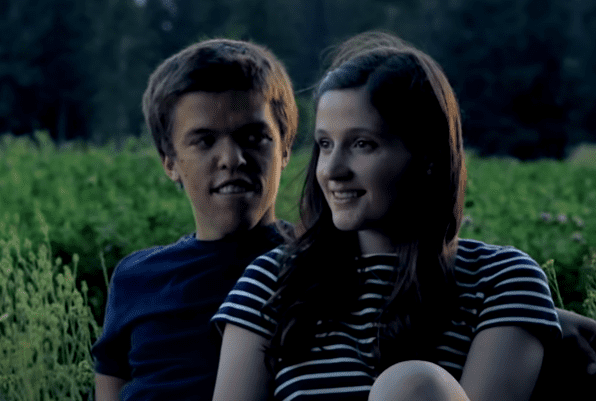 ADJUSTING HER PERSPECTIVE
According to the doctors, Lilah has superb vision despite the condition, and she took to the glasses much easier than Tori, who found herself suddenly dealing with unexpected emotions as she shared:
"There's been a lot of mixed emotions (mostly from me, not her ?) but we put them on her for the first time today and she seems relatively unbothered by them."
LILAH'S CUTENESS FOR THE WIN
But Lilah's new look does have a charm to it, and Tori can't help but warm up to it. Happy with the recent developments following Lilah's recent health scare, the mom-of-two added:
"It's going to take me a minute to get used to seeing my sweet bean behind glass but I'm warming up to the glasses as we speak! Really she does just keep getting cuter."
HER PREVIOUS HEALTH SCARE
Last month, Lilah felt under the weather, and that too made Tori emotional. Raising two children with dwarfism made her "hypersensitive," and Lilah throwing up had her close to tears.
She couldn't help herself his year and it ended up being fun for the whole family.
When Zach was younger, he had hydrocephalus, which causes a build-up of fluid and pressure on the brain. That experience stuck with Tori, and she is scared that something similar would happen to one of their children.
HALLOWEEN CUTENESS
Lilah can sit up by herself now, and it worked in her favor for Halloween. Although Tori Roloff doesn't usually indulge in Halloween, she couldn't help herself his year, and it ended up being fun for the whole family.
They carved pumpkins together, and Jackson, who is older, could help with their preparation while having loads of fun. For Halloween, the siblings stole hearts with their pilot and co-pilot outfits - complete as if they flew in from a wonderland.
Rumors recently started circulating that Tori Roloff could be pregnant for the third time, and middle last month, the 29-year-old reality star addressed those rumors with a definitive answer.
Imploring fans to avoid believing everything they read on the internet, Tori confirmed that she is not pregnant. Jokingly, the reality star added that she either needs to work out more, or it's a "slow news day."