Odell Beckham Jr Contemplates His Future While Celebrating 28th Birthday in a Leg Brace (Photo)
In a recent photo on his Instagram feed, Odell Beckham Jr., American football wide receiver for the Cleveland Browns, celebrated his 28th birthday. The National Football League player "wondered what was next" as he posed in a leg brace.  
In the spirit of celebration, famous American NFL football player Odell Beckham Jr. recently posted a series of photos on his Instagram feed to commemorate his 28th birthday. 
In the pictures, the athlete, whose birthday was just yesterday, was seen posing in a colorful outfit with a leg brace. He was clad in a short-sleeved tie-dye shirt and leather pants with several words and designs inscribed on it.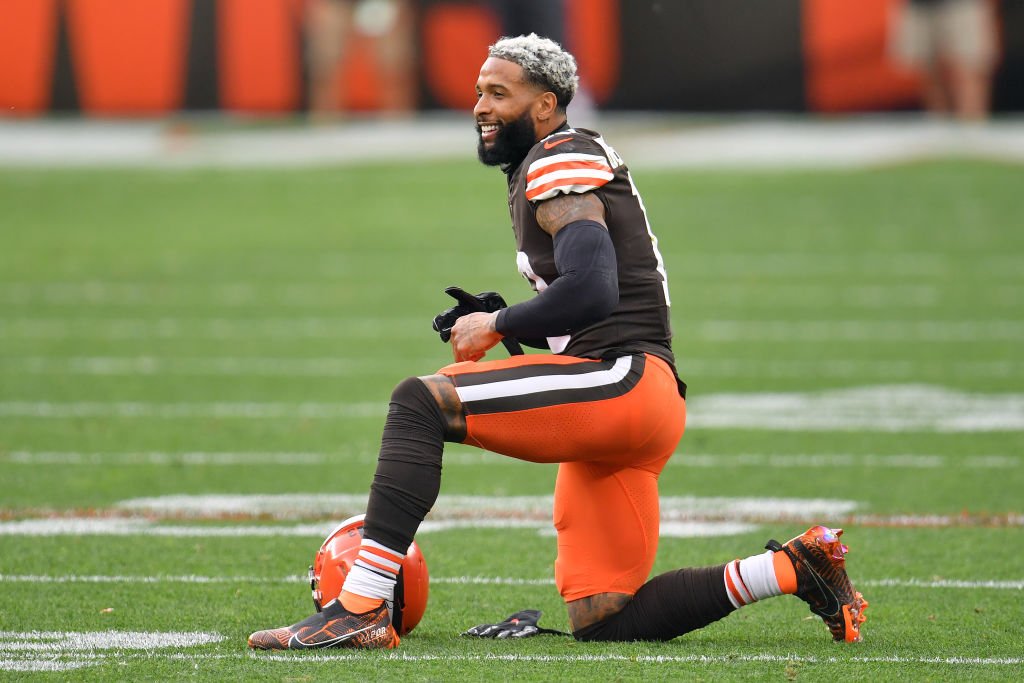 He completed the look with matching designer sneakers, a black face cap, and shiny accessories. In the first photo, he was sitting on a wooden stairway with his hands clasped as he posed. 
The second shot showed Beckham leaning against a green wall with a thoughtful facial expression while the third showed him giving a relaxed pose. Beneath the pictures, he captioned:
"28 at midnight, wonder what's next for me…"
Clearly, the receiver is not letting his leg injury stop him from having a good time. The pictures were posted less than two weeks after he tore his ACL during the Cleveland Browns game against the Cincinnati Bengals.
The athlete's unfortunate injury cost him game time as he will miss the rest of the 2020-2021 season. He is, however, scheduled to have surgery in the coming weeks and would likely need close to a year to make a full recovery. 
In June, as they left a nightspot in Los Angeles, the pair was spotted sharing a sweet kiss.  
To commemorate the special day, his girlfriend, Lauren Wood, also took to her Instagram page to post a tribute to her beau with heartwarming photos from their moments together. 
In the photos, both of them were locked in a sweet embrace as they posed for the camera. Beckham gave her a smooch on her cheek with his hand resting delicately on her head while she grinned happily. 
The love birds have also been known for their adorable public appearances and displays of affection. In June, as they left a nightspot in Los Angeles, the pair were spotted sharing a sweet kiss. 
Though a soft lover boy, Beckham is a totally different person on the field. He was said to have inherited his fantastic genes from his parents, who were also athletes in their day. 
His father, Odell Sr., was a star running back at LSU in the early '90s, while his mother, Heather Van Norman, in her teens, was one of the most outstanding track and field runners in Minnesota High School. Clearly, the apple did not fall too far from the tree. 
Beckham's remarkable gameplay has won him much acclaim from fans and even football players alike. Tom Brady and his 9-year-old son Ben even once waited to meet the athlete after a game. Safe to say the star has left a mark on both the old and the young.