Touching Story of a Single Foster Dad Who Adopted 5 Siblings So They Don't Get Separated
A single foster dad from Ohio captured people's hearts after adopting five siblings so they can all stay together. Robert Carter had a deep reason for his decision.
Robert Carter began fostering three boys – Robert Jr., Giovanni, and Kiontae – in December of 2019. He later learned that they have two sisters, Makayla and Marionna.
On October 30, the Hamilton JFS Adoption and Foster Care Recruitment shared a touching post on Facebook about Carter's decision to adopt all five siblings.
He quickly received massive public admiration. The post went viral, with almost 5,000 reactions and more than 6,000 shares. A user commented:
"What a blessing for these kids to have such a wonderful father come into their lives. Congratulations to the happy family."
According to the post, Carter himself spent time in foster care. It is no wonder he felt such compassion for the five siblings who never wanted to be separated.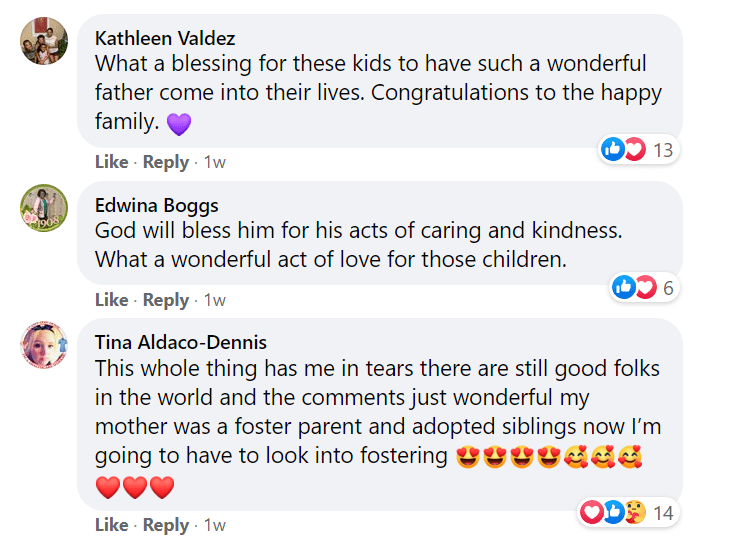 The siblings had been separated for six months and Carter recalled that they became emotional when they saw each other when the girls and their foster mom came for a visit.
"They didn't want to leave each other, and at that moment, I knew, OK, I have to adopt all five," Carter said. He added that the three boys had always talked about their sisters. He knew how much it meant to them to be reunited. Determined to adopt all five siblings, Carter worked to get a bigger house.
Barton said it was the first time a single father adopted five children.
Carter could absolutely relate to the children, as he himself didn't see his siblings for years when he was in foster care. He was 12 years old when he went into foster care in Hamilton County, Ohio. His mother had nine children. He recalled not seeing his youngest sibling for 14 years.
Carter was the sole foster parent who has expressed a desire to adopt all of the siblings. According to manager Stacey Barton, it was the first time a single father adopted five children.
Driven by a deep passion to serve underprivileged children, Carter is not only a foster parent, but he is also involved in mentoring and volunteering at South Avondale Elementary.
Compassionate people like Carter also adopted many children last year. In 2019, adoptions in Hamilton County rose to a record 25 percent with 259 children adopted compared to 2018.
In New York, a foster dad named Lamont Thomas also made headlines last year after he adopted his former foster son's five children so they will not be separated.
Another heartwarming story is that of Katie Page of Castle Rock, Colorado, who also adopted three siblings in order to keep the children together. The story of how "Days of Our Lives" alum Jen Lilly adopted her son, Jeffrey, is equally touching.