Identical Twin Sisters Deliver Babies 90 Minutes Apart on Their Birthday
Two identical twins, Autum Tramontana and Amber Shaw, had a unique birthday as they both gave birth to their daughters, Charleston and Blakely, just 90 minutes apart at Fort Sanders Regional Medical Centre.
The Fort Sanders Medical Center took to Facebook to congratulate twin sisters Amber Tramontana and Autum Shaw as they welcomed their young daughters, Charleston and Blakely, into the world.
The births which took place with the help of Dr. George Vick brought nothing but joy as the newborns came on their parent's joint birthdays, October 29, just 90 minutes apart.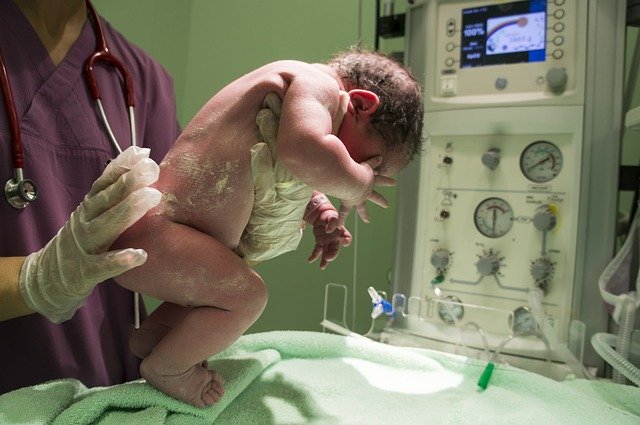 In the lovely post, the proud mothers carried their infants in their arms as they smiled in a hospital room. Tramontana and Shaw were shown wearing complementary nose masks that matched their maternity gowns.
The medical center captioned the adorable photo, explaining that Baby Charleston, who weighed more, arrived first, followed by Baby Blakely. The caption continued:
"...To top it all off, it was Autum and Amber's birthday ?... Congratulations to both families.."
Tramontana of West Knoxville told Good Morning America that she and her husband, Jim, heard the faint cry as they were in neighboring rooms right after Shaw delivered.
She added that her husband knocked on the wall as a way of congratulating the new mother, and ninety minutes later, when she put to bed, Shaw's husband, Scott, returned the knock, congratulating her.
Although Maruiz and Rodgers gave birth at different locations, it still hit history that they delivered simultaneously.
Tramontana also told Today PARENTS that she and her twin were not strangers to synchronized births as they had delivered their sons two years ago just ten weeks apart.
33-year-old Shaw was not left out as she explained to GMA that she and her twin didn't plan their pregnancy because she had struggled with infertility after her son's birth. She said:
"There was all this waiting and heartbreak... now I look at this bigger picture and God had a bigger plan.."
A set of twins from Tennessee have welcomed daughters on the same day, which also happened to be their birthday. https://t.co/fkNeqcC4wc

— Good Morning America (@GMA) November 8, 2020
After the daughters' birth on the twins' birthday, the celebrants stated that they looked forward to making their daughters' birthday a grand celebration as there would now be four celebrants.
The story seemed to be a trend as another set of twin sisters, Sarah Mariuz and Leah Rodgers, welcomed their firstborns simultaneously at 1:18 am in Denver and California, respectively.
Talk about twinuition! These identical twins gave birth on the same day at the same time —> https://t.co/LVCuL2RE7e pic.twitter.com/HOVXIwzS39

— Today's Parent (@Todaysparent) July 7, 2016
The 39-year-old mothers shared with Today that they were excited and shocked about the coincidence when they realized they were both pregnant at Thanksgiving last year.
Rodgers explained that even though they had lived in separate places and tried to stay close, she found out there was a deeper connection at the twin level as they gave birth at the same time.
Although the sisters gave birth at different locations, it still hit history that they delivered a bouncing baby boy and a gorgeous daughter at the same time.