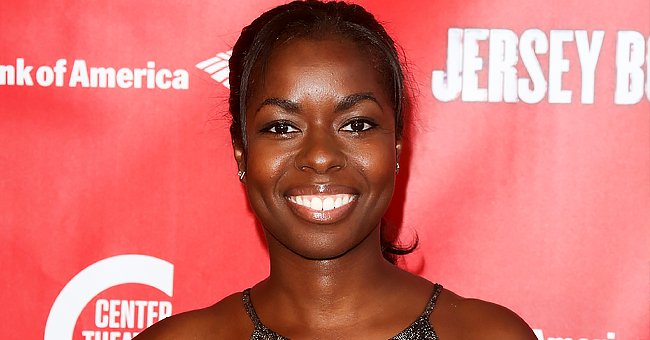 Getty Images
How Camille Winbush AKA Nessa on 'The Bernie Mac Show' Responded to Fan Criticizing Her Braids

"The Bernie Mac Show" actress Camille Winbush shut down a hateful commenter with a sizzling hot clapback after they disapproved of her newly done box braids.
In the early 2000s, viewers got to see actress Camille Winbush grow as the back-talking young girl that she played on "The Bernie Mac Show," Vanessa Thomkins. Years later, it seems like she's still got the sass. The actress recently shared a photo of herself on her Instagram:
"Here's my obligatory in dressing room photo cuz she werkin y'all! And she got braids for free99 ??‍???‍♀️."
Winbush's mirror selfie showed her looking beautiful in long, freshly done braids which she styled to frame her subtly made-up face perfectly.
Dressed in a gorgeous pink and purple printed shirt and a pair of fitted maroon pants, Winbush struck a pose in front of her mirror and held her phone up to click away and capture her beauty.
Her fans and followers loved her look, especially her fabulous braids, but as always, there was that one person who thought otherwise. One Instagram user chastised Winbush and commented that they did not think the braids went well with the shape of her face.
Winbush quickly gave the commenter a taste of Vanessa Thomkins' sharp tongue. She clapped back at the commenter, telling her that unnecessary comments don't go well with her Instagram page. This actress is only about positivity, and her fans would not have it any other way.
Many of Winbush's fans from way back would be surprised to see how much she has grown and how far she has come from her sitcom days.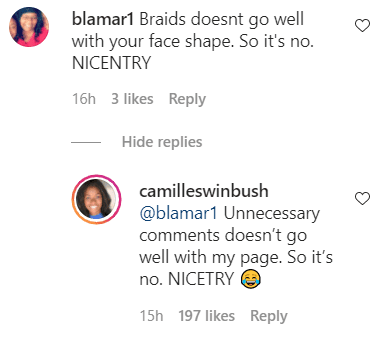 Actress Camille Winbush's reply to a fan's comment on her Instagram post | Photo: Instagram/camilleswinbush
Many remember Winbush for her excellent portrayal of the teenage Vanessa Thomkins on "The Bernie Mac Show." When it began in 2001, Winbush was only 11 years old, yet the talent and expertise with which she delivered Thomkins was mind-blowing.
In 2006 when the show came to an end, the actress was already 16 years old. Today Winbush is a gorgeous grown-up woman who seems to have changed quickly from the precious and hilarious teenager that fans came to love on television.
Many of her fans from way back would be surprised to see how much she has grown and how far she has come from her sitcom days.
In 2018, Winbush and her former "The Bernie Mac Show" co-stars gave fans a lot of nostalgia when they reunited over a weekend in Los Angeles. The only co-star who was painfully absent was actor Bernie Mac, who passed away from pneumonia just two years after the show ended.
Over the years, Winbush has moved on with her life and career to other productions, with more recent ones being "The Secret Life Of An American Teenager," Issa Rae's "The Choir," and the 2019 film, "Muna." Things are looking up for Winbush, and not even unnecessary comments can get her down.
Please fill in your e-mail so we can share with you our top stories!