Ray Allen's Wife Shannon Celebrates 24 Years of Their Love with a Sweet Tribute
Ray Allen's wife Shannon recently took to social media to celebrate their 24 years of marriage by sharing sweet photos that featured both of them. 
Ray Allen and his wife Shannon have been together for 24 years, and the beautiful woman who is still very much in love with her superstar hubby took to her Instagram page to share photos commemorating the day.
She jumped on the popular Twitter challenge that involves users sharing two pictures featuring themselves and their lovers—one shot from when they began their relationship and another that reveals how it is going.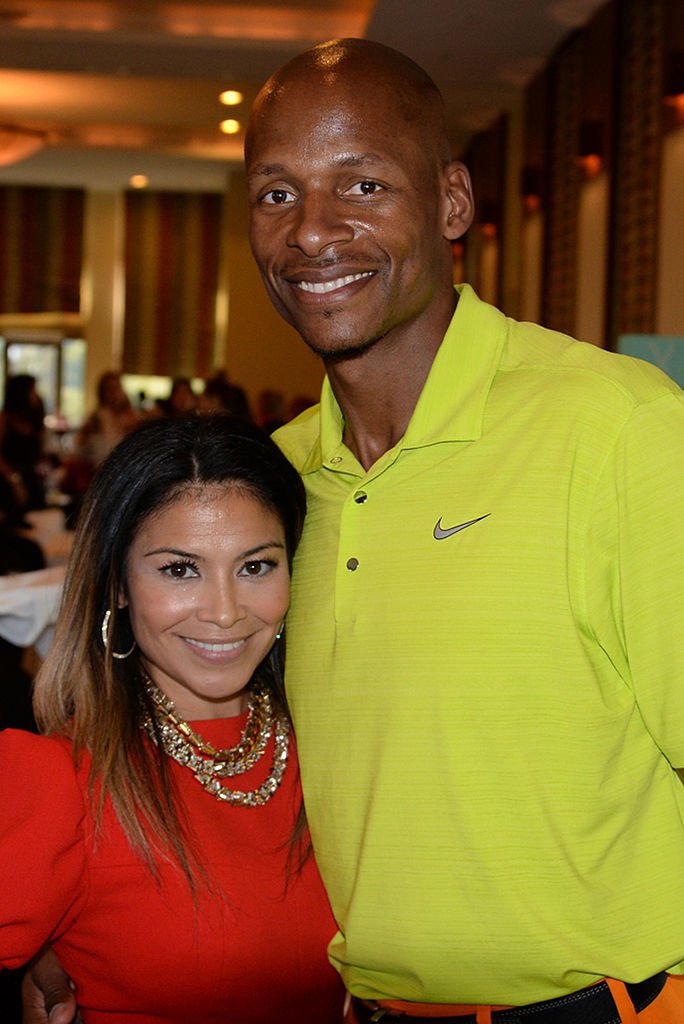 Shannon and Allen's "how it began" photo was a truly old one and may have been taken before fame found them. It featured Shannon with her arms around her husband, who at the time still had a head full of hair. They were both smiling and the love between them was evident. 
Their "how it's going" shot was totally gorgeous. It featured the now matured looking couple standing in front of a shelf holding many books, all the same title, "From the Outside: My Journey Through Life and the Game I Love."
The book is the product of Allen's collaborative efforts with Michael Arkush. The book was well-received, a victory by all accounts, so it is little wonder Shannon chose it to depict how their relationship is going. 
In the photo, the proud wife had her arm around her tall husband, and they both wore a smile for the camera. Shannon wore a striped top with a sleeve that ended in a large ruffle, while her husband wore a striped white shirt coupled with a black waistcoat and matching pants.
The show sees her entertaining the region's beloved athletes while making them chop things up and cook
Fans had only sweet things to say about the picture. One fan even opened up about one time he caught sight of Allen giving his wife a piggyback ride into a pizza place in Milwaukee. 
Allen and his wife got married in 2008 after dating for four years. The pair share four children, Walter, who they welcomed in September 2004; Walker, born in 2006, Wynn, who followed in 2009; and Wynstan, welcomed in 2012. 
Shannon also has a child from a previous relationship. She and Allen met while she was in a girl group named "Shades."  
She has come a long way since then and now has many achievements to her name. She is a singer, television producer, and actress.
She has featured on the sitcom "Strangers With Candy" and the legal drama "Century City." The beautiful woman also launched a cooking show in 2011 and called it "Pre-Game Meal."
The show sees her entertaining the region's beloved athletes while making them chop things up and cook, all in the name of good health. Currently, she writes music under her independent record label, New Music Chronicles.