See Custom Painted Cleats Vikings' Adam Thielen Wore at MNF in Honor of the Late Alex Trebek
Alex Trebek fans and celebrities have found different ways to pay tribute to him with most of them taking to social media with heartfelt messages. This week, footballer Adam Thielen honored the late star in a very special way.
On Tuesday, a Twitter user named Dan Gamache shared two images of custom-painted football cleats. Gamache is an artist who makes custom-made artwork on shoes, as per his social media profile.
The cleats, that belonged to Minnesota Vikings wide receiver Adam Thielen, were meant as a tribute to the late Alex Trebek. The more than three-decade-long host of "Jeopardy!" sadly passed away on November 8, 2020.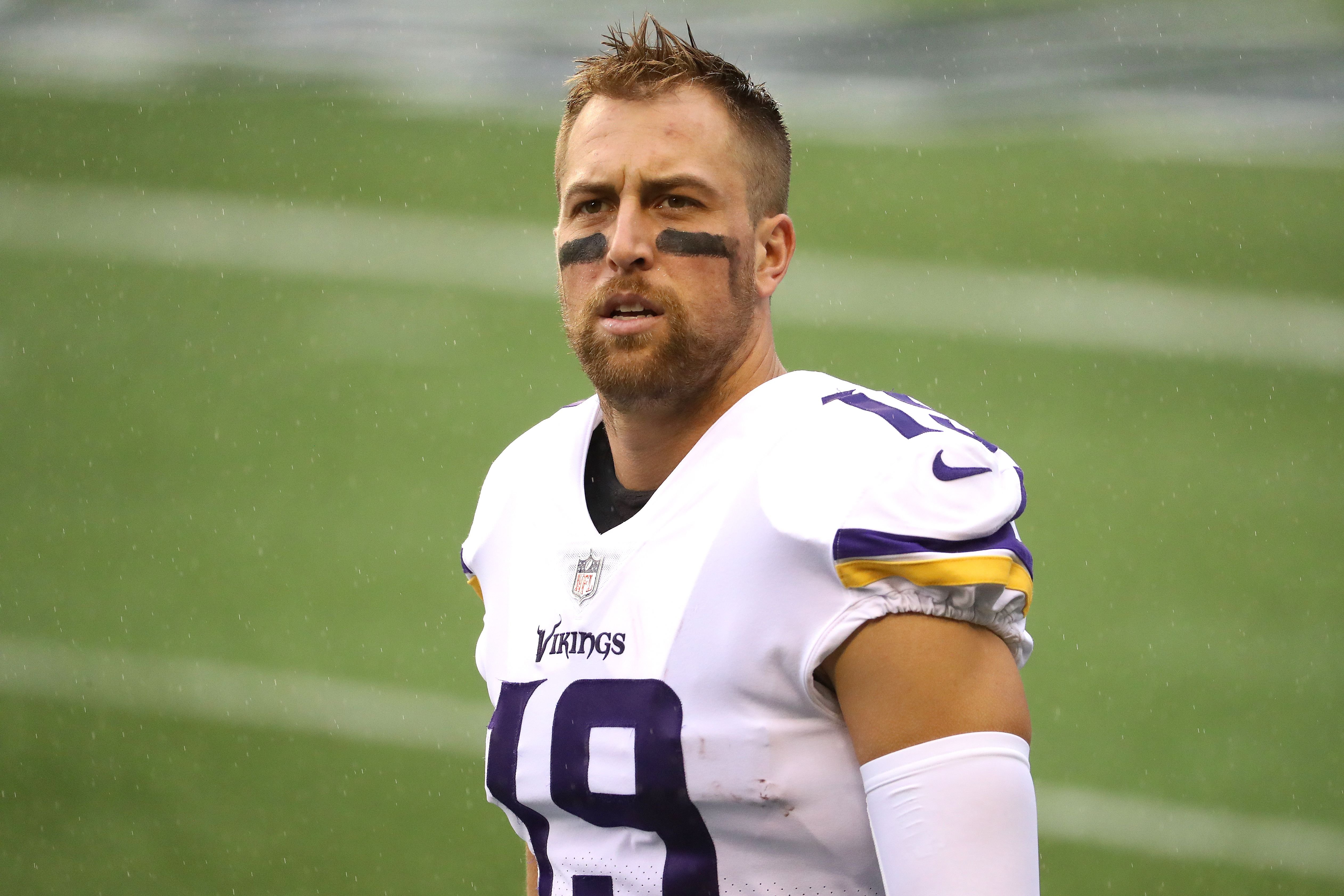 The late show host died after a less than two year battle with stage-4 pancreatic cancer. On the one side of the cleats, Gamache painted it with a blue rectangle which appeared to be a tribute to the game show.
The design looked like the screens where contestants write their responses during the last round of "Jeopardy!" It also included a handwritten message that read:
"We will miss you Alex."
Below the message, a $19,000 wager appeared which could be a reference to Thielen's player number, 19. On the other side of the cleats, a color painting of Trebek was drawn with a golden halo above his head.
After Trebek's death at age 80, "Jeopardy!" also paid tribute to him on the following Monday.
The late star's year of birth 1940 and his year of death, 2020, also featured on the shoes next to Trebek's face. The television host's last name appeared in blue below the Adidas signature stripes and where the brand's name usually features.
Cool cleats for $2000 pic.twitter.com/djksyYXPKs

— Minnesota Vikings (@Vikings) November 16, 2020
Gamache revealed in the caption of his post that Thielen would be wearing the cleats at the "Monday Night Football (MNF)" pregame this week. The Vikings also shared images of the cleats on their official Twitter account, writing:
"Cool cleats for $2000."
For #MNF pregame tonight my guy @athielen19 will be honoring the legend Alex Trebek who passed last week. I feel like no matter where you were from I feel like Jeopardy was a part of all of our lives in some way. 🙏 #skol pic.twitter.com/1itrgOM4M8

— Mache- that guy who does the artwork on the shoes. (@MACHE275) November 16, 2020
After Trebek's death at age 80, "Jeopardy!" also paid tribute to him on the following Monday. Mike Richards, the game show's executive producer, delivered a heartfelt tribute in a taped introduction.
He noted how it had been an immense loss for the show's staff and crew, Trebek's family, and his fans. Richards also shared how much the late television personality had loved the series and everything it stood for.
The late star had initially revealed his cancer diagnosis in a videotaping on the show. He made his tragic revelation in March 2019, before he received an outpouring of love and support.
At one point, Trebek revealed that his tumors had shrunk and kept his fans abreast of his battle in frequent updates. He appeared to be positive and upbeat about beating his diagnosis until the end.