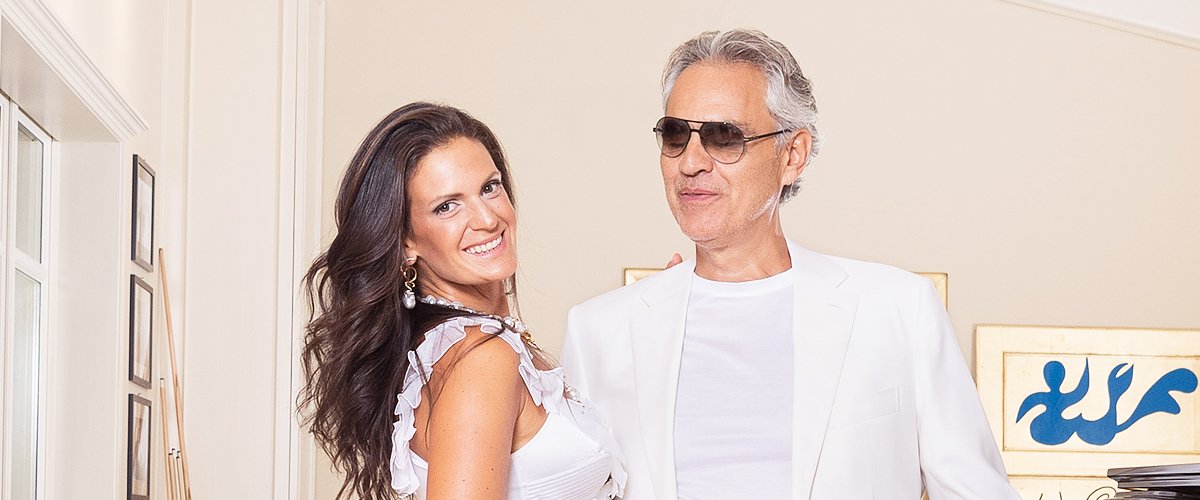 Getty Images
Veronica Berti Is 25 Years Younger Than Andrea Bocelli — Who Is His Stunning Wife?

Despite the 25-year age gap between actress cum singer Veronica Berti and her husband, legendary opera singer Andrea Bocelli, the couple has blossomed through the years. Here are all the juicy details about how the duo found love.
Legendary singer Celine Dion famously remarked that "if God would have a singing voice, he must sound a lot like Andrea Bocelli." The comparison is exaggerated, but that only points to Andrea Bocelli's singing ability.
In like manner, it could be said that Bocelli's marriage to actress cum singer Veronica Berti was designed by the gods themselves. The lovebirds crossed paths 18 years ago, and the tenor singer instantly felt an attraction to Berti.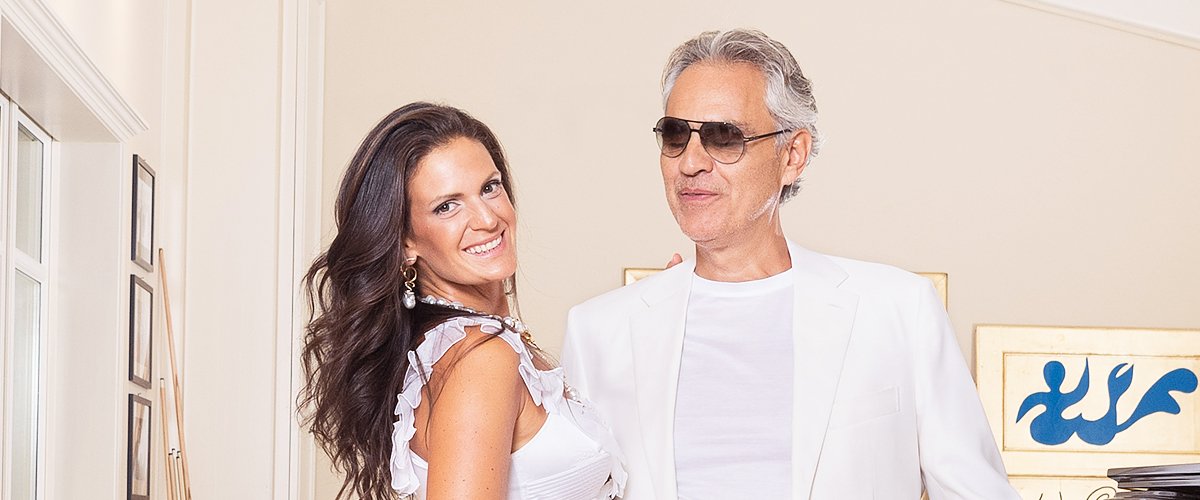 Andrea Bocelli and Veronica Berti Pose at the Andrea Bocelli Celebrity Fight Night 2019 on July 28, 2019 | Photo: Getty Images
Not even the fact that Bocelli has been blind from age 12 could prevent him from noticing Berti's special qualities. And before long, he had fallen in love with the beautiful actress.
MEET ANDREA BOCELLI'S WIFE
Andrea Bocelli's wife Veronica Berti was born in Ancona, Italy, in 1984. She is the daughter of Ivano Berti, but there is some uncertainty about her mother's identity.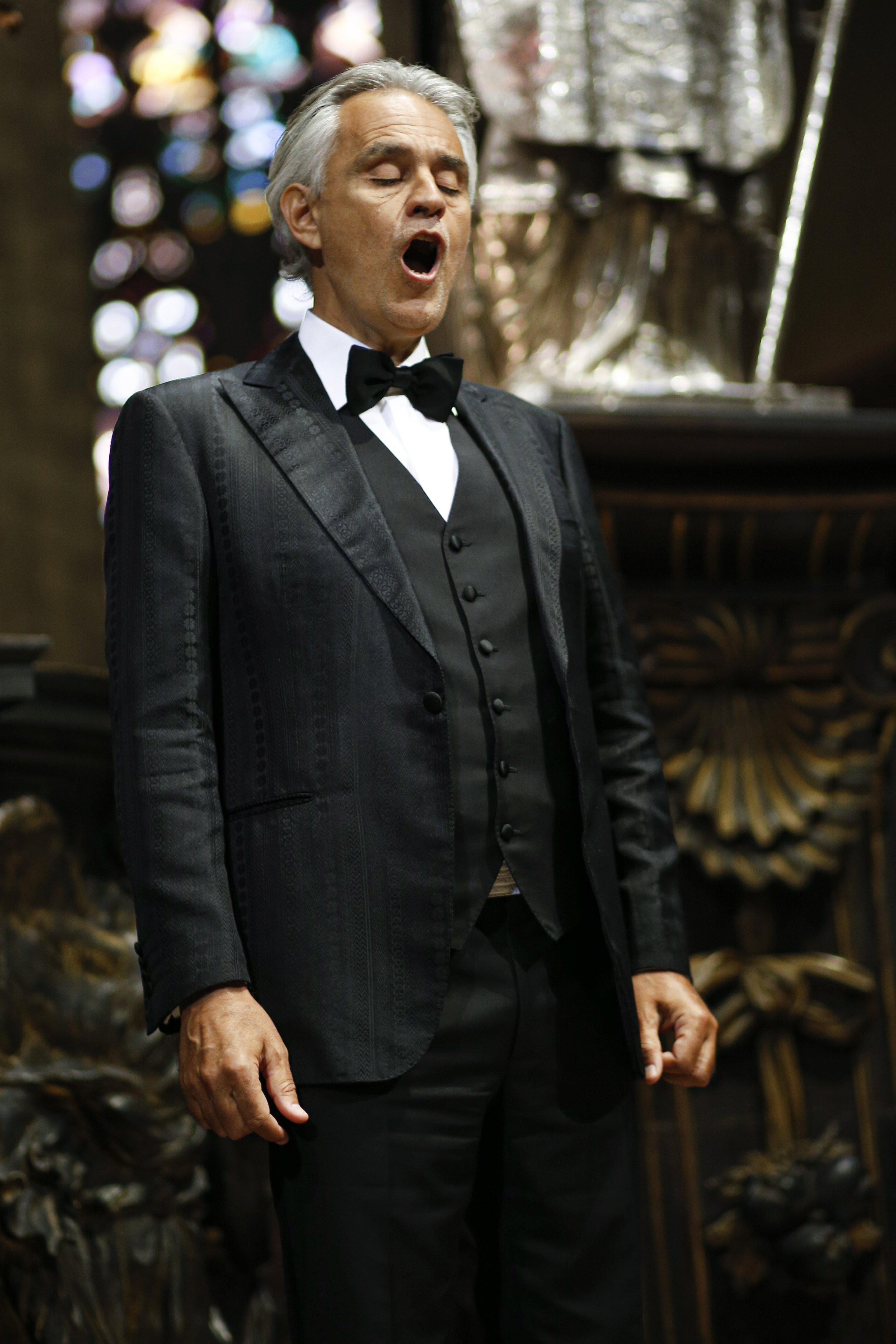 Singer Andrea Bocelli performs his Easter concert at the Duomo on April 12, 2020, in Milan, Italy. | Source: Getty Images
Not much is known about Veronica Berti outside of her relationship with the Italian Opera maestro. The beautiful brunette is an Italian producer and has worked on a few television and film productions, including "Celebrity Fight Night: Italy."
Andrea Bocelli was born on September 22, 1958. He was diagnosed with congenital glaucoma at just five months, and he became completely blind at age 12 due to a soccer accident.
Berti was Bocelli's former manager, and in 2006 she was named the CEO of Almud – Bocelli's currency management company. She also helped her husband launch the Andrea Bocelli Foundation.
Through their foundation, the couple helped raise funds to assist the medical community's efforts in battling the novel coronavirus pandemic in Italy.
Apart from their corporate collaborations, the couple has also joined forces to create beautiful music. In 2012, the lovebirds belted a beautiful rendition of the song "Qualche Stupido" in front of a live audience.
Berti and Bocelli have also collaborated on other songs, including "Les Feuilles Mortes" and "Cheek to Cheek." Interestingly, their love story even began with music.
BOCELLI AND BERTI'S LOVE STORY
Veronica Berti and Andrea Bocelli first met at a party in 2002. At the time, Berti was only 18, and Bocelli was newly divorced from his ex-wife Enrica Cenzatti.
Berti wanted to leave the party quite early but was convinced by Bocelli to stay longer. While recalling the magical day, the singer claimed he sang his first aria for her that night – a piece called Occhi Di Fata (Fairy's Eyes). He further explained:
"It was a really wonderful moment between us. It was the quickest, speediest start, because we moved in with each other that same night. Effectively the marriage began when we met."
Despite the 25-year age gap between the two, they began a relationship that has lasted nearly two decades. And Bocelli has been quick to explain that in their case, the age gap made it easier for them in their relationship.
BOCELLI'S MARRIAGE TO BERTI
For many years, the couple continued to prove the doubters of their relationship wrong. And their bond became stronger when they welcomed their first child together, daughter, Virginia, on March 21, 2012.
While Berti became a first-time mom with her daughter's birth, Bocelli already fathered two sons, Amos, 28, and Matteo, 25, from his first marriage.
Two years later, on their daughter's second birthday, Berti and Bocelli tied the knot in a Tuscan village near Livorno, Italy. The couple chose the day because it was their daughter's birthday and also marked the beginning of Spring.
The intimate wedding ceremony took place at the Sanctuary of Montenero in the west coastal town of Montenero, and it was attended by Andrea Bocelli's children from his first marriage. After their lavish wedding ceremony, a reception followed at Andrea's Villa in Forte Dei Marmi near Pisa.
Berti and Bocelli have been together for 18 years and are a perfect example of a happy couple. When asked what the secret of his long-lasting relationship was, Bocelli explained:
"If the bedroom door opens the world to something beautiful and interesting, then love will last. If the bedroom door opens onto something that's boring or uninteresting, it won't last."
ANDREA BOCELLI'S CAREER
Andrea Bocelli was born on September 22, 1958. He was diagnosed with congenital glaucoma at just five months, and he became completely blind at age 12 due to a soccer accident.
Bocelli already had a passion for music as a child and learned the piano when he was six. Those around him quickly recognized his talent, and before long, he began singing at school and family gatherings.
Despite his unfortunate accident, Bocelli continued to pursue a career in music, and he eventually got his breakthrough when one of his demo tapes found its way to Luciano Pavarotti.
Away from his music, Bocelli and his wife continue to defy the doubters with their closely-knit family, which happily accommodates his sons and ex-wife.
Please fill in your e-mail so we can share with you our top stories!