See Kandi Burruss' Stepdaughter Kaela's Mirror Selfies Showing off Flat Stomach & New Hairstyle
"The Real Housewives of Atlanta" star Kandi Burruss' stepdaughter Kaela has debuted a new hairstyle on social media while showing off her stunning physique in a series of mirror selfies.
Kaela Tucker, whose stepmother is "The Real Housewives of Atlanta" star Kandi Burruss, has embraced a new look, which was far from what her fans were used to seeing from her. 
The 24-year-old lass who is also the daughter of Todd Tucker took to Instagram to share several pictures of herself in front of a mirror. She surprised her over 230,000 followers with her new hairstyle.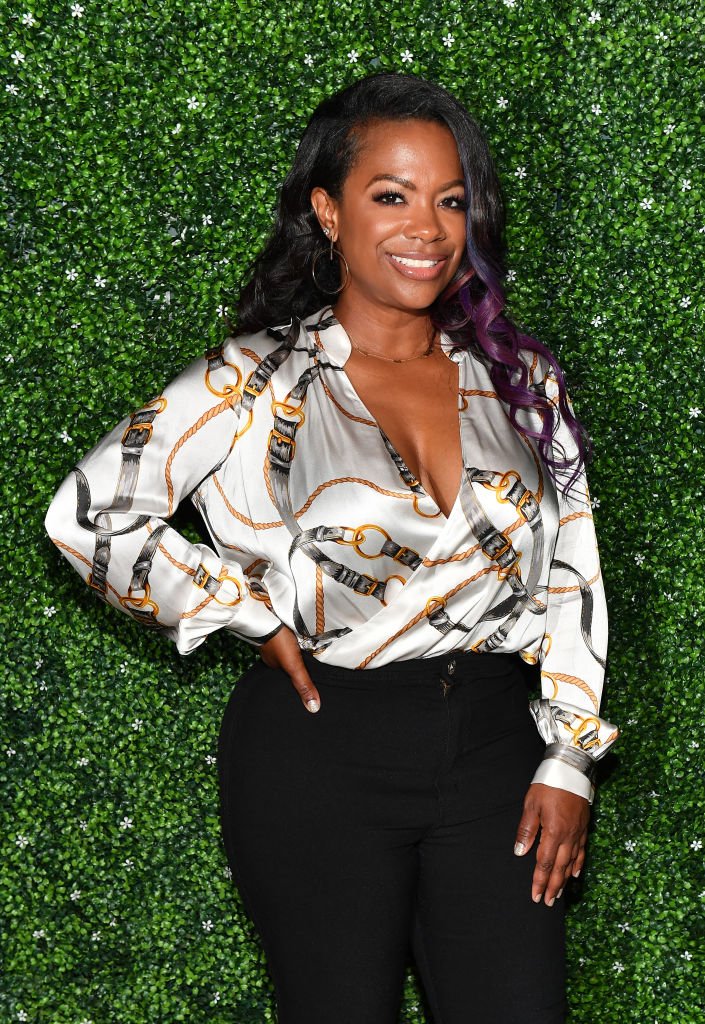 SHORT HAIR, DON'T CARE
Kaela looked like she was holed up inside her bedroom, seeming to have nothing else to do around that time. She wrote in the caption that she felt like posting her snaps on Instagram. 
She played around with different poses in front of the mirror, where she casually showed off her fit physique in tight gray shorts and black shirt as well as her short locks. One fan commented:
"New look????."
Many fans took to the comment section to express their thoughts about Kaela's new hair, and they all agreed that she looked gorgeous in a short hair cut. Some fans described Kaela's look as perfect.
Kaela can be remembered sporting long blue braids and orange hair color in the past. She may be a look of perfection to some fans, but being part of a blended family is not perfect. 
The Blaze Restaurant co-owner shared she and Tucker had arguments in the past involving Kaela. 
CHALLENGES OF A BLENDED FAMILY
During one episode of RHOA last April, Burruss opened up about the challenges she and Tucker would face while raising their blended children - Kaela, Riley, 18, three-year-old Ace, and 11-month-old Blaze. 
Kaela and Riley are Tucker and Burruss's children from their previous relationships. Ace and Blaze are the couple's children after they tied the knot in 2014.
The Blaze Restaurant co-owner shared she and Tucker had arguments in the past involving Kaela. Tucker likes to decide where the family would celebrate her birthday, but Buruss wanted Tucker to let her daughter decide what she wanted to do on her special day.
A MOTHER'S EQUAL LOVE
Despite her parents' disagreements on some issues, Kaela remains grateful for Burruss as she has been a supportive stepmother to her. She sent a special shoutout to Burruss in 2018 after the latter allowed her to meet Beyonce in person.
Burruss's love for her children is equal. Besides making Kaela happy about her meeting Beyoncé, the reality star also poured love to Riley, who is now enrolled in a prestigious college in New York.
She took to Instagram to pay tribute to her daughter, whom she describes as her "bestie." She assured Riley that she will support her no matter what and will do everything to make her smile.
Aside from gushing over her two grown-up daughters, Burruss also gushed over her youngest daughter, Blaze, when the little girl took her first walk. The doting mother could not help but feel proud of her.
The RHOA star shared on her Instagram page an adorable video of Blaze taking her first steps. The reality star was beyond happy about her daughter's first milestone.