Kevin Hart's Ex Torrei & Current Wife Eniko Flaunt Their Toned Bodies in Tops & Tight Leggings
The "Jumanji: The Next Level" star Kevin Hart has had two wives that gave him the gift of becoming a father to four children that make up for a big, blended family, and as different as the two women are, they share some common ground.
41-year-old actor and comedian Kevin Hart has been married twice. From 2003 to 2011, he was married to Torrei Hart, but that marriage ended over Torrei allegedly finding out about Kevin's affair with his current wife, Eniko Hart.
Following his marriage to Torrei which produced two children, Kevin embarked on a relationship with Eniko, but he assured that their romance started when he had already broken up with Torrei.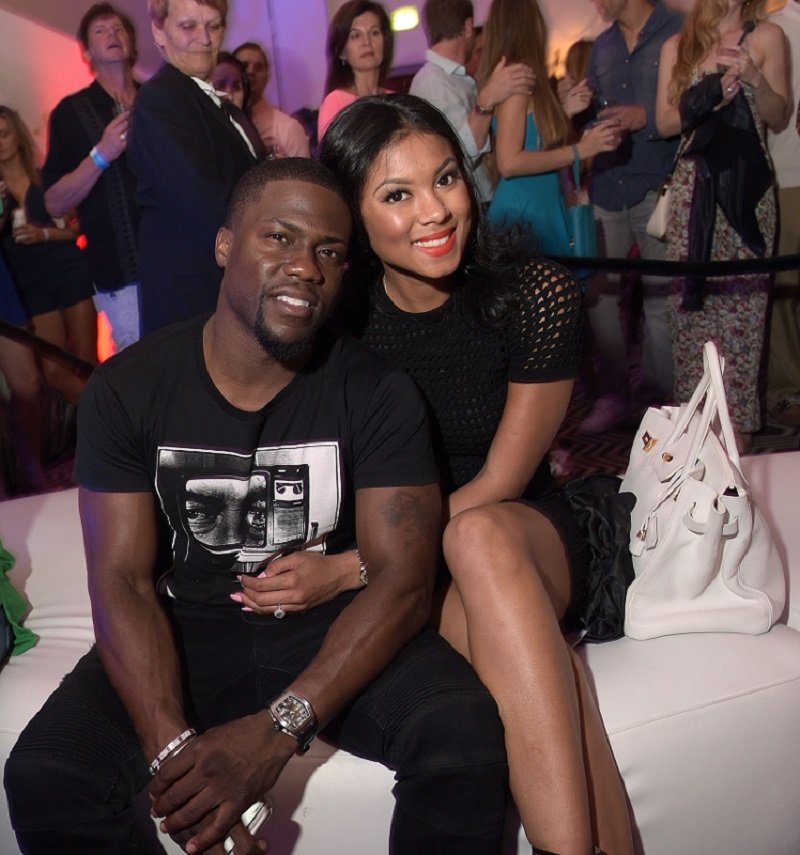 Kevin went on to marry Eniko in 2016, and the two now share two children. But their marriage hasn't been without its setbacks, with Kevin being caught cheating on her during her first pregnancy.
Fortunately, Eniko and Kevin seem to have completely recovered from that low point of their marriage, and the two have just welcomed their second child together, daughter Kaori Mai.
SIMILAR STYLES
On relatively close dates, both Kevin's ex Torrei and his current wife Eniko, took to their respective Instagram feeds to flaunt their toned bodies in tops and tight leggings, showing similarities in their styles and tastes.
On September 22, 2020, Torrei posed for a picture sitting by a wooden barrier on top of Catalina Island, California. During that sunny day and with the sea as a background, she wore black leggings and a matching tank top, which she accessorized with a stylish fanny pack.
Weeks later on October 18, Eniko took to her Instagram feed to share a slideshow of pictures of herself wearing a gorgeous ensemble by Fabletics consisting of high-waisted purple leggings with a matching sports bra in a lighter shade of purple, to mark the brand's anniversary.
A LOVE FOR FITNESS
While Eniko and Kevin could talk things through and make amends, the actor hasn't had the same luck when it comes to the mother of his two older children. But apart from the many differences between the two women, they have something in common.
Aside from sharing a similar taste in men (after all, both fell in love with Kevin), Eniko and Torrei are both big fitness enthusiasts, and the results of their hard work are clearly visible on their respective figures.
Both Eniko and Torrei love to not only flaunt their toned bodies but also to model form-fitting sportswear, as they regularly do it in social media, where the two are very active.
THEY PURSUED ACTING CAREERS
A little-known fact about Kevin's current wife Eniko is that she started her career as an aspiring actress, moving from Baltimore to Hollywood to pursue her acting dreams, just like Torrei did (coming from Philadelphia).
However, Eniko didn't manage to land any significant roles to position her in the industry, and beyond being on a BET TV series called "Rip the Runway" in 2013, she never had the chance to prove her talent.
Torrei also wanted to be an actress from a very young age, and after years of performing in school plays, she started taking acting classes while in college, where she first crossed paths with Kevin.
While Torrei put her put her career on hold during most of the 2000s in order to start a family with Kevin, she later focused on relaunching her career, and she has since become a hit YouTube comedian, enjoying a huge following.
As for Eniko, she nowadays spends most of her time taking care of her children and working hard on her body to serve as an inspiration to all women that want to take charge and to reach their body goals.