Pat Patterson Was the First Openly Gay Pro Wrestler — inside the Late Star's Personal Life
Inducted into the WWE Hall of Fame class of 1996, Pat Patterson was the first openly gay professional wrestler in history. He passed away at 79 years old.
On December 2, 2020, the WWE announced in a statement that Pat Patterson, one of the people who helped shape today's WWE, died at age 79. The details of his passing have not been disclosed.
Shortly after the news of his death hit the internet, several people involved in the wrestling business took to Twitter to share their sorrow.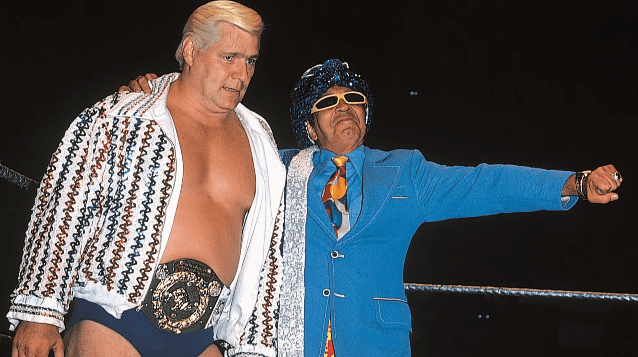 PAT PATTERSON'S DEATH
Iconic wrestler and actor Hulk Hogan admitted that hearing the sad news made his morning "tough." He then explained that Patterson and Buddy Colt, another wrestler, let him "ride with them" for his first match.
WWE's Chairman and CEO Vince McMahon also tweeted that Patterson "helped lay the foundation for WWE as we know it," adding that his mentorship shaped careers and creativity sparked innovation.
Pat Patterson was more than the first Intercontinental Champion & father of the Royal Rumble Match. He helped lay the foundation for WWE as we know it. His mentorship shaped careers, his creativity sparked innovation and his friendship lifted spirits. Love you, Pat. We miss you. pic.twitter.com/TugpAOrN6O

— Vince McMahon (@VinceMcMahon) December 2, 2020
Born Pierre Clermont in Montreal, Canada, Pat Patterson began his career as a professional wrestler in 1958 in Canada, when he was about 17 years old.
Eventually, he moved to San Francisco and became one of the most famous wrestlers in the Bay Area for almost 20 years, taking home the regional tag team championship ten times with seven different partners.
Tough morning hearing the news about Pat,shocked,RIP my brother,Pat and Buddy Colt let me ride with them when I had my first match,the ribbing started that day and went on until now,love you my brother,tabernac HH

— Hulk Hogan (@HulkHogan) December 2, 2020
If that wasn't enough, he won the Cow Palace Battle Royal twice – in 1975 and 1981. During Patterson's time in San Francisco, he met and teamed up with Ray Stevens.
Together, they joined the American Wrestling Association in the late 70s. In 1978, they won the AMA World Tag Team Championship. The following year, Patterson joined the WWE.
Patterson revealed that he had "a friend" with him for four decades.
I don't have the words to properly convey the respect and admiration I have for Pat Patterson.

Whatever I can offer, it's simply not enough. #RIPPatPatterson -- your contributions to our lives will forever be appreciated! pic.twitter.com/vm4C6cRXLl

— Paul Heyman (@HeymanHustle) December 2, 2020
PATTERSON'S ROYAL RUMBLE IDEA
In September 1979, he became the first Intercontinental Champion after winning a tournament in Rio de Janeiro. A few years before officially retiring (1984), Patterson began his career as a color commentator.
After hanging up his boots, he became a WWE Official. In 1988, Patterson came up with a groundbreaking idea: The Royal Rumble Match.
PAT PATTERSON I DONT KNOW WHAT TO SAY OTHER THAN I LOVE YOU. YOU HAVE BEAUTIFUL MIND FOR THIS BUSINESS AND BEAUTIFUL HEART FOR THIS WORLD. MY HEART IS BROKEN. GOD BLESS YOU AND YOUR FAMILY. THANK YOU FOR YOUR FRIENDSHIP #rip pic.twitter.com/XASbSUG0qO

— The Iron Sheik (@the_ironsheik) December 2, 2020
According to Patterson, he wanted to create something "special," similar to what they had in San Francisco because, at the time, it was a "hot event."
In the past, battle royal fights were quite messy as every wrestler was in the ring at the beginning of the match. However, in his version of the Royal Rumble, participants were allowed to join the fight at two-minute intervals.
- WWE Hall of Famer
- Creator of the Royal Rumble
- The inaugural WWE Intercontinental Champion

Everyone at BT Sport is saddened to learn of the passing of wrestling legend, Pat Patterson.

1941-2020

RIP pic.twitter.com/3lOMm1iOM0

— WWE on BT Sport (@btsportwwe) December 2, 2020
Initially, Vince McMahon "laughed" at the concept as he didn't think fans could stay interested in a one-hour match. Patterson knew that McMahon just needed time for ideas to sink in.
After that, they had to prepare something special for a three-hour live show, so McMahon told Patterson to put together the Royal Rumble fight.
Very saddened to hear about the passing of one of my best friends..Pat Patterson. He had an infectious personality where you always wanted to be around him. This photo of Pat, @ShawnMichaels and me was from Wrestlemania 21. Pat helped us create an incredible Story. #RIPHOFer pic.twitter.com/APHVs7hRoi

— Kurt Angle (@RealKurtAngle) December 2, 2020
Although getting everything together for the first Royal Rumble was challenging for everybody involved, it was a success. The format is still being implemented nowadays (with some changes, of course).
For his huge impact in the wrestling industry, Pat Patterson was inducted into the WWE Hall of Fame in 1996. In 2014, Patterson made headlines for coming out as gay in an emotional episode of "WWE Legends' House."
I can not express how crushed I feel right now with the loss of Pat Patterson. A true member of my family, mentor and dear friend.
I love you Pat.
God speed. pic.twitter.com/FdaAFnsw8m

— Shane McMahon (@shanemcmahon) December 2, 2020
PAT PATTERSON WAS GAY
In front of his fellow WWE legends, Patterson revealed that he "survived all this being gay." He also said that he had "a friend" with him for four decades, but he passed away from a heart attack, so he ended up alone.
That "friend" was Louie Dondero, who died in 1998. In his 2016 autobiography, Patterson wrote that, during his time as an active wrestler, he only told his closest friends about his sexual orientation. Still, many people knew about Dondero.
According to the late Hall of Famer, telling the world that he was gay was incredibly important, so much so that he couldn't find "words powerful enough" to explain his feelings.
In the words of professional wrestling manager Paul Heyman, Pat Patterson's contributions to people's lives will forever be appreciated. Dwayne Johnson also shared a heartfelt tribute to Patterson. Rest in peace, legend.