Ciara Shares Photo of Her 2 Kids Hugging Vanessa Bryant's Daughter Bianka on Her 4th Birthday
Ciara took to her Instagram story to share an adorable photo of her son Future and daughter Sienna hugging Vanessa Bryant's daughter Bianka, who turned four on Saturday. 
Vanessa Bryant's daughter Bianka turned four on December 5 and had a swell time with her friends and loved ones, including Ciara's kids Future Jr. and Sienna. 
Ciara shared a cute picture on her Instagram story that showed Future Jr. and his younger sister Sienna hugging Bianka, who was all smiles. Future Jr. wore a white unbuttoned shirt and a white inner T-shirt. 
He matched his tops with black pants and black sneakers and carried a white and blue shark bag. Bianka posed between Future and Sienna and looked gorgeous in her lovely green dress and pink shoes. 
Sienna wore a white floral dress and white and purple sneakers and smiled as she posed for the camera. A white rabbit bag stood in front of Sienna and Bianka as they posed for their sweet shot. 
Ciara got the picture she posted from the Instagram story of her husband Russell Wilson, who captioned the post, "HAPPY BIRTHDAY BB!!!! 4 YRS OLD! WE LOVE YOU." 
The picture shows once more the love Ciara and Wilson have for Vanessa and her kids. Last month, the couple gave Bianka a special mini pink Range Rover she can drive around in. 
The trio and their kids jetted off to Cabo, Mexico, for a much-deserved vacation.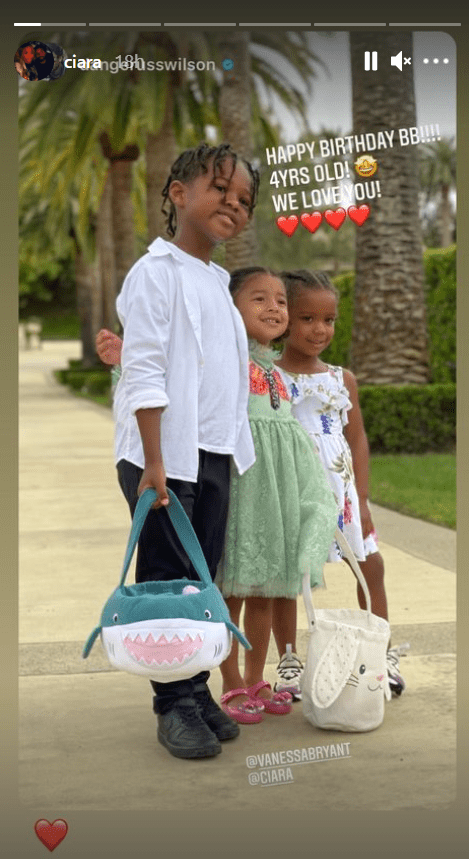 On November 21, Ciara 
shared a photo
from a "Slumber Party" with Vanessa's youngest daughters, Capri and Bianka, showing the girls dressed in cute, fuzzy pajamas.
In September, Vanessa also shared a picture that showed her cuddling with Ciara and Wilson's youngest son, Win Harrison, who was born on July 23. 
Again, Vanessa and Ciara showed their close bond and motherly instincts when the latter shared a sweet picture on her Instagram page that showed them breastfeeding their babies.
Ciara breastfed baby Win, while Vanessa's youngest daughter, Capri, 1, suckled from her breasts. The loving moms smiled as they posed for the camera while sitting on a private jet. 
Since her husband Kobe Bryant and her daughter Gianna Bryant died in that tragic helicopter crash on January 26, Vanessa has found love and support from her close friends. 
Ciara and La La Anthony are two of Vanessa's closest pals. The trio and their kids jetted off to Cabo, Mexico, for a much-deserved vacation in October, visiting tourist sites and having so much fun together. 
It is great to see Vanessa's friends being there for her as she and her daughters continue to recover from Kobe and Gianna's demise. Her fans will hope for nothing but the best for her and her family.