Dolly Parton Looks Magnificent on the Cover of a Magazine in a Red Glittering Dress
"Jolene" singer Dolly Parton continues to make the cover of the most important magazines after the age of 70, and she is the living proof that age is just a number, sharing details about herself in a wonderful interview.
74-year-old singer, songwriter, actress, businesswoman, and humanitarian Dolly Parton has never ceased to amaze her millions of fans, not only with her many talents but also with her looks.
As if the Queen of Country Music was lacking in grandiloquent titles, Parton was recently named "patron saint of 2020" by the prestigious magazine Marie Claire, which also featured her on the digital cover of its 2020 holiday edition.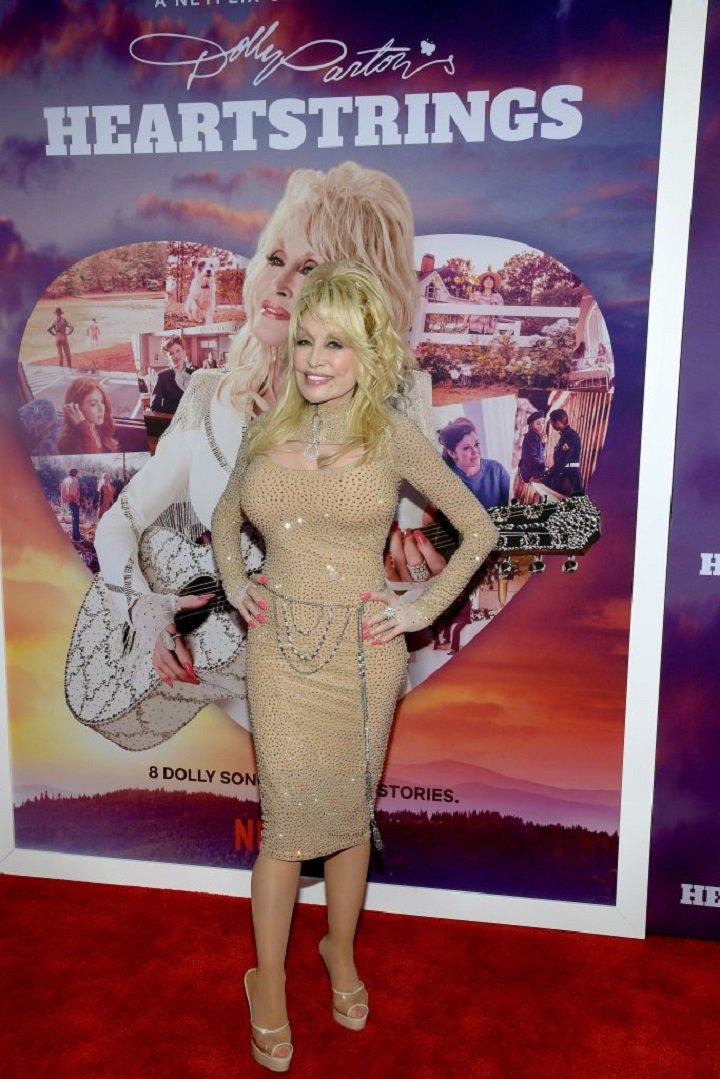 On December 7, 2020, Parton took to her Instagram feed to unveil that image of the cover, on which she is seen posing in a form-fitting red dress with shiny details in the same color.
True to her style, Parton wore long sleeves, and she left one of her shoulders visible thanks to the asymmetrical neckline of the dress. She posed with her chin up, for a hopeful facial expression.
Parton kept most of her signature blonde locks up in a bun, and she wore heavy makeup. She completed the look with matching red earrings and a ring, as she posed for photographer Stacie Huckeba, who has photographed her before.
"Thank you @marieclairemag for featuring me on your digital cover," a grateful Parton wrote in the post's caption, on which she also took a moment to express how fun it was to be interviewed by Ru Paul.
As she let her fans and followers know in the caption as well, she opens up in the interview about her famous wigs, her Goddaughter Miley Cyrus, and all her many holiday projects, inviting them all to read the entire interview.
The post has received more than 155,000 likes in the first 24 hours since its publication, and there are plenty of positive comments for the star in the comments section.
"Dolly, you are an amazing woman who becomes more beautiful every year," wrote a devoted fan. "You look fabulous, Dolly," added another user. "The queen," a third user called her, echoing the feelings of many of us.
A VERY BUSY CHRISTMAS SEASON
Parton is happy and proud to have so many projects going on for this Christmas season, one during which many families are not going to be able to get together for the holidays to celebrate in a traditional way due to the COVID-19 pandemic.
On October 2, Parton released a Christmas album titled "A Holly Dolly Christmas." The singer revealed in the Marie Claire feature that nothing put her in the holiday spirit like music, and she hopes that her album does that for her listeners as well.
The record was followed by a Christmas special on CBS titled "Holly Dolly Christmas" on which she performed some of her classic songs and shared memories about her life and work in a festive setting.
Also, in November, Parton's latest movie project, "Christmas on the Square," premiered on Netflix. Parton wrote the music and lyrics of the musical film and plays and angel who mentors the main character, played by Christine Baranski.