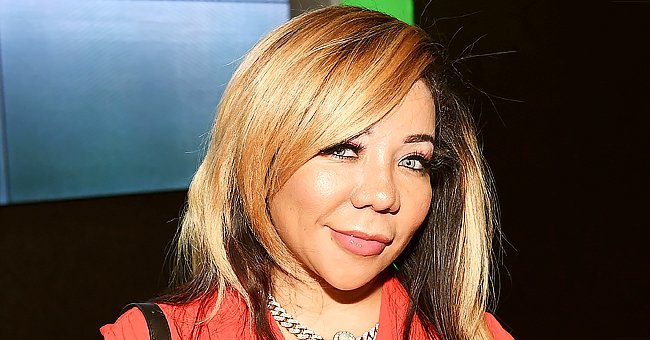 Getty Images
Tiny Harris Looks Unforgettable Showing Chest & Arm Tattoos in Black Dress with a Deep Neckline

Tiny Harris stunned in a fringed black mini dress with a deep neckline in pictures showing moments of her performance on Sunday's Atlanta Falcons game.
On Sunday, Tiny Harris joined her other Xscape members, Kandi Burruss, LaTocha Scott, and Tamika Scott, in singing the National Anthem at the Atlanta Falcons game.
She later took to her Instagram page to share a picture of herself as she modeled her gorgeous outfit. The strapped mini gown Harris wore revealed the tattoos on her arms and one on her cleavage.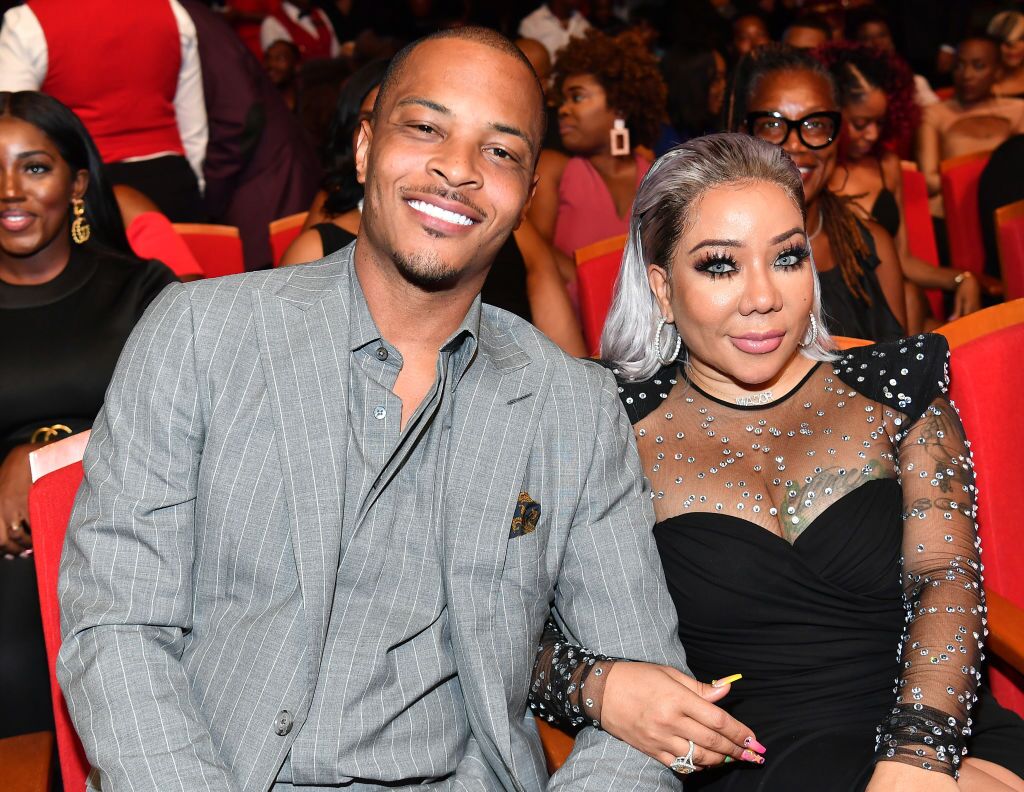 T.I. and Tameka "Tiny" Harris attend the 2019 Black Music Honors at Cobb Energy Performing Arts Centre on September 05, 2019 | Photo: Getty Images
The television personality also flaunted her beautiful red hair, which she styled into a ponytail. She accessorized her look with a silver necklace and earrings. In the caption to the post, Harris wrote,
"Never flexing, I just happen to be everything that I am."
She shared other pictures that featured her adorable daughter Heiress. The pictures also showed a complete view of Harris' outfit, revealing her black stilettos, which were fitted with shimmy fishnets that covered her calves.
In the first snap, Harris pouted her lips as she posed with Heiress at the center of the field. Heiress wore a green top, which she matched with blue pants and red boots. She wore a blue coat over her outfit.
Harris explained the comeback never worked out because the members' business was not together.
The 4-year-old Heiress smiled as she leaned into her mom, who posed by bending slightly. In the second snapshot, the mother and daughter duo held hands, while Harris placed her left hand on her waist.
In the caption, Harris said she was on the 50-yard line with Heiress, who she tagged as the real superstar. In a third post, she shared a picture that showed her and the other Xscape members posing for a snapshot, captioned:
"Let's Play... #Xscape #RealAtl #FalconsNSaints2020 #NationalAnthem ?‼️??."
Tamika wore a shiny long-sleeved gown, which she matched with silver heels, while Burruss wore a long black dress with a deep neckline and a high slit and matched it with heels. LaTocha wore a black leather jacket over a leather jumpsuit and matched her outfit with black leather boots.
Xscape was formed in Atlanta, Georgia, in 1992, as a quintet of female R&B vocalists. However, one of its members, Tamera Coggins-Wynn, left, leaving the current members who performed at the game on Sunday.
In a reported interview, Harris revealed why Coggins-Wynn was asked to leave the group. According to the former, she was brought in to replace Coggins-Wynn because managers felt she was not as much into it as the other girls.
The plans to replace Coggins-Wynn were initially not successful, meaning the group became a quintet. However, after a new manager came in, Coggins-Wynn argued with the latter, leading to her dismissal.
Xscape had plans for a comeback album in 2005, but the project, titled "Unchained," didn't materialize. Harris explained the comeback never worked out because the members' business was not together.
Harris has been married to rapper T.I since 2010. The couple shares three children, including Heiress. Their first daughter was stillborn in 2007 and remains one of the saddest moments in Harris' life.
Harris has a daughter, Zonnique, from her previous relationship with Zonnie Pullins. T.I also has three children, including two sons he shares with Lashon Dixon and a daughter he shares with R&B singer Ms. Niko.
Please fill in your e-mail so we can share with you our top stories!