Kelly Clarkson Wows Fans on 'The Voice' in a Stunning Red Dress with Super Plunging Neckline
Kelly Clarkson recently blew minds with her most recent outfit on NBC's "The Voice" and fans went wild with admiration after she shared a glimpse of her all-red look on Instagram.
Singer and "The Voice" coach Kelly Clarkson has always been a stunner. However, in a recent picture shared on her Instagram, she not only flaunted that, but she took things to the next level. Captioning her post, Clarkson wrote:
"Last night's look at @NBCTheVoice ✨ Wearing: @gemymaalouf

Mua: @gloglomakeup  Hair: @robertramoshair."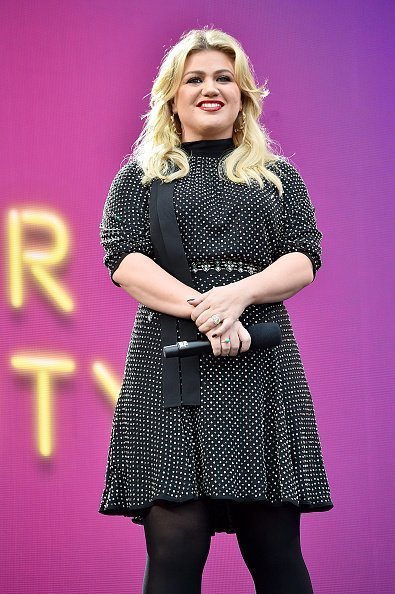 The singing sensation wowed in a low-cut fiery red dress with a daring plunging neckline that featured the cutest short tulle sleeves to show off her arms. She looked adorable!
The breathtaking dress also featured a fitted bodice before it tapered out at the waist. The skirt of the dress showcased incredible attention to detail in its intricate design as it flared out all around her while she sat in her coach chair. 
The eye-catching red dress effortlessly matched with the red theme of the show. The gorgeous lady in red also wore a bold red lip to keep the theme going and wore her hair in beautiful shades of brown and blonde highlights. 
Clarkson looked absolutely divine, and her fans did not hesitate to tell her. They showered her with praises about how fabulous she looked, adding that red looks magnificent on her.
Clarkson's ingenuity with her outfits and style has continued amidst some personal issues in her life and marriage.
Although they were blown away, Kelly Clarkson's fans are no strangers to her unbeatable fashion sense, especially her fashion choices since becoming a coach on the NBC singing talent show, "The Voice." 

Every episode, she manages to stun fans with her fashion and continues to serve looks back to back. Early in December, the vocal sensation took to Instagram with snapshots of her outfit for the episode the night before.
The chart-topping "My Life Would Suck Without You" crooner turned heads in a low-cut pepper red PVC dress that had small shoulder pads. Clarkson also made sure to wear a beautiful smile.

The red number had long fitted sleeves and featured a thigh-high slit, which helped show off more of her black tights. Days before that, the incredible Clarkson struck again and showed some skin in a daring and irresistible black and white dress.
In the picture posted on her Instagram, the two-tone ensemble featured short, floaty sleeves in opposing colors over both shoulders. The outfit was a spectacular piece and many of her fans couldn't agree more.
Clarkson's ingenuity with her outfits and style has continued amidst some personal issues in her life and marriage. In June, the "Because of You" crooner reportedly filed for divorce from her husband of seven years, Brandon Blackstock.
During an interview about divorce on Clarkson's talk show, the singer opened up about how she is feeling with the divorce with her son and daughter, Remington Alexander and River Rose, who she shares with Blackstock.
She revealed that she realized staying in a broken marriage was not the way to be happy and shared that she had to overcome her fear of hurting and put her kids first.
Although Clarkson is going through a rough patch in that aspect, she has continued to keep her head high while looking as fabulous as ever. River Rose and Remington Alexander are two lucky kids!